Looking for a spark, Kruger pulls switch
February 1, 2011 - 2:01 am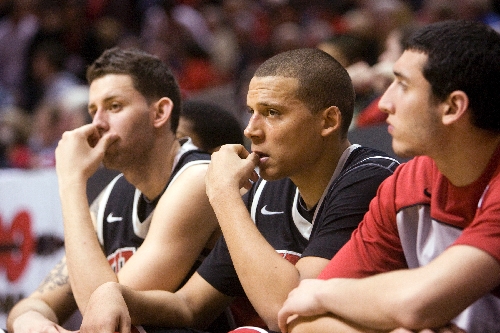 Not that they are complete strangers in the UNLV backcourt, but senior Tre'Von Willis and sophomore Anthony Marshall are about to get acquainted as starters.
Spinning the dial in search of the right combination, coach Lon Kruger said he's moving Willis back into the lineup to replace slumping senior guard Derrick Jasper.
Marshall and Willis will start together for only the second time this season when the Rebels (16-5, 4-3 Mountain West Conference) face Utah (10-11, 3-4) at 7:30 p.m. Wednesday at the Thomas & Mack Center.
"I have no problem with it. It's good for the team," Jasper said. "I just haven't been producing the last couple games."
Jasper, who has started 20 games, said a sore left knee, a shooting slump and a lack of confidence have caused his production to decline during conference play.
"It's a case of confidence," Kruger said. "Derrick is still making a lot of good plays. Right now, he's just not shooting the ball with much confidence. Derrick has always got an attitude, first and foremost, of wanting the team to do well. He's about winning. I think he'll play well coming off the bench."
Jasper has shot 6-for-23 (26.1 percent) from the field and averaged 2.4 points in seven MWC games. In UNLV's past two games, victories over Wyoming and New Mexico, he played a total of 43 minutes and missed his only two shots.
Knee issues have hindered Jasper throughout his college career, including his first two years at Kentucky. He said it's "real frustrating" to feel the knee soreness return, partially contributing to his passive play offensively.
"I haven't really been making shots, so I've been trying to make more plays for my teammates, the shooters on the team," he said.
Jasper scored in double figures in seven of eight games from Nov. 25 to Dec. 15, when he suffered a hyperextended right knee during a loss to UC Santa Barbara.
Jasper sat out the Rebels' victory over Southern Utah on Dec. 18, and Marshall and Willis started in the backcourt with junior point guard Oscar Bellfield.
Kruger had been rotating Marshall and Willis in the lineup. But Marshall's play recently earned him a permanent starting role, and Willis appears to be recovered from a sore right knee that limited his role the past four games. UNLV had the weekend off, allowing Willis time to get healthier.
"Tre seems to have a little hop back in his step," Kruger said. "Everything looks more like he's moving in that direction of where he was last year."
Willis scored 17 points in 30 minutes off the bench in a 74-65 win at Wyoming on Wednesday. Marshall had eight points, 11 rebounds and five assists.
Kruger's newest starting five — Marshall, Willis, Bellfield and forwards Chace Stanback and Quintrell Thomas — figures to form UNLV's most workable combination and its best shot at making a strong stretch run.
Marshall and Willis, the team's most vocal leaders, can now set the tone from the start.
"I feel like we've just got to start the game with a lot of energy. That's when we play our best," Marshall said. "We want to play with attitude. We want to go out there and fight. We don't want to have that feeling that any team outfought us."
Contact reporter Matt Youmans at myoumans@reviewjournal.com or 702-387-2907.