Many NBA mock drafts say Stephen Zimmerman won't be at UNLV for long
November 13, 2015 - 12:50 pm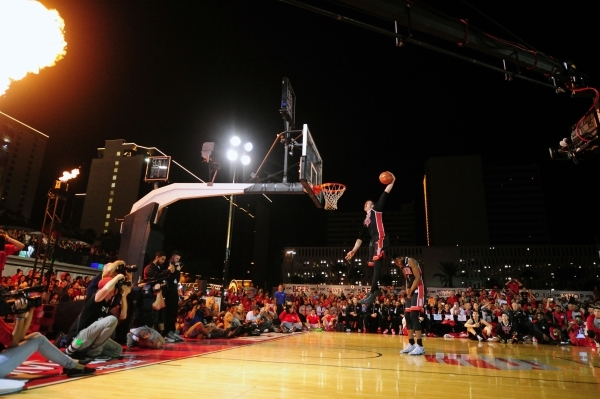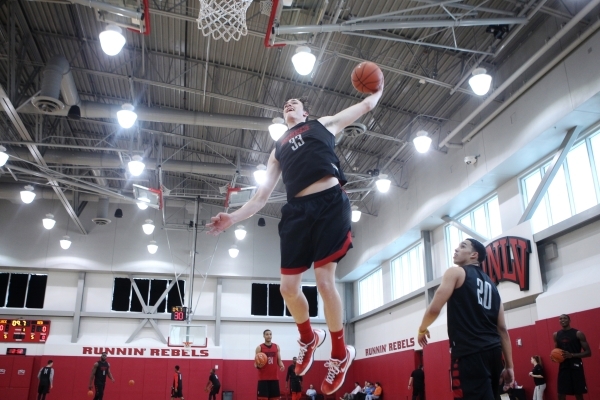 If you're a UNLV men's basketball fan, then you should try to enjoy center Stephen Zimmerman while he's here.
That's because many NBA pundits already have the Bishop Gorman product being a one-and-done player for the Rebels.
It doesn't take much searching to find various mock drafts that have Zimmerman, who makes his UNLV debut Friday night in the school's season-opener against Cal Poly, projected to be a mid-first round pick on June 23.
Some projections don't have Zimmerman pegged to one team. For instance, ESPN.com's Chad Ford publishes his "Big Board" and the 2.0 version has Zimmerman ranked as the 17th best NBA prospect.
"Zimmerman fits the mold of the skilled big man with athleticism and the ability to hurt you on the perimeter. His body could use some work, and scouts would like him to not rely on his jumper so much, but he should get lots of opportunities to shine at UNLV. He'll move up if he does most of his damage in the paint."
The Bleacher Report's 2016 Draft Expert Guide has loftier expectations for the 7-footer. It projects Zimmerman as the sixth best overall draft prospect.
"Skilled, athletic and 7'0" tall, Zimmerman is bound to stand out at UNLV. He isn't the toughest around the basket, but Zimmerman shows nifty footwork and touch in the post, as well as a promising jumper out to the arc.
Though he doesn't quite project as an overwhelming rim protector, his offensive versatility and stretch-big potential are both NBA-friendly.
Zimmerman won't see too many NBA-caliber bigs in the Mountain West and might ultimately need two years of college to develop. But if he showcases a sweet inside-out game and puts up production right away, it wouldn't be shocking to see him strike while the iron is hot. His draft ceiling is late lottery."
Draft Express, which specializes in NBA draft news, thinks Zimmerman will stay in school for two years, but come out as the No. 8 overall pick in 2017.
Of course, there are other sites which are more specific about where Zimmerman will be drafted – and they aren't waiting until 2017.
* NBADraft.net has him going 17th overall to the Milwaukee Bucks this June.
* The Bleacher Report also has a mock draft and it also has him going to the Bucks.
"Stephen Zimmerman's NBA potential is tough to miss. The big question is whether he'll need more than a year at UNLV, but something tells me scouts will ultimately recognize his upside and declare him first-round worthy in 2016.
At 7'0″, he's a fluid run-and-jump athlete with impressive touch and perimeter ball skills. Zimmerman has three-point shooting range, as well as the ability to face up and attack or score over the shoulder in the post.
After sending Ersan Ilyasova to Detroit, the Milwaukee Bucks may be looking for a stretch big to back up Jabari Parker and Greg Monroe. Zimmerman doesn't offer much rim protection, but his offensive versatility could hold enough value at No. 17 overall."
* HoopsHype.com has him falling to. No. 26 and going to the San Antonio Spurs.
"Zimmerman stayed home to play at UNLV and should have an instant impact for the Runnin' Rebels. He's got a solid offensive repertoire and a body that should allow him to continue to get stronger. He needs to become more aggressive and added strength should allow him to handle contact better. He's got the touch to continue improving as a scorer, and a solid understanding of post play."
This is just hype for a 19 year old who hasn't played a college basketball game and can't declare for the NBA Draft until April.
But it sure sounds like UNLV is renting a heck of a player.
Bill Bradley is sports editor of the Review-Journal. He can be reached at bbradley@reviewjournal.com or 702-387-2909. Follow him on Twitter: @billbradleyLV