Marshall, Rebels find daylight
February 21, 2010 - 12:00 am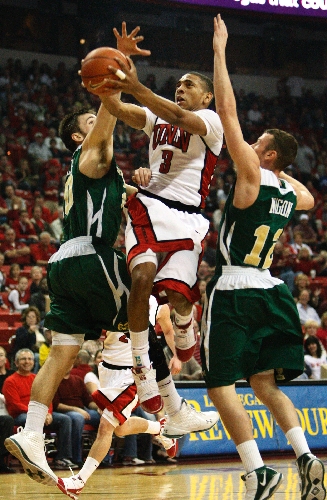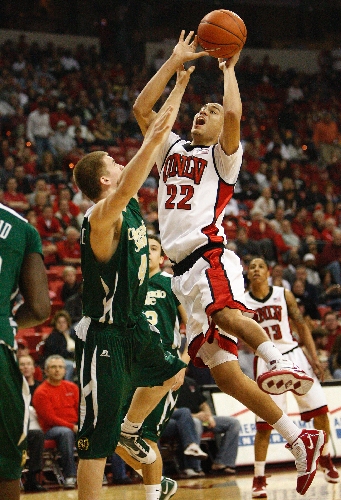 A UNLV team stumbling in the dark needed a spark. Freshman guard Anthony Marshall, who said it was time to play with "fire," struck the match.
Chace Stanback, Kendall Wallace and Tre'Von Willis followed his lead as the Rebels scorched Colorado State 70-39 on Saturday at the Thomas & Mack Center.
Marshall scored seven points during a 20-3 run to start the game, and UNLV (20-7, 8-5 Mountain West Conference) quickly closed the book on its three-game losing streak.
"We weren't trying to mess around," Stanback said. "We were coming off three straight losses, and nobody ever wants that. It's a nasty feeling. We're trying to put that behind us now."
Marshall finished with 12 points and 10 rebounds, and Stanback hit all three of his 3-pointers en route to 12 points. Marshall scored the game's first basket on a layup and Stanback followed with a 3 to get UNLV rolling.
"It feels good to get a win," Marshall said. "We've got to bring that intensity every game."
Marshall shot 5-for-5 from the field and 2-for-2 on free throws in his finest performance since he left Mojave High School.
"Anthony is developing his game with each week, and we're going to see that continue over the next 3½ years," coach Lon Kruger said.
The timing of Marshall's emergence was perfect for the Rebels, who were desperate to begin their recovery from consecutive losses to New Mexico, San Diego State and Utah.
"The guys were really bothered by that, and they came out with a good aggressiveness," Kruger said.
The Rams (15-11, 6-6) showed up at the wrong time and were treated like a punching bag. UNLV jumped ahead 31-8 after back-to-back 3-pointers from Willis and Oscar Bellfield.
Andy Ogide finished with eight points and 12 rebounds for Colorado State, which shot 4-for-25 from the field while falling behind 40-16 at the half.
Kruger used the latter part of the second half to experiment with a seldom-seen zone defense. Colorado State continued to suffer through a miserable shooting display (11-for-50).
Willis and Wallace each had 11 points as nine players scored for UNLV. Bellfield scored nine and Brice Massamba had seven points and a career-high five blocked shots.
Kruger inserted walk-ons Todd Hanni, Mychal Martinez and Tyler Norman with 2:59 remaining. It was the first appearance for all three since Dec. 19 in a 30-point victory over South Carolina-Upstate.
"I feel like we played great as a team," Stanback said. "We were passing the ball to the open man and hitting shots. Everything was clicking."
Seven players scored before Willis, the Rebels' leading scorer, got his first points on a jumper with 9:39 left in the first half. Willis carried the offense by scoring 32 in a 66-61 loss at Utah on Wednesday.
"In the three games we lost, we felt like we were kind of flat and we were shooting too many 3s," Marshall said. "We're so happy to come out and play with the fire we wanted.
"This season isn't over. We've got a lot of basketball to play. As the season goes along, I feel more confident and I see things are slowing down for me."
Marshall, whose previous high of nine rebounds came in Wednesday's loss, provided a highlight for a team in need of a lift.
"He's definitely starting to grow up," Stanback said. "Anthony has the ability to do so much on the court, and people don't even realize it. But people are starting to see what he's all about."
Contact reporter Matt Youmans at myoumans@reviewjournal.com or 702-387-2907.
UNLV-CSU basketball slide show
UNLV – 70
COLORADO STATE – 39
KEY: Anthony Marshall scored seven points during the Rebels' game-opening 20-3 run.
NEXT: Texas Christian at UNLV, 8 p.m. Wednesday, The Mtn. (334), KWWN-AM (1100)