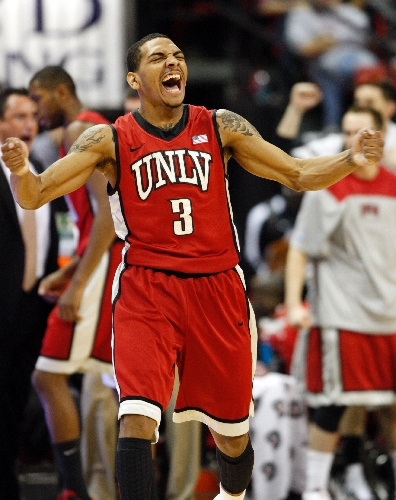 ALBUQUERQUE, N.M. — In Anthony Marshall's words, UNLV's past two trips to the NCAA Tournament were a "disappointment" and a "heartbreaker."
It could be argued last year's appearance was more of a debacle than a disappointment, but the point is that Marshall is a junior and still has not won a tournament game. It's a short losing streak he is eager to stop, and not just for himself.
"It's burning me up inside, just remembering those feelings from my freshman year and last year and how we went out," he said. "I really want to get that monkey off our back and get a win for the community.
"I want to help bring something special to the Las Vegas fans. I feel
they really deserve it and have been waiting for something like this."
The Rebels boarded a flight Tuesday with hopes of bringing home their first NCAA Tournament win since 2008.
UNLV (26-8) is seeded sixth in the South Region and opens play against No. 11 seed Colorado (23-11) at about 7 p.m. Thursday at The Pit. The Buffaloes are in the tournament for the first time since 2003.
"We've got seniors who have been through one-and-done games, and I think the leadership from them will get us over the top," Rebels sophomore forward Mike Moser said. "We're real determined."
Things went so poorly last March that Marshall, a former Mojave High School star, was compelled to give his teammates a unique halftime speech. The game already was lost and had the potential to turn into an embarrassment.
The Rebels, seeded No. 8, trailed Illinois by 22 points at the half, and Marshall said he thought about the fans who had made the journey to Tulsa, Okla., to see the game.
"I just felt like we weren't really playing hard," he said. "We had a lot of UNLV fans that traveled there to watch us play.
"I'm one of the more vocal leaders, so I was telling guys, 'If you don't want to play for yourself, go out there and do it for the people who came all the way out here to see us play, the people calling off of their jobs and missing money that could be going to their family, but they would rather be coming out here to support us.' "
It took some time for the Rebels to get inspired. They trailed by 20 with three minutes remaining before a last-ditch rally cut the final score to a respectable 73-62.
The loss to Illinois was former coach Lon Kruger's last game after seven seasons at UNLV. Kruger left for Oklahoma in April and was replaced by Dave Rice, who knows something about tournament success and failure.
Rice was a reserve on the Rebels' 1990 NCAA championship team and 1991 Final Four team. He also was a UNLV assistant for 11 seasons during a depression.
After the Rebels' victory over Seton Hall on March 23, 1991, they did not get another NCAA Tournament win until March 16, 2007, when Kruger coached the team to a first-round victory over Georgia Tech in Chicago, followed by a second-round win over Wisconsin.
In 2008, UNLV was a No. 8 seed in Omaha, Neb., and defeated Kent State 71-58 before getting pounded by Kansas.
After a National Invitation Tournament loss at Kentucky in 2009, the Rebels returned to the NCAAs in 2010, drew a No. 8 seed and lost to Northern Iowa 69-66 at Oklahoma City.
Rice also was in Oklahoma City two years ago as a Brigham Young assistant coach. The Cougars' victory over Florida, 99-92 in double overtime, was their first NCAA Tournament win since 1993. In the eyes of many fans, Rice said, a team's season can be defined by its performance in the NCAA Tournament.
"It's hard to win these games," Rice said. "I just call it the proliferation of the NCAA Tournament, where it truly has become the end-all. It has become such a big deal.
"To get to the NCAA Tournament is a big deal, and then every game a team is able to win makes it an even bigger accomplishment. The next time we lose, the season will be over, so we don't want it to end."
Fifth-year senior guard Kendall Wallace is the only current UNLV player who was on the team in 2008. For him to go out with some tournament success, the Rebels must find a way to win a game away from the Thomas & Mack Center for the first time since Jan. 28.
"A neutral-site game and an away game are completely different. We know we can play well away from home," Wallace said. "We just aren't finishing. I think that will be a different story in the NCAA Tournament, and we'll be focused and make sure we make a statement."
Marshall made repeated references to getting the "monkey off our back" in March.
"We've got a veteran group," he said. "We can make a run."
■ NOTE — CBS Sports Network's all-access series "College Hoops Confidential," featuring an unfettered look at UNLV's program, will air at 5 p.m. today on Cox Channel 333.
Contact reporter Matt Youmans at myoumans@reviewjournal.com or 702-387-2907.