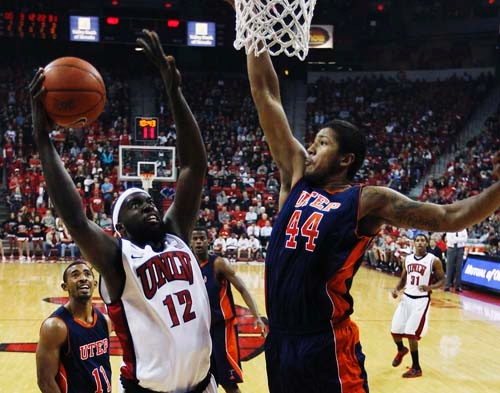 Anthony Marshall scored 16 of his 20 points in the second half as UNLV rallied late for a 65-54 victory over Texas-El Paso at the Thomas & Mack Center.
Marshall made two 3-pointers to help the Rebels extend a one-point lead to eight with four minutes remaining.
Justin Hawkins finished with 12 points and Carlos Lopez had 11 for UNLV (10-2).
Lopez scored inside before Mike Moser's fast-break dunk put the Rebels ahead 46-41 with 6:30 remaining. But they failed to build on the momemtum, and the Miners tied it at 46 on Gabriel McCulley's two free throws with 5:55 to play
Chace Stanback, the Rebels' leading scorer, was held scoreless until his 3-pointer put UNLV up 38-32 with 10:39 to go. UTEP regained the lead, 41-40, on Julian Washburn's baseline jumper.
Stanback, who had scored in double figures in nine of his 10 games and was averaging 15.2 points, finished with five points.
The Rebels missed 16 of their first 19 shots from the field but led 24-21 at halftime with the help of Oscar Bellfield's two 3-pointers.
McCulley and Michael Perez each scored for 15 points for the Miners, who were 17-point underdogs yet stayed in position to win until the final two minutes.
HALFTIME REPORT: Rebels hold slim lead, 24-21
Oscar Bellfield made two 3-pointers to help pull UNLV out of its offensive funk in time to take a 24-21 halftime lead over Texas-El Paso at the Thomas & Mack Center.
The Miners controlled the pace and shortened the half, often burning 20 seconds off the shot clock before triggering their offense. It was a wise tactic by coach Tim Floyd, who kept his team, a 17-point underdog, in the game.
The Rebels (9-2) missed 16 of their first 19 shots from the field before Mike Moser's layup at the 8:39 mark. A fast-break dunk by Anthony Marshall and consecutive 3-pointers from Bellfield and Justin Hawkins finally put UNLV in front.
Michael Perez scored seven points to lead UTEP (2-4).
Rebels coach Dave Rice substituted early and often in search of a spark and the right lineup combinations. UNLV shot 9-for-29 (31 percent) for the half.
PREGAME REPORT
After a no-show performance in a lopsided loss, junior guard Anthony Marshall said UNLV got a wake-up call at Wisconsin.
"We just didn't come out ready to play. It's very disappointing," Marshall said of the Rebels' 62-51 setback to the 14 th-ranked Badgers on Saturday. "But you can find a positive in every negative. For us to be the ballclub we want to be, we can't allow things like that to happen."
UNLV coach Dave Rice termed his team's energy and execution "unacceptable," and he directed enthusiastic practices Monday and Tuesday.
The Rebels (9-2) are 17-point favorites over Texas-El Paso (2-4) at 7 p.m. at the Thomas & Mack Center. UNLV is playing on its home floor for the first time since a victory over Cal Poly on Nov. 22.
Miners coach Tim Floyd, who is rebuilding and has seven freshmen on his roster, called the Rebels "a legitimate top 15 team in the country."
But Marshall and sophomore forward Mike Moser have seen their production tail off recently. Marshall had two points and one rebound in 27 minutes at Wisconsin. Moser, bothered by a sprained right wrist, scored a total of 10 points in the past two games.
Rice said he will know by Friday if sophomore point guard Reggie Smith, a transfer from Marquette, will become eligible for UNLV's game against Illinois in Chicago on Saturday. Smith is in good standing academically, but after final exams are completed, grades must be posted before Smith can travel with the team.
The Rebels are 4-2 away from the Thomas & Mack, going 3-0 at Orleans Arena, winning at UC Santa Barbara and losing at Wisconsin and Wichita State.
Contact reporter Matt Youmans at myoumans@reviewjournal.com or 702-387-2907.