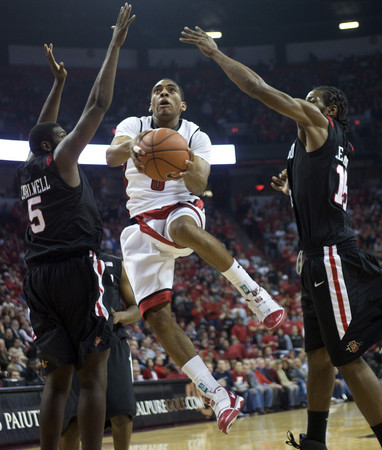 With his athletic ability and variety of skills, UNLV freshman Anthony Marshall is capable of highlight-reel moments.
The 6-foot-3-inch guard is the Rebels' most explosive dunker, for example. He can play above the rim. But push him out to the perimeter and he becomes a high-risk shooter who hits rims and rattles backboards.
Marshall is not yet a complete player, but he has developed a sense of humor about being a 4.8 percent shooter from 3-point range.
"I hear people joking about it," he said with a smile. "I understand, because I'm not making shots. But nobody is really hard on my case about it. I guess I'm just in a slump. I feel like I'm a better shooter than what I've displayed."
Before and after practices, the former Mojave High School star has been putting in extra work on his jumper. Marshall's plan is to show off an improved shooting touch in games, sooner or later.
His next shot comes when UNLV (14-3, 2-1 Mountain West Conference) hosts Utah (8-8, 1-1) at 7 p.m. today at the Thomas & Mack Center.
Marshall, a backup to sophomore point guard Oscar Bellfield, has played well enough to earn 17.4 minutes per game, sixth most on the team. He defends, rebounds and is improving at running the offense.
The fact he's shooting 34 percent from the field, including 1-for-21 on 3-point attempts, is not getting Marshall down.
"When my jump shot's not falling, I can't let that take away from the rest of my game," he said. "It's pretty frustrating, but I've got to do other things to help our team win games."
The Utes, coming off a 74-57 loss at New Mexico on Wednesday, are also dealing with the inconsistency of youth.
A rash of injuries has frustrated Utah coach Jim Boylen, who is rebuilding his roster after losing center Luke Nevill from the MWC tournament championship team.
Boylen has two seniors — guard Luka Drca and 6-11 forward Kim Tillie — and Tillie was sidelined in early January after arthroscopic surgery on his left knee. Tillie has improved enough that he was able to practice Friday.
"If he does play, it will be limited minutes, maybe 12 to 14 minutes," Boylen said. "We're too young to not be full strength.
"When we were full strength we beat Illinois and Michigan and lost to Oklahoma in overtime. When we're full strength, we're big and we're physical. If we get back to that, we can make a run and do some damage."
Boylen said Jay Watkins, a 6-7 junior forward, will miss today's game to attend his stepfather's funeral in Arizona.
Rebels coach Lon Kruger has been dealing with problems of a different sort. "Rebounding is our biggest concern," he said.
Marshall can assist in that area. He pulled down five rebounds Wednesday night in UNLV's 76-66 victory over San Diego State. He played 23 minutes, filling in capably while Bellfield was in foul trouble.
"Anthony does a lot of things," Kruger said. "He really sees the floor, and he can be a very good rebounder because he's got a good instinct for the ball and very good athletic ability. He doesn't mind going in there and mixing it up from a physical standpoint."
The downside was Marshall shot 1-for-6 against the Aztecs, and he's 5-for-22 in the past five games. But he said his shooting woes are not becoming a mental block, and he's focused on fine-tuning his form.
"His mechanics are a little bit unique, but it's not something to mess with in the middle of the season," Kruger said. "Anthony will shoot better. It's the chicken-and-egg thing. When you're making shots, you're confident. If you're not making shots, it's hard to get enough opportunities to gain your confidence."
Marshall, one of Kruger's most heralded recruits, has plenty of followers. Not only is he a dunker, he is the team's most prolific user of Twitter.
He frequently posts messages — sometimes from the locker room after games — as a way to stay in touch with UNLV fans.
"We've got great fans, and I love talking to them," he said. "I try to reply to them when I'm able to and let people know I really appreciate their support."
Contact reporter Matt Youmans at myoumans@reviewjournal.com or 702-387-2907.
UTAH VS. UNLV
WHEN: 7 p.m. today
WHERE: Thomas & Mack Center
TV/RADIO: CBSC (333), KWWN-AM (1100)
LINE: UNLV -111/2