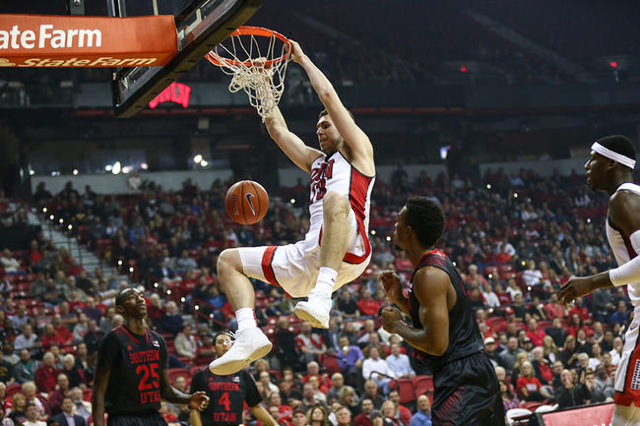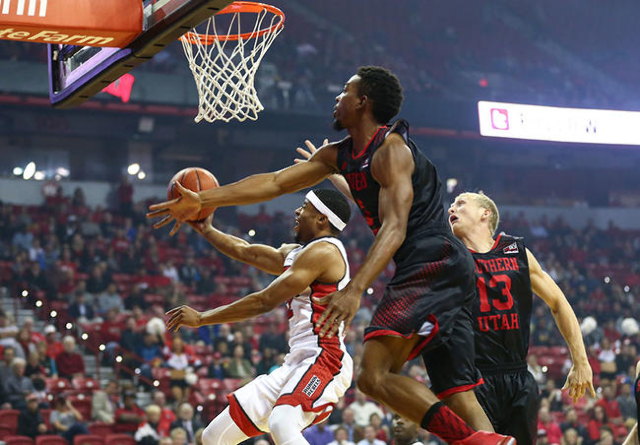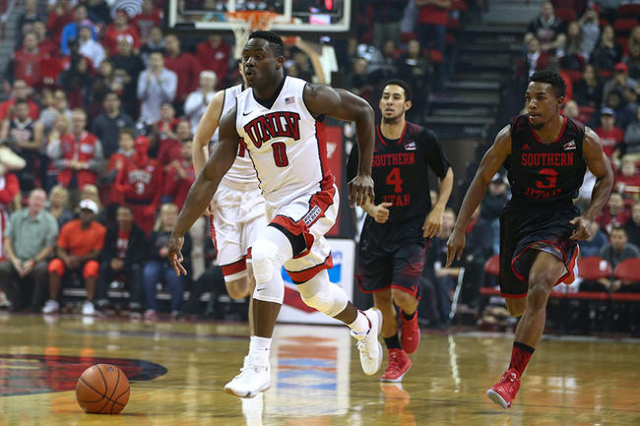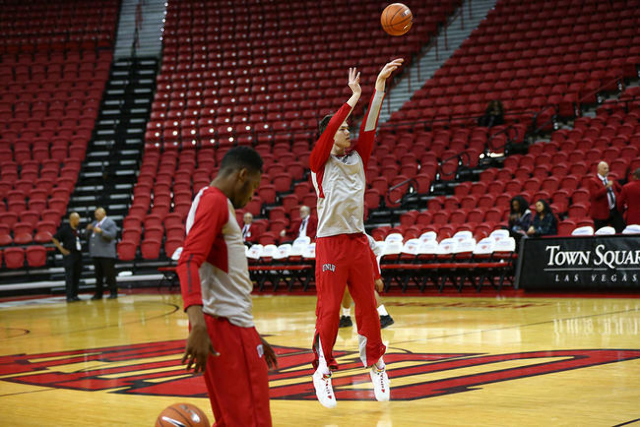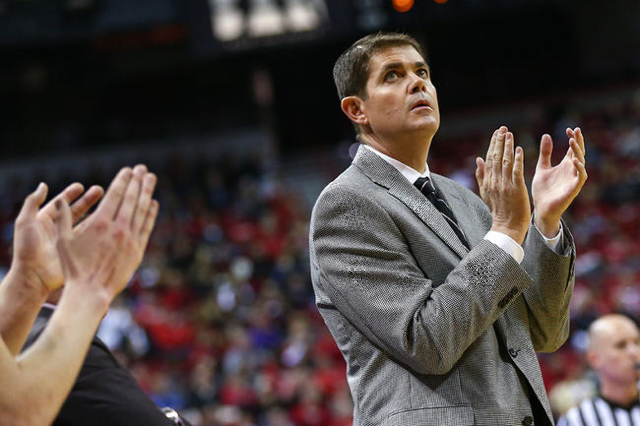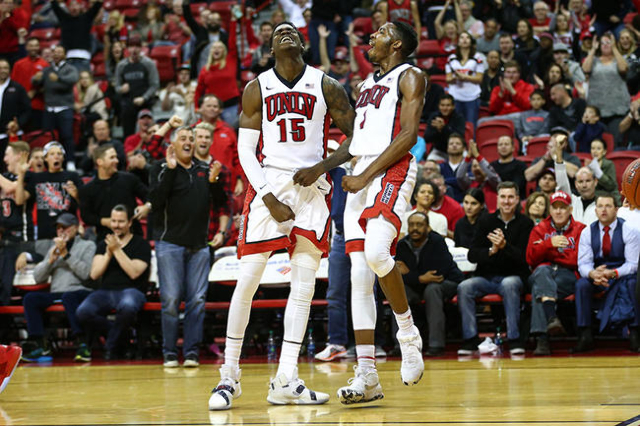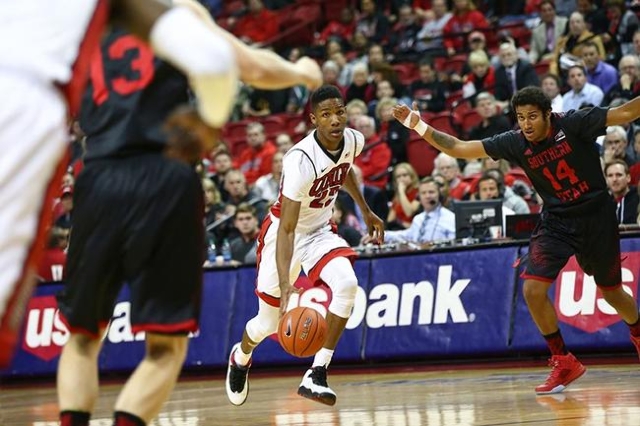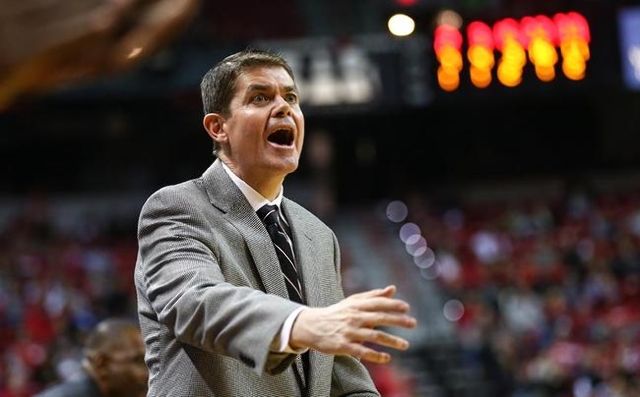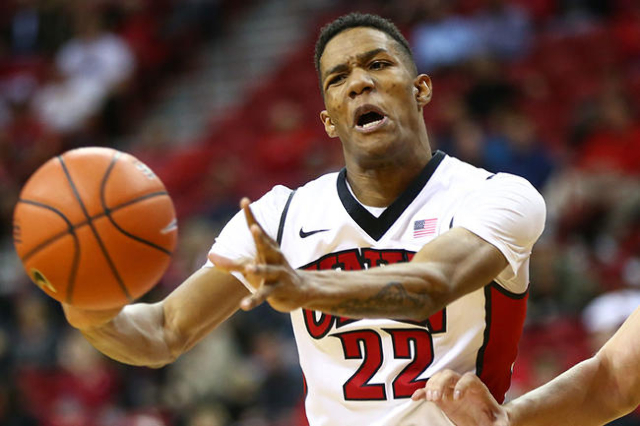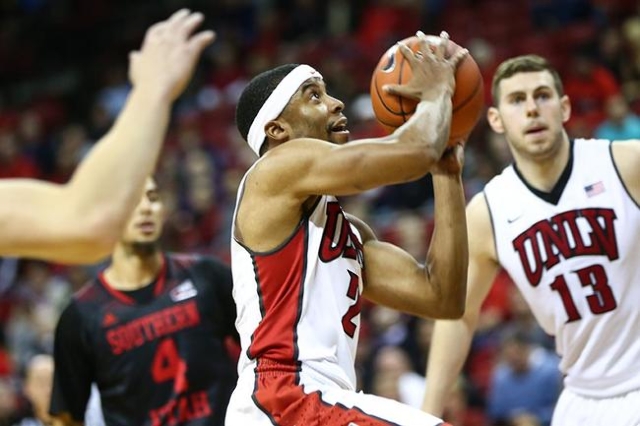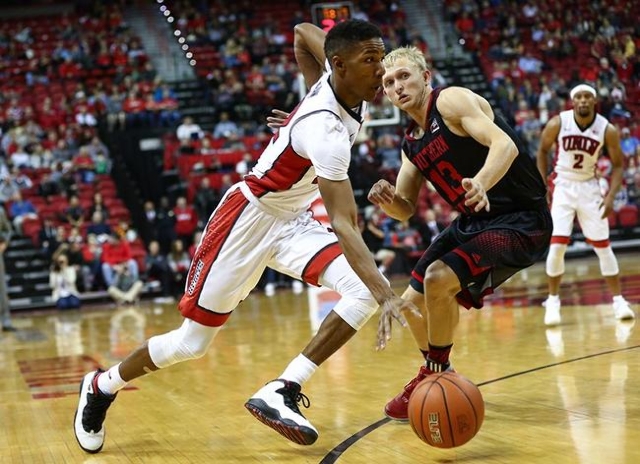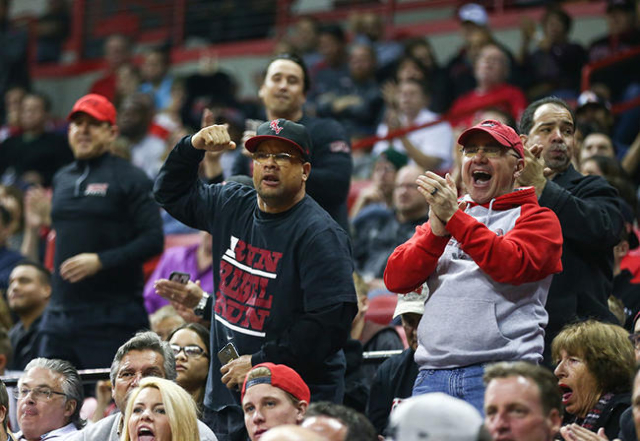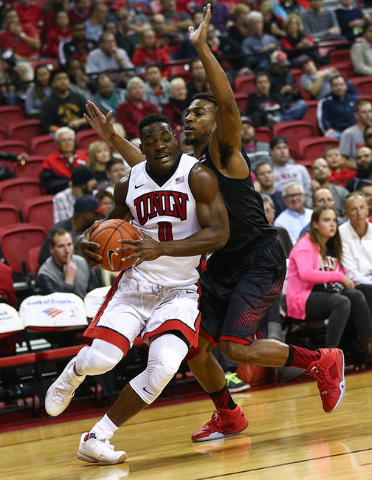 One of the quietest players on UNLV's team, sophomore guard Patrick McCaw finds ways to create noise other than with his mouth. His hot hand did the trick Wednesday night.
McCaw made three 3-pointers and scored a career-high 24 points to propel the Rebels to an 84-64 victory over Southern Utah at the Thomas & Mack Center.
"Some of my shots did break open the game," McCaw said. "I got in a rhythm and told myself to keep shooting. I think I did all right."
Freshmen stars Derrick Jones Jr. and Stephen Zimmerman Jr. did OK, too. Jones poured in 19 points in 20 minutes, and Zimmerman added 11 points and 10 rebounds for UNLV.
McCaw was the key because he was able to shoot over the Thunderbirds' 2-3 zone while his teammates were misfiring. McCaw hit 3 of 6 3-pointers, and the Rebels were 5-for-20.
"Patrick's a guy who does everything for us. He made some huge shots," coach Dave Rice said. "Patrick did a fantastic job. His leadership on the floor and his timely plays really made the difference in the game."
UNLV (3-0) is off until Monday, when it faces UCLA on the opening day of the Maui Invitational. The competition in Hawaii will provide a much tougher challenge.
"Mission accomplished. We got a win against an experienced, good team," Rice said. "We've got a long way to go, but I'm very pleased with where we're going."
After Southern Utah (0-2) sliced its deficit to eight points with seven minutes remaining, McCaw retaliated by sinking a 3 and two free throws.
Senior point guard Jerome Seagears, who finished with 11 points, six assists and no turnovers, scored on a layup before McCaw struck again. He spotted up on the wing and hit a 3 over the zone to put the Rebels ahead 74-56 with 5:15 to go.
Seagears drove the lane and found Jones, who flew down the baseline for a dunk to put the game away at the 3:33 mark.
"Derrick makes great things happen every time he goes in there," Rice said.
Jones hit 7 of 8 free throws as UNLV shot better at the line (19 of 26). But the 3s were not falling unless McCaw was firing away.
"Even though we only made five 3s in the game, we made some timely 3s," Rice said. "I thought our press took its toll and we forced some turnovers."
UNLV forced 16 turnovers, most as a result of its full-court pressure, and committed only eight while exhibiting more efficient execution on both ends of the floor.
"Everybody gets tired when you're going at them," said Jones, who came up with two of the Rebels' 10 steals.
Starting guards Travon Langston (Las Vegas High) and Trey Kennedy (Bishop Gorman) each scored 10 points for the Thunderbirds. However, Langston and Kennedy shot a combined 5-for-21 from the field.
Zimmerman scored seven of the team's first 11 points. He had 11 points and five rebounds as the Rebels took a 45-31 lead to the half.
In a return to his hometown, Kennedy came out as a hot shooter. He buried back-to-back 3s to pull the Thunderbirds within 22-21 with nine minutes to go.
McCaw triggered a UNLV run with a 3. Zimmerman spun on the baseline and dropped in a short jumper with a soft touch. Jones' steal and layup pushed the Rebels ahead 39-25.
Tempers flared with 2:50 left in the half, when Jones and Kennedy got tangled up and traded words by the UNLV bench to draw double technicals. Kennedy was greeted by a chorus of boos each time he touched the ball for the rest of the night.
"I didn't say anything," Jones said with a smile. "I was just trying to get to my seat and he was bumping up on me."
Southern Utah opened the second half with a 10-2 run before Jones and McCaw took control of the game.
Contact reporter Matt Youmans at myoumans@reviewjournal.com or 702-387-2907. Follow him on Twitter: @mattyoumans247
Check our GameDay page for full coverage of the UNLV-Southern Utah game.