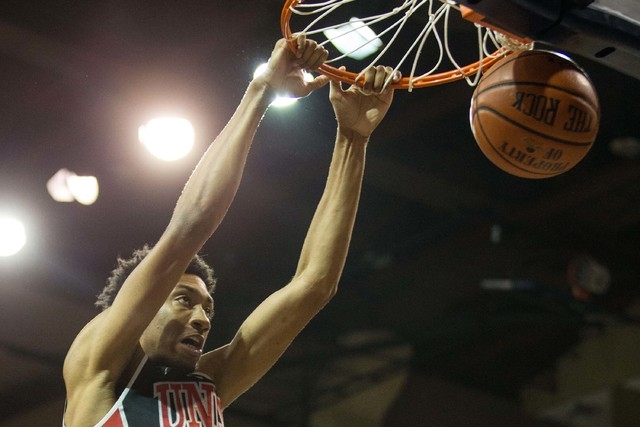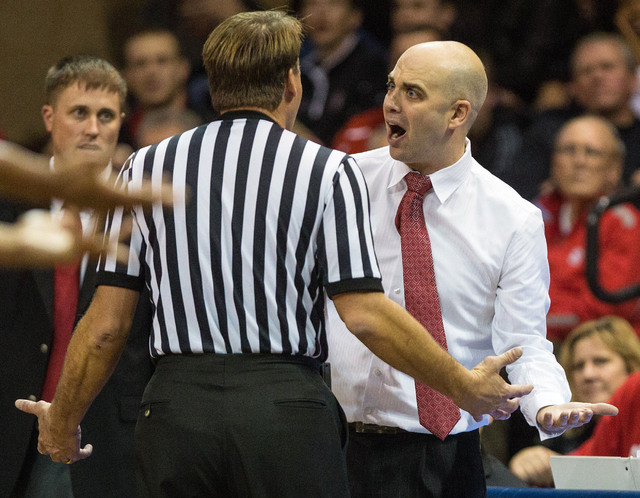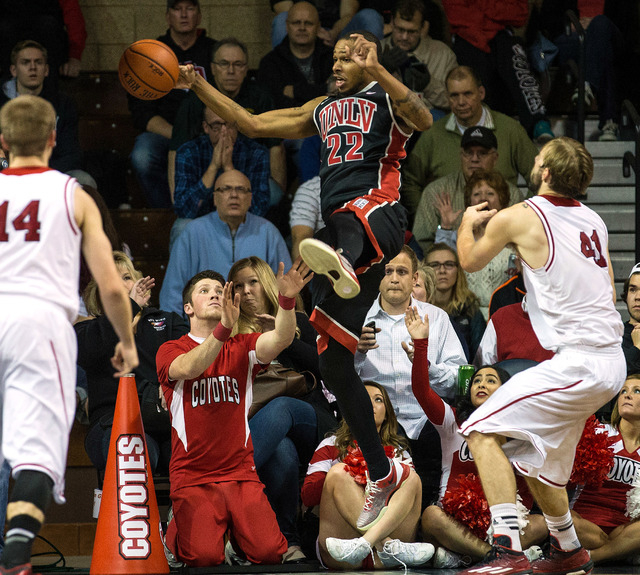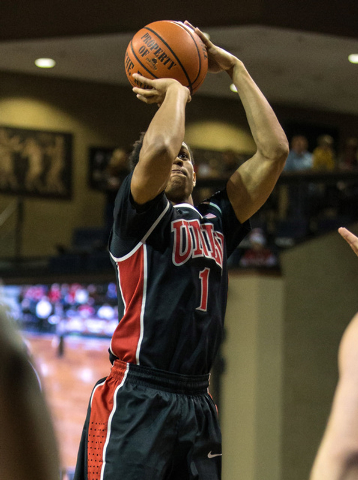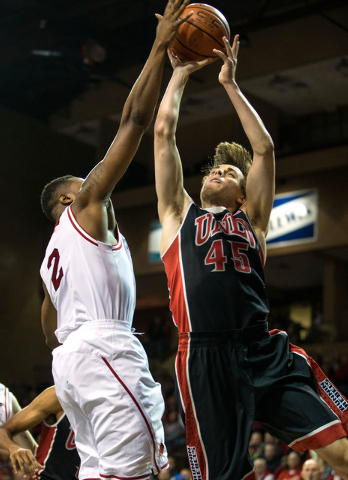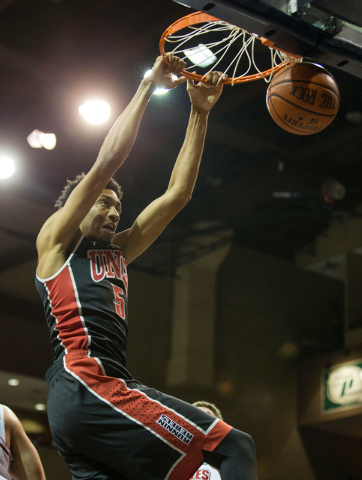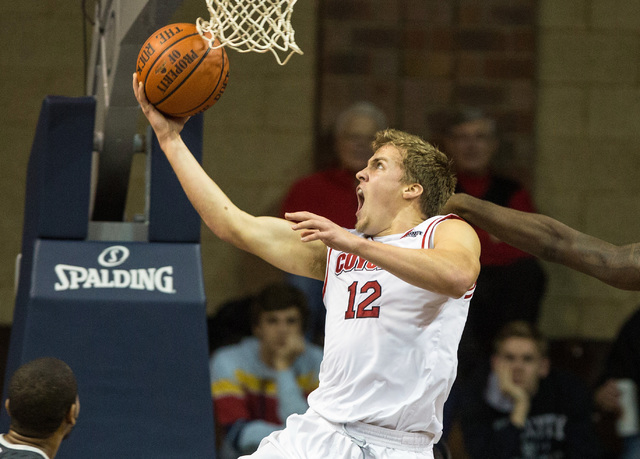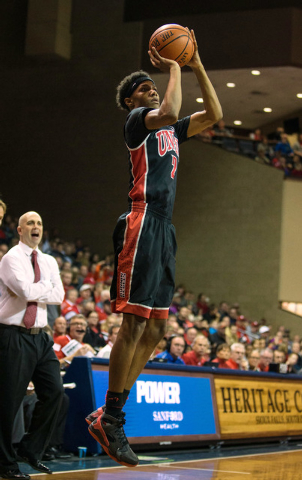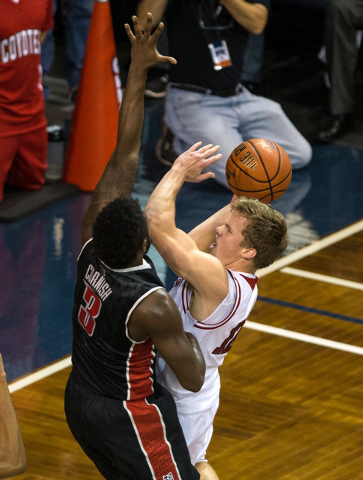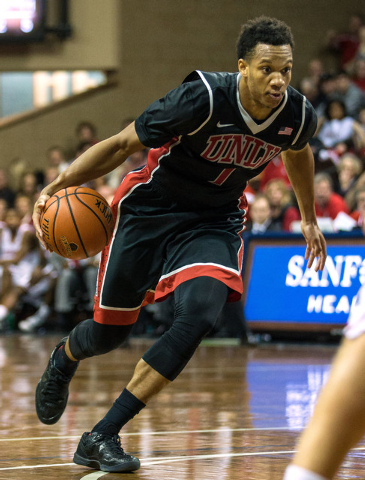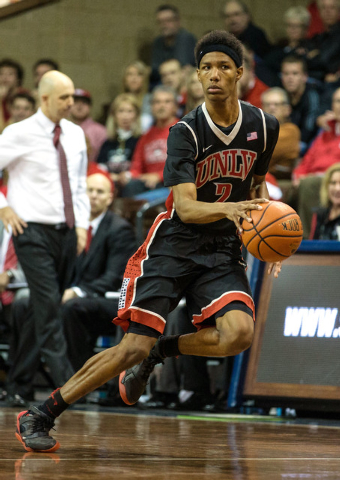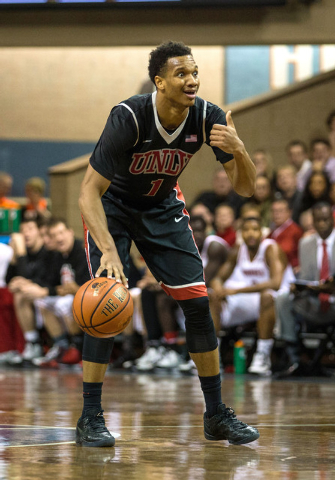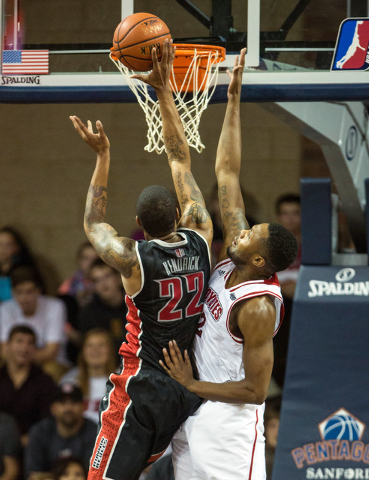 SIOUX FALLS, S.D. — It's early in his freshman year, but UNLV guard Patrick McCaw already has learned that defense is the key to winning basketball games. To prove that point, he led by example.
The example he set was with his effort on the defensive end of the floor.
"I just play as hard as I possibly can," he said. "I just focus on winning."
Rashad Vaughn scored 18 points, and McCaw made big plays to help the Rebels run away with a 75-61 victory over South Dakota before a lively sellout crowd of 3,250 at the Sanford Pentagon on Saturday night.
The 6-foot-6-inch McCaw totaled 12 points, four steals and four rebounds as UNLV (6-2) turned in its most impressive performance away from home.
"He does some things as a freshman that your jaw just kind of drops," said senior point guard Cody Doolin, who had five steals.
The Coyotes (3-8) carried the reputation of a hot-shooting team, but they could get little to drop from long range against the Rebels' suffocating defense. That was UNLV coach Dave Rice's plan, and McCaw made certain it was executed.
"This week in practice, Coach Rice really emphasized defending the 3," McCaw said. "We prepared all week for it."
South Dakota, which was shooting 36 percent from 3-point territory, hit just 2-for-17 and rarely got open looks against the Rebels.
"Our whole focus was trying to limit 3-point shots," Rice said. "Not only did we play good perimeter defense, but we followed the game plan better than we have followed it all year."
Senior guard Jelan Kendrick scored 13 points, and sophomore forward Chris Wood played through early foul trouble to finish with 11 points, 10 rebounds and two blocked shots.
Vaughn had 14 points in the first half. McCaw's steal and running 3-pointer just before the buzzer gave the Rebels a 42-31 halftime lead.
McCaw's steal and layup put UNLV up 59-44 with 11 minutes remaining. The Coyotes mounted a brief rally when Brandon Bos' driving bank shot cut their deficit to 65-55 with five minutes to go.
Tyler Larson, a senior guard from Desert Pines High School, drove for a layup to pull South Dakota within 69-61 with 2:02 left. But Doolin and Kendrick turned out the lights on the Coyotes by combining to make five free throws in the final 1½ minutes.
"That was probably the longest and most athletic team we've seen so far," said Bos, South Dakota's top scorer with 19 points. "We were trigger-happy with the 3s, and their length definitely bothered us."
The Coyotes connected on 11 of 24 3s in a double-overtime loss at Creighton on Tuesday, but their shooters were blanketed this time as the Rebels' defenders switched on all screens on the perimeter.
Doolin said the communication between players on the defensive end was the best of the season.
"Defensively, we did a really good job on them," Doolin said. "I think we improve every game."
South Dakota was harassed into 13 first-half turnovers that UNLV converted into 20 points.
"They did a really good job of taking away a lot of the 3s we like to get," Coyotes coach Craig Smith said. "They play one guy who's under 6-6, and we play one guy who's over 6-6, and that catches up to you.
"UNLV is a tremendous program. We thought it was great when we scheduled this game because they lost all five starters. But you can see they have at least three NBA guys on that roster."
Rice scheduled the game in part as a homecoming for Vaughn, a freshman guard who grew up in Minneapolis before finishing his high school career at Findlay Prep.
Vaughn, who shot 7-for-16 from the field, returned from a back injury and carried the Rebels offensively during a tightly contested first half.
Contact reporter Matt Youmans at myoumans@reviewjournal.com or 702-387-2907. Follow him on Twitter: @mattyoumans247.
UNLV 75, South Dakota 61
Key: Rashad Vaughn had 18 points to lead four double-figure scorers for the Rebels.
Next: UNLV vs. Portland, 7:30 p.m. Wednesday, Thomas & Mack Center, KWWN (1100 AM, 100.9 FM)