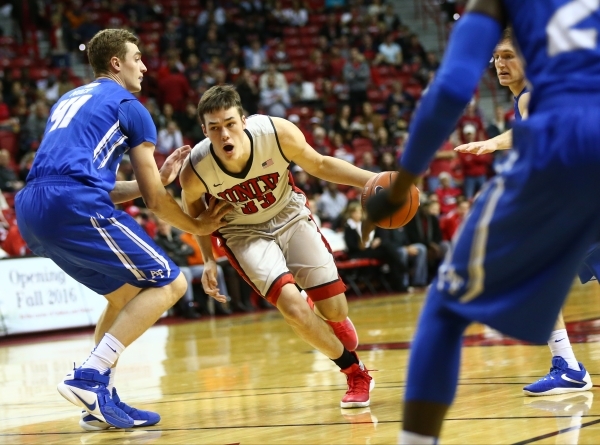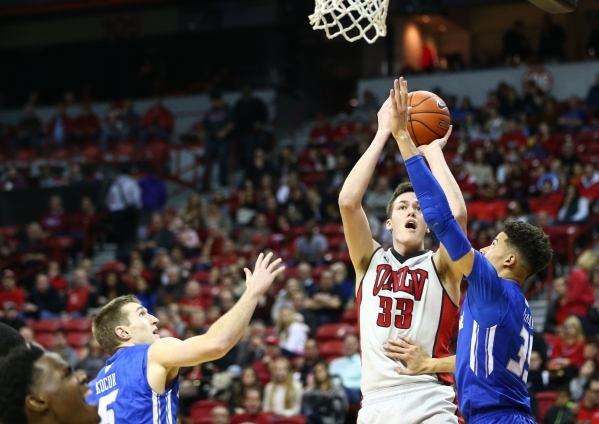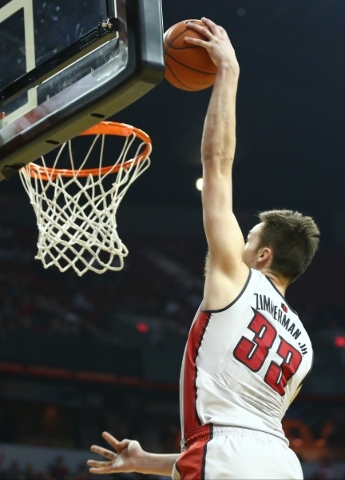 RENO — The second half at Utah State on Tuesday was about to begin when UNLV associate head coach Stacey Augmon gave Stephen Zimmerman Jr. a pep talk.
Zimmerman had been aggressive the two previous basketball games, but in the first half against the Aggies, he reverted to his more passive ways, and the Rebels trailed by a point.
At the end of the one-way conversation, Augmon told the freshman, "Let's go."
And go he did. Zimmerman dominated inside, scoring eight points and grabbing 11 rebounds in the second half as the Rebels pulled away to win 80-68. He finished with 12 points and 16 rebounds, his third double-double in a row.
"The main thing (Augmon) said was that we were kind of asleep in the first half and that I needed to help lead and wake everybody up," Zimmerman said. "I think that definitely worked in the second half, and I played a whole lot better."
UNLV (12-7, 3-3 Mountain West) will need Zimmerman to continue to be aggressive when the Rebels face UNR (11-7, 3-3) at 7 p.m. Saturday at Lawlor Events Center. ESPNU will televise the game.
The Rebels are on a three-game winning streak, and a victory would keep the momentum heading into next week when the Rebels host Boise State and San Diego State.
As for Zimmerman, the 7-footer learned just how difficult the jump is from Bishop Gorman High School to the college level, though he had a three-game stretch near the start of the season in which he had double-doubles in each one.
His progress after that initial play was hampered first by an illness and later by an injured right ankle. Now he's good to go, and he has the numbers to show for it.
"The healthy part definitely helps out a lot," Zimmerman said. "I have been trying to be more aggressive, and it's mostly my teammates telling me that they need more to be more aggressive."
Zimmerman is playing the way envisioned when he signed with UNLV, with the second half at Utah State a prime example. Of his 11 rebounds over the final 20 minutes, seven came on the defensive end.
That meant the Aggies often were limited to one shot in each possession as they tried to cut into UNLV's lead, making any Utah State comeback difficult to achieve.
"It's huge, and I know that everyone on our team would hate it if it happened to us," Zimmerman said.
He is second in the Mountain West with 9.2 rebounds per game, just behind the 9.3 that Boise State's James Webb III averages. Zimmerman also is second in the conference in blocked shots, with 2.0 per game; league leader Cameron Oliver of UNR averages 2.6.
Zimmerman is coming on strong, with 10 blocked shots in the past three games combined, including four at Utah State.
"He's kind of come into his own in terms of being a vocal defensive player," UNLV interim coach Todd Simon said. "He's really quarterbacking that defense in front of the rim. Obviously, the priority is in him going and getting balls and swatting them as he did late in the Utah State game."
UNLV would love to build around Zimmerman in the coming seasons, but he signed with the Rebels as a likely one-and-done player. Whether to turn pro after this season is a decision that will be made later, and now Zimmerman will have extra time to think about it.
The NCAA decided last week to give players until 10 days following the NBA combine in mid-May to decide whether to go early in the draft. The previous deadline was in early April.
"That will definitely help having extra time to talk to your family," Zimmerman said.
Simon, though, downplayed the change in deadline.
"It's hard to say what the effect will be because at that point, guys in general I think have an idea of what they want to do," Simon said. "You have to prepare for the combine. You have to prepare for these things. Those decisions probably come sooner than later, but it's a step in the right direction."
Contact Mark Anderson at manderson@reviewjournal.com or 702-387-2914. Follow him on Twitter: @markanderson65
Check our GameDay page for full coverage of the UNLV-UNR game.