Mountain West favorite UNR sets sights on national title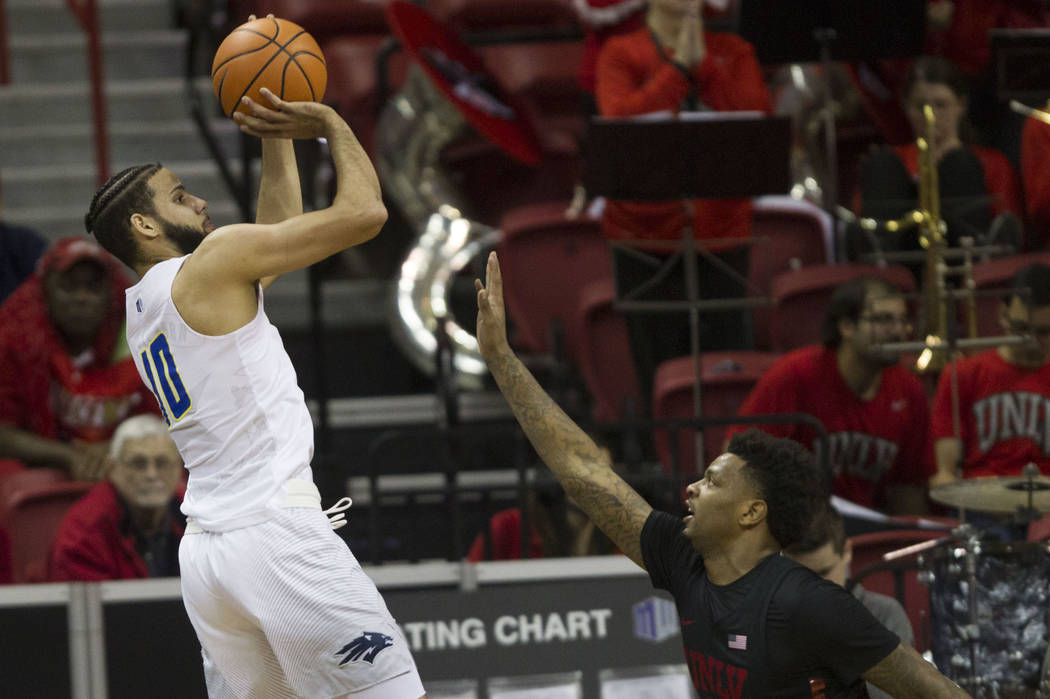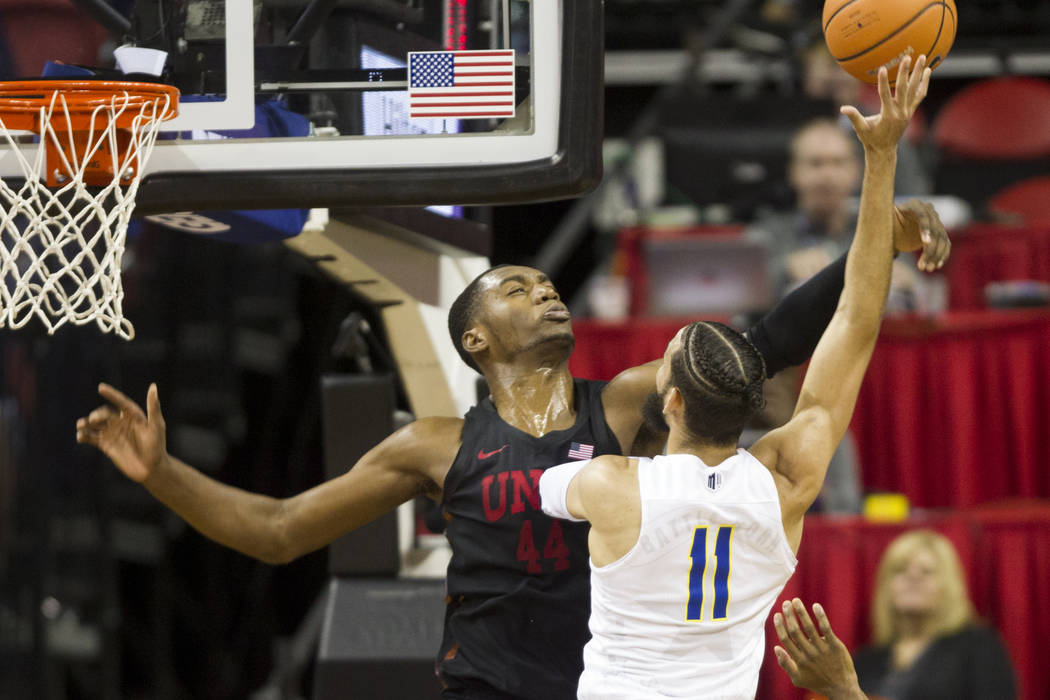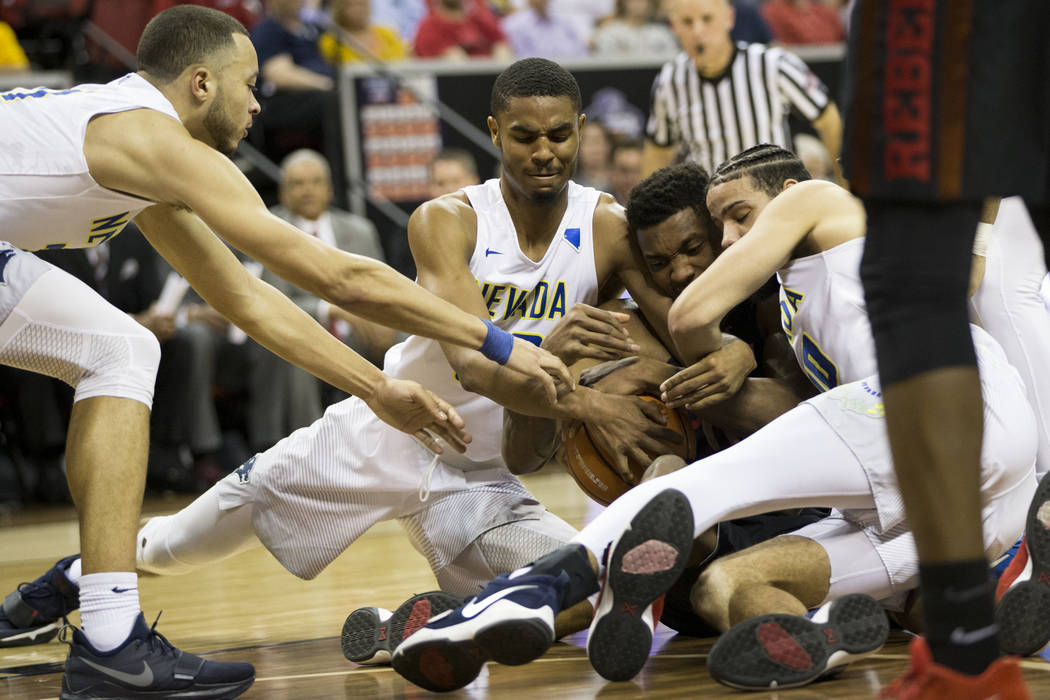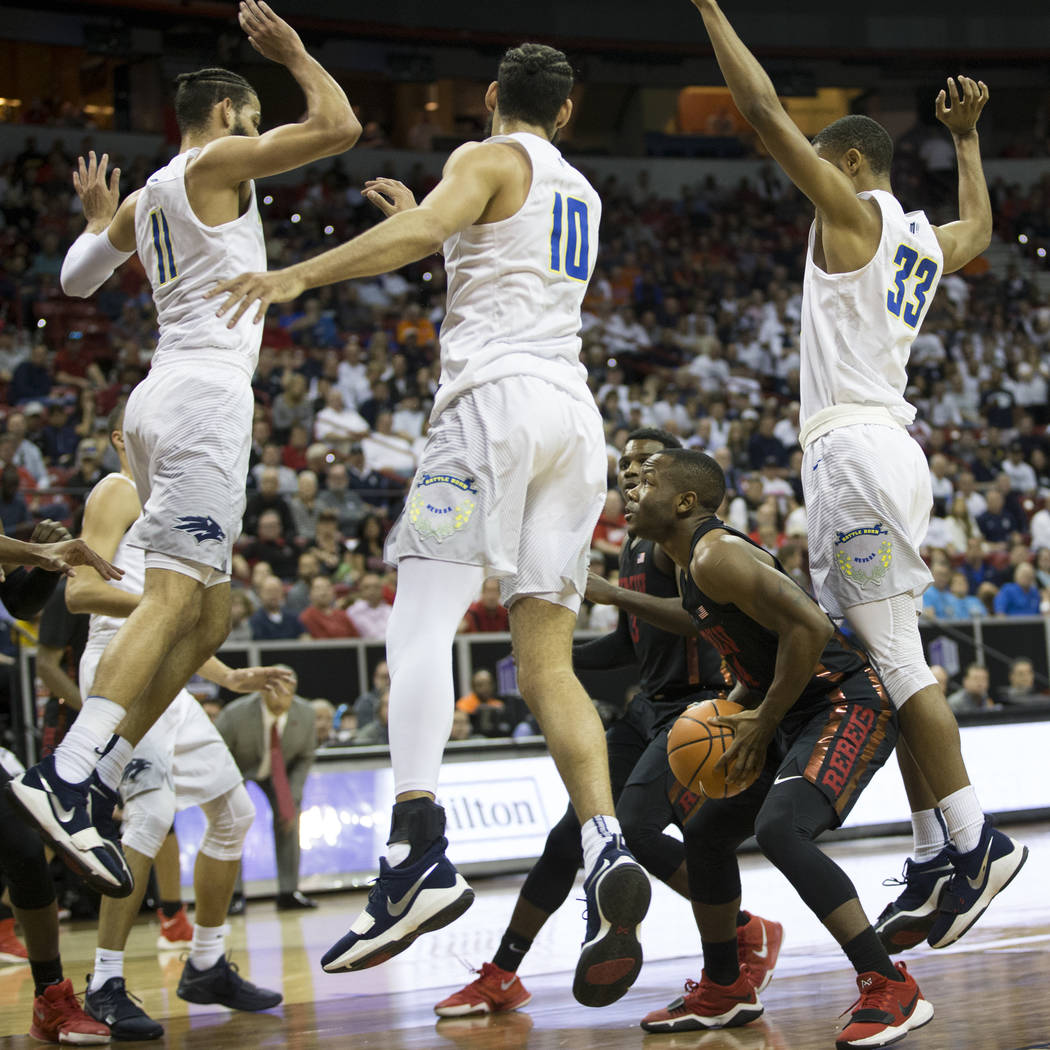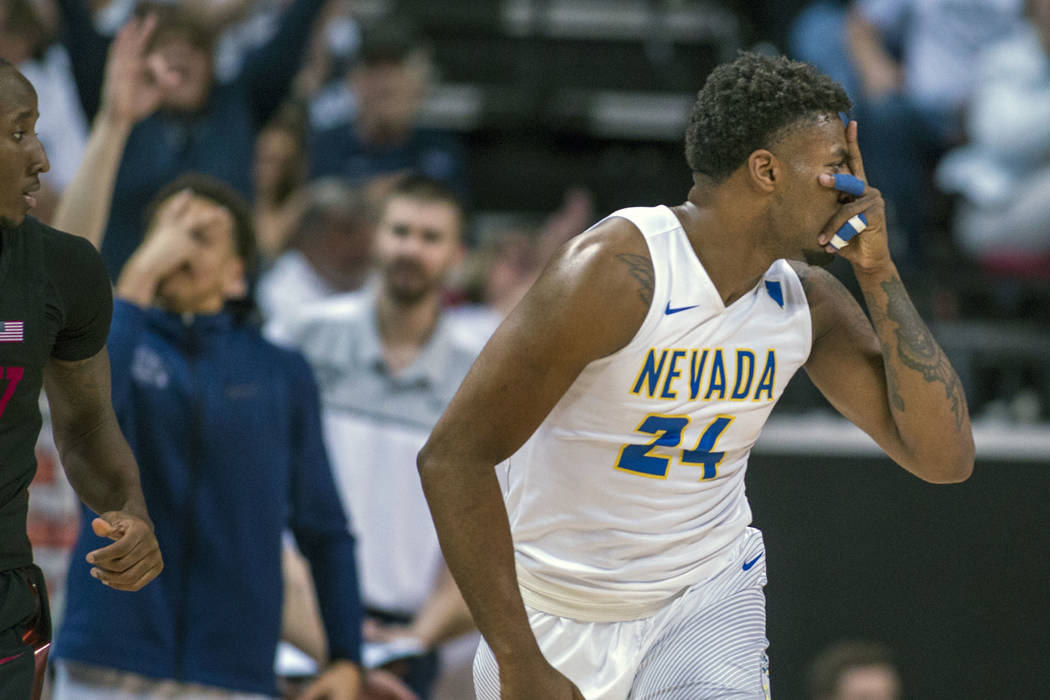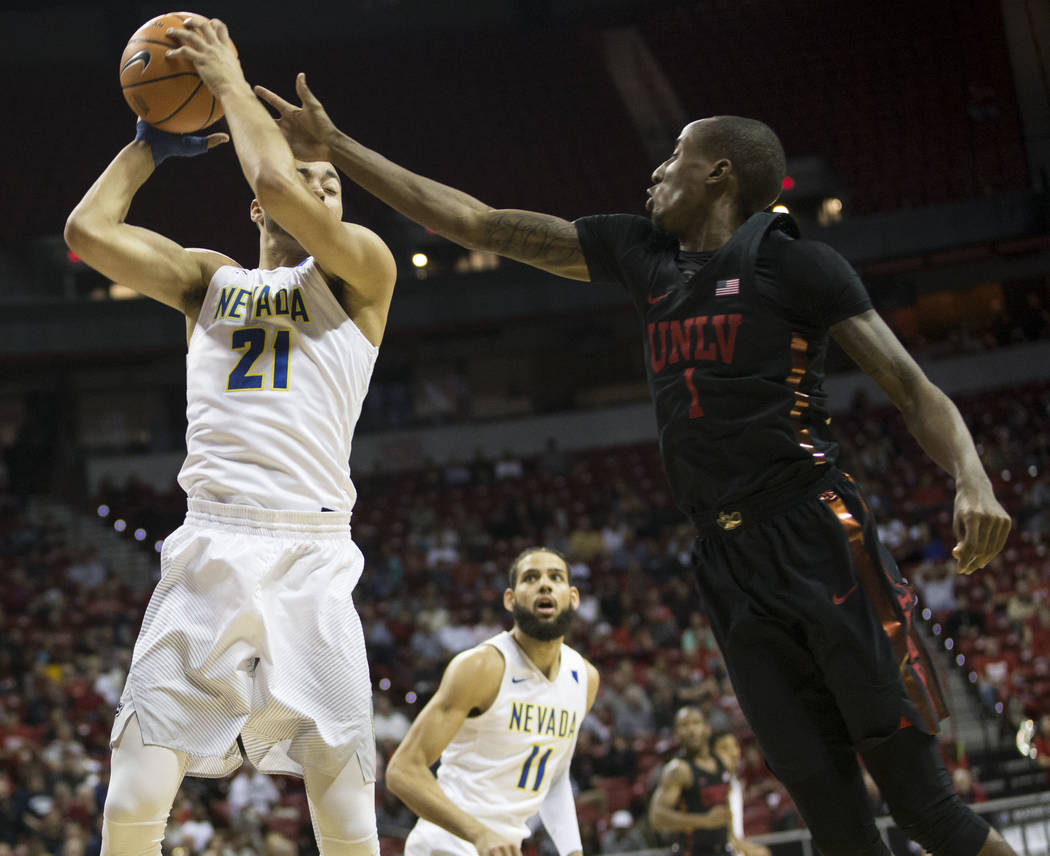 Off its Sweet 16 appearance in the NCAA Tournament, UNR enters the season as the clear favorite in the Mountain West.
The No. 7 Wolf Pack have higher goals, of course.
They hope to challenge for a national championship and have the personnel to make such a run.
Here's a look at what to expect this season. Teams are ranked according to where they were picked by Mountain West media:
1. UNR
Last season: 29-8, 15-3 MW (first), NCAA Tournament Sweet 16
Coach: Eric Musselman, fourth season, 81-29
Player to watch: Senior guard/forward Caleb Martin was last season's Mountain West Player of the Year.
Expectations: The Wolf Pack went into the NCAA Tournament last season without depth and size, and now they have both. This is a team capable of reaching the Final Four, but with more players comes new problems with how to divvy up playing time. The chemistry that kept the team together last season could become fractured if not handled properly.
Coachspeak: "We're a talented team for sure. We've got a lot of guys back. We're a veteran team. But we've got a lot of moving parts, a lot of new pieces. We've got to try to figure out how they're going to fit."
2. San Diego State
Last season: 22-11, 11-7 MW (tied for fourth), Mountain West tournament champion, NCAA Tournament first round
Coach: Brian Dutcher, second season, 22-11
Player to watch: Sophomore forward Jalen McDaniels returns after initially declaring for the NBA draft.
Expectations: If there is any team that figures to challenge UNR, it's San Diego State. The Aztecs won their final two meetings last season, and they bring back enough talent to make another run at a NCAA Tournament berth. Six letter winners return, including senior point guard Devin Watson (12.2 points, 3.8 assists).
Coachspeak: "We have a better league than people give us credit for, but parity levels the playing field. We have a bunch of teams hovering around each other, so we go from eighth place with six games to go to winning the (tournament) title."
3. New Mexico
Last season: 19-15, 12-6 MW (third), Mountain Tournament title game
Coach: Paul Weir, second season, 19-15
Player to watch: Sophomore guard/forward Vance Jackson, a Connecticut transfer, was selected the preseason Newcomer of the Year.
Expectations: The Lobos were the league's surprise team last season. That success created expectations this season that New Mexico will be a contender, even though the Lobos return just four letter winners. Leading scorer Anthony Mathis (12.7 average) is one of them.
Coachspeak: "I think expectations are a little higher. It doesn't really change anything internally among us, but I'm aware that that's out there and that could influence some of these guys or even us in some peripheral ways."
4. Boise State
Last season: 23-9, 13-5 (second), National Invitation Tournament first round
Coach: Leon Rice, ninth season, 165-96
Player to watch: Junior guard Justinian Jessup made 45.7 percent of 3-pointers last season and averaged 11.6 points.
Expectations: Rice has built the program, which made the NCAA Tournament in 2013 and 2015, to the point that he can lose one of the conference's best players in Chandler Hutchison and still be expected to finish near the top. Nine letter winners return.
Coachspeak: "(The media respect) does make you feel good, but I also want our guys to have a chip on our shoulder in that we didn't sign up to be fourth. They didn't come to Boise to be fourth."
5. Fresno State
Last season: 21-11, 11-7 MW (tied for fourth)
Coach: Justin Hutson, first season
Player to watch: Senior guard Deshon Taylor was first-team all-conference last season.
Expectations: Hutson oversaw some outstanding defenses during his two stints on the San Diego State bench. He takes over a program that has won at least 20 games four of the past five seasons. With Taylor, six other letter winners and two transfers, Fresno State could be this season's New Mexico.
Coachspeak: "It's been easier taking over a program that understands defense is important. We definitely do it different ways. We've been emphasizing playing faster offensively, trying to give them more freedom offensively."
6. UNLV
Last season: 20-13, 8-10 (tied for seventh)
Coach: Marvin Menzies, third season, 31-34
Player to watch: Senior forward Shakur Juiston averaged a double-double last season (14.6 points, 10.0 rebounds).
Expectations: The Rebels lost their senior starting backcourt and center Brandon McCoy, players who accounted for 44.3 points per game. But UNLV has Juiston and senior point guard Noah Robotham, who started 85 games at Akron. The Rebels are young, though, with 10 freshmen and sophomores on their roster.
Coachspeak: "When you're picked sixth, you don't have a lot of expectations from the media obviously. So it's really about going out and trying to be the best player and best team you can be and then hopefully prove a bunch of people wrong."
7. Wyoming
Last season: 20-13, 10-8 (sixth)
Coach: Allen Edwards, third season, 43-28
Player to watch: Senior guard Justin James was named to the all-conference team last season.
Expectations: James, who averaged 18.9 points and 6.0 rebounds, is back, but not many others join him. The Cowboys will try to replace players such as all-conference member Hayden Dalton and league Defensive Player of the Year Alan Herndon, and will have eight new faces.
Coachspeak: "I think we've done a good job of doing better than what we've been picked, not that that means anything. Our goal is still the same, trying to become the best team we're capable of becoming."
8. Colorado State
Last season: 11-21, 4-14 (10th)
Coach: Niko Medved, first season
Player to watch: Senior guard J.D. Paige averaged 10.4 points last season.
Expectations: The Rams were a mess last season, going through a nearly season-long controversy regarding then-coach Larry Eustachy, who resigned under pressure late in the season. They also lost leading scorer Prentiss Nixon (16.1 points), who transferred to Iowa State.
Coachspeak: "We know we've got to get a lot better. I think these guys feel and have confidence that they can compete with anybody. In every league and every season, there are going to be teams that surprise both ways."
9. Utah State
Last season: 17-17, 8-10 (tied for seventh)
Coach: Craig Smith, first season
Player to watch: Junior guard Sam Merrill led the Aggies last season with a 16.3 scoring average.
Expectations: Utah State is still searching for how to be successful in the Mountain West after a long run of excellence in the Western Athletic Conference. The Aggies turned to Smith, who was South Dakota's coach the past four seasons and led the Coyotes to two consecutive postseason trips.
Coachspeak: "(Nebraska coach Tim Miles) is my mentor, so to speak. For 11 years, I worked for him for four different schools. When you work for Coach Miles, you've got to be a high-energy guy and a jack-of-all-trades."
10. Air Force
Last season: 12-19, 6-12, (ninth)
Coach: Dave Pilipovich, seventh season, 72-94
Player to watch: Junior forward Lavelle Scottie averaged 12.2 points last season.
Expectations: Pilipovich has the difficult job of replacing four starters, including Trevor Lyons (9.4 points). Scottie was the only player to average in double figures, so this is a team that doesn't rely on one scorer.
Coachspeak: "We're more athletic than we've been in the past. We're very interchangeable. I think we can switch one through five because of the athletic ability and the size."
11. San Jose State
Last season: 4-26, 1-17 MW (11th)
Coach: Jean Prioleau, second season, 4-26
Player to watch: Senior center Oumar Barry is the leading returning scorer (5.8 average).
Expectations: Prioleau hasn't had it easy since arriving a year ago, getting in late after the unexpected resignation by previous coach Dave Wojcik. He then lost his best player, Brandon Clarke, to Gonzaga before the 2017-18 season began. Now Prioleau is without his best player from last season, Ryan Welage, who transferred to Xavier.
Coachspeak: "The challenge (in replacing Welage) would be a proven scorer, a guy that can go out and get 20 points, 18 points. I think we have more depth, so it might not be one guy that's getting 20, but we might have a lot of guys that can pitch in 10, 15."
Contact Mark Anderson at manderson@reviewjournal.com. Follow @markanderson65 on Twitter.