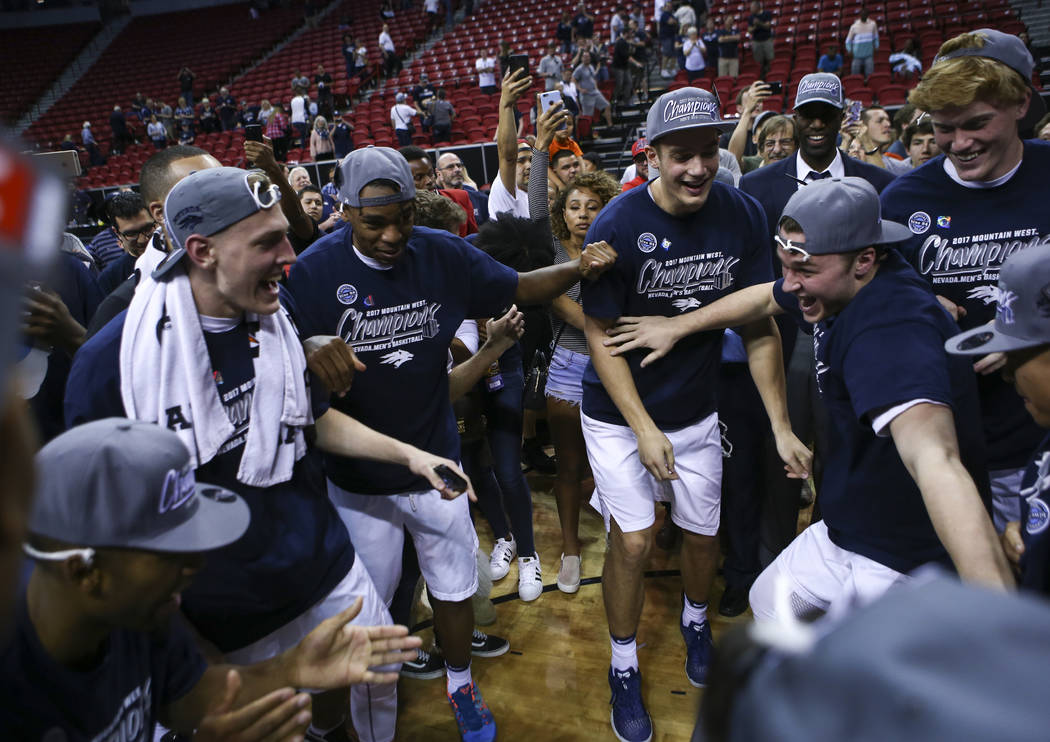 The Mountain West sent three teams to the NCAA Tournament just two years ago, so success in men's basketball is hardly a distant memory.
But after back-to-back seasons of being a one-bid league, the alarm bells have gone off in the conference office as to how to handle this issue before it becomes a lingering problem.
Darryl Seibel, the Mountain West chief brand and communications officer who also recently worked at UNLV, said Monday this was "one of the lead items" that was discussed at the conference meetings.
The conference presidents, who form the board of directors, meet through Tuesday in Santa Barbara, California. A statement from the conference office recapping the meetings is expected to be released then.
As recently as 2015, the Mountain West sent multiple teams to the NCAA Tournament when San Diego State, Boise State and Wyoming made the field of 68. Five teams, including UNLV, made the tournament in 2013.
But the conference has fallen off the past two seasons, with Fresno State in 2016 and UNR this year getting in after winning the Mountain West tournament and securing the automatic bid.
The conference's three marquee programs — UNLV, New Mexico and San Diego State — have each taken a step back, affecting the overall reputation of the conference. Each of those teams finished outside the top four in the conference standings this past season.
The Mountain West presidents also talked about the TV and broadcasting national landscape and will address the open seat on the NCAA Division I Men's Basketball Committee.
TV/broadcast situation
The conference's deals with ESPN and CBS Sports Network are through the 2019-2020 academic year, and under the current deal, each Mountain West school receives roughly $1 million a year. That's far short of the approximately $20 million that many Power Five universities take in.
The inequity creates a series of problems for the Mountain West and other Group of Five conferences, most notably recruiting against Power Five programs that can show off flashy facilities because of the TV money.
How the Mountain West addresses this topic in the coming years is critical to the conference's viability.
NCAA committee
When New Mexico athletic director Paul Krebs retired last week, it left open the Mountain West's seat on the NCAA Division I Men's Basketball Committee.
New UNLV athletic director Desiree Reed-Francois was asked before these meetings about her interest in taking Krebs' place.
"I am looking forward to opportunities to serve in a variety of ways in the conference and beyond, but right now my focus is on UNLV, rolling up our sleeves and getting to work," she said in a text message.
Contact Mark Anderson at manderson@reviewjournal.com. Follow @markanderson65 on Twitter.
Mountain West's major issues
1. Increasing the competitiveness of men's basketball.
2. Surveying the TV and broadcasting national landscape.
3. Filling the vacant see on the NCAA Division I Men's Basketball Committee.