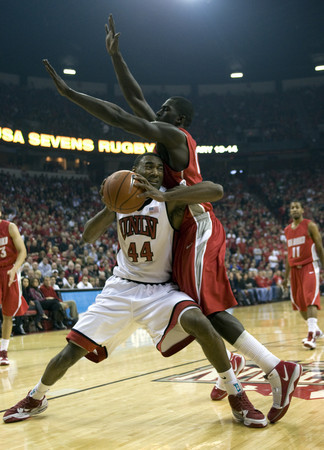 Radio call-in shows and message boards are typically flooded with negative comments about the UNLV basketball team after a loss.
The Rebels were spared much of that heat Thursday, a day after dropping their second conference home game of the season.
Instead, the fans' wrath was focused on the CBS College Sports Network. The channel stayed with its broadcast of a four-overtime women's game between Utah and No. 24 Texas Christian rather than switch to the matchup between No. 15 New Mexico and the 23rd-ranked Rebels.
The Utes lost 105-96 despite former Pahranagat Valley star Kaylee Whipple scoring 45 points for Utah, including a 3-pointer as time expired at the end of the third overtime.
The decision not to go to the New Mexico-UNLV game is standard procedure — but a difficult one for fans to understand.
Callers and commenters took out their frustrations on everyone from their cable provider to the conference to the play-by-play announcers on the two broadcasts.
The New York-based network, however, made the decision not to switch.
"While this is more of an explanation than a consolation for those viewers expecting to see the New Mexico-UNLV game, the tough decision was made to stay with the exciting overtime game that viewers had invested three hours watching," a CBS College Sports Network spokesperson said in a statement Thursday. "Every effort was made to get to the game as soon as possible."
UNLV athletic director Jim Livengood is out of town but said he is aware of the situation.
He said he understands the nature of the broadcasting business but thinks this was a significant game in the Mountain West Conference as two ranked teams were playing for first place. The announced attendance for the Utah-TCU game was 1,150, compared with 18,044 at the New Mexico-UNLV game.
"Every game is important, both men's and women's," he said. "But there are some games that have more importance than others at this time of the year, and I think this was one of them."
He added that while the game is in the past, the situation can help spark discussion and make sure a similar dilemma is avoided as best as possible in the future.
Mountain West Conference commissioner Craig Thompson was unavailable for comment, but the league released a statement on its Web site.
"Situations such as this occur when you have over 130 men's and women's basketball games broadcast each year," the statement said. "During the four-hour telecast window on any weekday night, coupled with the broadcast of multiple games, if the first game goes into overtime, this will create a joined-in-progress scenario."
It went on to compare last night's issue to one of the most infamous moments in TV history.
"Every network in the country deals with this possibility every night, and there are often games joined in progress. Not since the New York Jets-Heidi situation in the late '60s has a network left a competitive game before its conclusion," the statement said. "Last night's women's game also involved a ranked team, was very compelling and deserved the consideration it received."
To be fair, it's likely such a scenario would have played out similarly had the game been scheduled on the ESPN family of networks, where the conference had a deal before 2004. But that network has several outlets that could have carried the Lobos-Rebels game until it was joined in progress.
CBS College Sports Network could have switched the game to The Mtn., but a men's game between Wyoming and San Diego State was already being aired there.
The New Mexico-UNLV game was being carried on a high-definition feed, which made it impossible to switch back and forth between games or go to a split screen. CBS College Sports Network has live cut-in capability, but the women's game was in standard definition, and such a switch can be done only from an HD game to an HD game or from an SD game to an SD game.
For Livengood, the bottom line is that many fans were unable to see a pivotal game.
"I'm disappointed. Our goal is certainly to have our fans see Rebel basketball," he said. "We understand that tough choices have to be made, but we're not very excited that our fans weren't able to see this important game (in its entirety)."
Saturday's UNLV game will air on Versus (Cable 38).
But DirecTV viewers are once again out of luck. Versus is still not available on the satellite giant because of a contract disagreement.
Contact reporter Adam Hill at 702-224-5509 or at ahill@reviewjournal.com