Nevada regents likely to approve Marvin Menzies' contract at UNLV
April 19, 2016 - 11:35 pm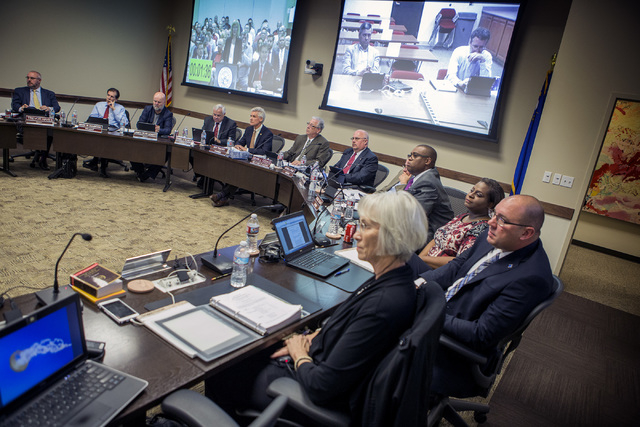 The process should be smoother this time, and the votes appear to be there.
So don't expect much drama Friday when the University of Nevada Board of Regents debate and vote on new UNLV basketball coach Marvin Menzies' five-year contract.
The regents passed Chris Beard's contract on a 9-4 vote, which ended an 11-day process from when he agreed to take the job until approved by the board.
After Beard left a week later for Texas Tech, UNLV agreed to terms with Menzies on Saturday. The contract was submitted to the system office Monday and posted online that day.
"It seems to follow the template and seems pretty reasonable," said regent Trevor Hayes, who represents Clark County. "I think at the point we received it last time, there was no communication, and when we saw it, it was totally foreign to us after we spent months working with UNLV and UNR to pass (the template)."
As a result of how the Menzies' deal was handled, Hayes said he didn't anticipate "too much opposition."
The dollar amounts should work in Menzies' favor. He will make a guaranteed amount of $700,000 each of his first three seasons and $800,000 in each of the final two years of the contract. Beard was to make at least $900,000 next season, with the figure rising to a minimum of $1.4 million in the fourth year.
One of the votes against the Beard contract was by Jason Geddes, who represents rural Pershing and Washoe counties. He wasn't happy the Academic Progress Rate wasn't spelled out in the contract.
It's in the Menzies' deal, but the minimum 930 and not the 940 that Geddes wanted. A team must maintain a four-year APR average of at least 930 to be eligible for postseason play.
"I am most likely to vote for it since it does have the APR provision," Geddes said in an email. "My preference would be for 940, but this contract complies with the template."
Geddes and the two other Northern Nevada regents voted against the Beard contract.
"In all of my decisions, I vote for what I think is best for the institution, system and citizens of Nevada," Geddes wrote. "I do not vote on what I think others will do, and in most all of my actions in the almost 10 years on the board, I have seen few votes that are broken out by geography."
The only Southern Nevada regent to vote against the Beard deal was Allison Stephens, and she did not respond to a request for comment. In the meeting, she expressed concern about UNLV's overall strategic plan as a university and said she didn't feel comfortable voting for a contract with so many questions about the school's direction.
Even for those who supported the deal, there were questions about the finances. Hayes pointed out UNLV's athletic department was running a $1 million deficit. One benefit of Beard leaving for Texas Tech is UNLV will be paid a $1 million buyout.
"I don't know if it's going to be balanced because they lost two assistants (Stacey Augmon and Ryan Miller), and combined they are going to have to pay half a million dollars," Hayes said. "President (Len) Jessup assured it would be a balanced budget to us, and I want to see at our June meeting for the athletics committee.
"My questions are all about the contract and protecting the institution and how they will pay for it."
Hayes said UNLV would have his vote if a credible plan is provided.
Other regents indicated they would vote for the deal.
"I'm a big supporter of what the president and athletic director bring us," said James Dean Leavitt, who represents Clark County. "They make those calls. We don't."
The meeting to approve Beard lasted more than two hours. An hour has been set aside in the agenda for Menzies.
"Overall, I expect a positive outcome," said vice chairman Michael Wixom, who represents Clark County.
Contact Mark Anderson at manderson@reviewjournal.com or 702-387-2914. Follow him on Twitter: @markanderson65