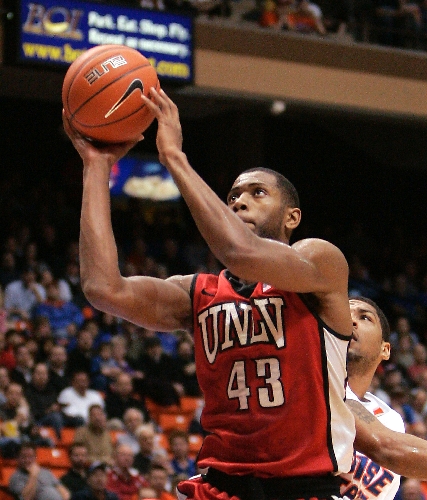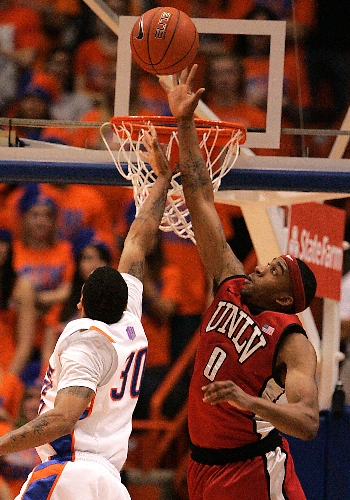 BOISE, Idaho — Some symptoms of the flu were bugging Mike Moser before, during and after Wednesday night's game.
The UNLV sophomore forward normally spits in his shoes as part of a pregame ritual. But this time, he was throwing up.
"I've got a sore throat, my head feels crazy, and my stomach feels terrible," he said. "I don't even know what I've got."
Moser had enough left to help lift the 12th-ranked Rebels to a 77-72 overtime victory over Boise State at Taco Bell Arena.
"I tried to save everything I had for the second half," said Moser, who totaled 18 points and a season-high 21 rebounds, with 14 points and 14 rebounds after halftime.
UNLV (19-3, 3-1) shot a season-low 34.8 percent from the field and launched a season-high 34 3-pointers while dodging a spirited upset bid by the last-place team in the Mountain West Conference.
"Once we got it to overtime, we were very confident," Rebels coach Dave Rice said. "Our guys looked at each other and said, 'Hey, we're going to win this game.' We have guys who are tough enough to step up and make big plays."
Moser blocked Thomas Bropleh's 3-point try with one second left in regulation, and Oscar Bellfield hit the key shot in overtime, a 3 from the top that put UNLV up by five points with 2:03 to go.
Senior forward Chace Stanback scored 15 points in 40-plus minutes, and Bellfield finished with 13 points and six assists in 39 minutes.
Derrick Marks' 21 points led the Broncos (10-9, 0-4), but Marks regretted not getting a shot to win it at the end of regulation.
With the score tied and 38 seconds to play, Stanback missed a 17-foot jumper from the left wing. Moser snared one of his six offensive rebounds and tried to drive the baseline, but the ball was knocked loose, and Marks gained possession before the Broncos got a timeout with 30 seconds on the clock.
Marks, dribbling the time down on the right wing while defended by Bellfield, said he wanted to get to the lane but was forced to pass. Bropleh was open in the left corner, and Moser got to him and deflected the potential winning shot out of bounds as time expired.
"We had all the momentum on our side," Marks said. "We played as hard as we could, but they're just a really good team."
Senior center Brice Massamba scored in the lane to get UNLV on the board first in overtime.
"We didn't play one of our better games, and overtime was an opportunity to display what we could do and close out the game," said Bellfield, who shot 4-for-13 but never hesitated to step into the open shot that put the Rebels in control.
"Not at all," Bellfield said when asked if he thought twice about shooting the 3-pointer in overtime. "I think I'm in the little slump I'm in because I second-guess sometimes. The opportunity was there, and I really just let it go."
Bropleh's 3-pointer put Boise State ahead 59-55 with 4:38 remaining before the Rebels responded with an 8-0 run.
Stanback's 3 put UNLV in front 60-59 with 3:56 to go. Moser grabbed a rebound, led a fast break and handed off to Bellfield, who sank a 3-pointer to make it 63-59 with 3:03 left. But Marks' two free throws tied it at 64 with a minute to go as the crowd of 6,024 roared.
UNLV guard Anthony Marshall, who shot 2-for-11 and finished with five points, fouled out on a charging call with 3:17 to go in regulation. Marshall argued his case, and he had a good one, but Justin Hawkins had to fill his void the rest of the way.
The Rebels led 29-27 at halftime, yet their offense had stalled against the Broncos' zone until Moser made two 3s from the right wing early in second half.
Moser, Stanback and Kendall Wallace each made a 3-pointer as UNLV went on an 11-0 run to go up 48-39 with 12:40 left. But Boise State scored the next seven points to get the crowd back into it, and Kenny Buckner's dunk tied it at 50 with nine minutes to go.
The Rebels scored the game's first 12 points — and the Broncos opened by shooting 1-for-11 — but UNLV slipped into an offensive slump and finished 13-for-34 on 3s.
"It's way too many 3s for us to shoot," said Rice, who was disappointed by the number of hurried shots outside the flow of the offense. "We need to get that corrected in a hurry."
Contact reporter Matt Youmans at myoumans@reviewjournal.com or 702-387-2907.
UNLV — 77
BOISE STATE — 72
KEY: Mike Moser totaled 18 points and 21 rebounds, and Oscar Bellfield hit a key 3-pointer to help the Rebels win in overtime.
NEXT: UNLV at Air Force, 6 p.m. Saturday, The Mtn. (334), KWWN (1100 AM, 98.9 FM)