No. 12 UNR cruises to 89-73 victory over UNLV
Updated February 27, 2019 - 11:44 pm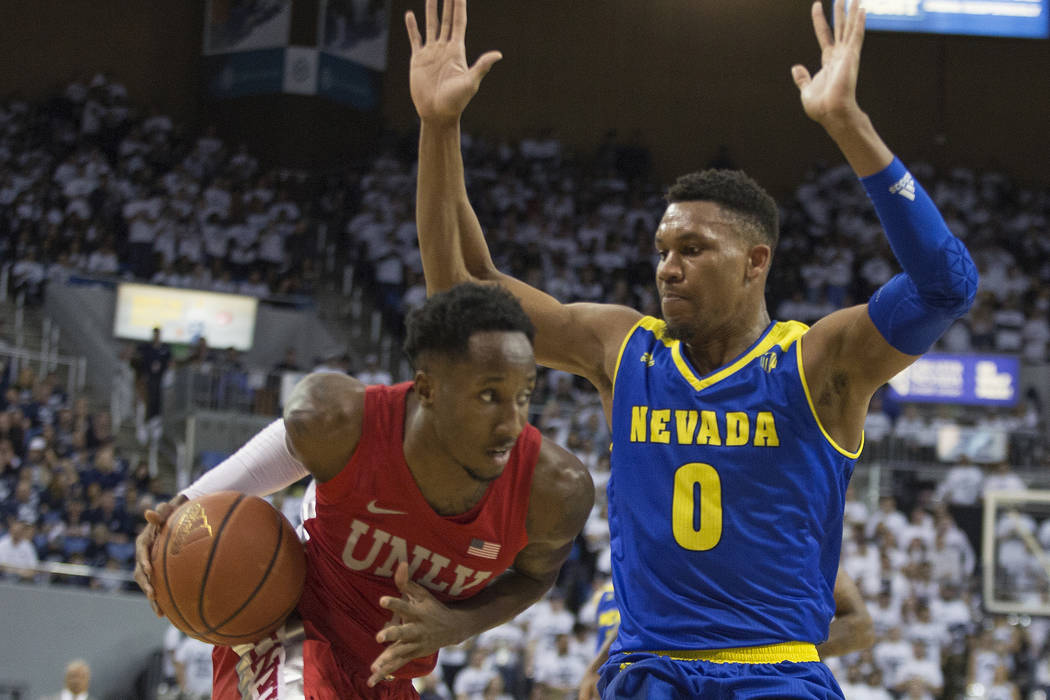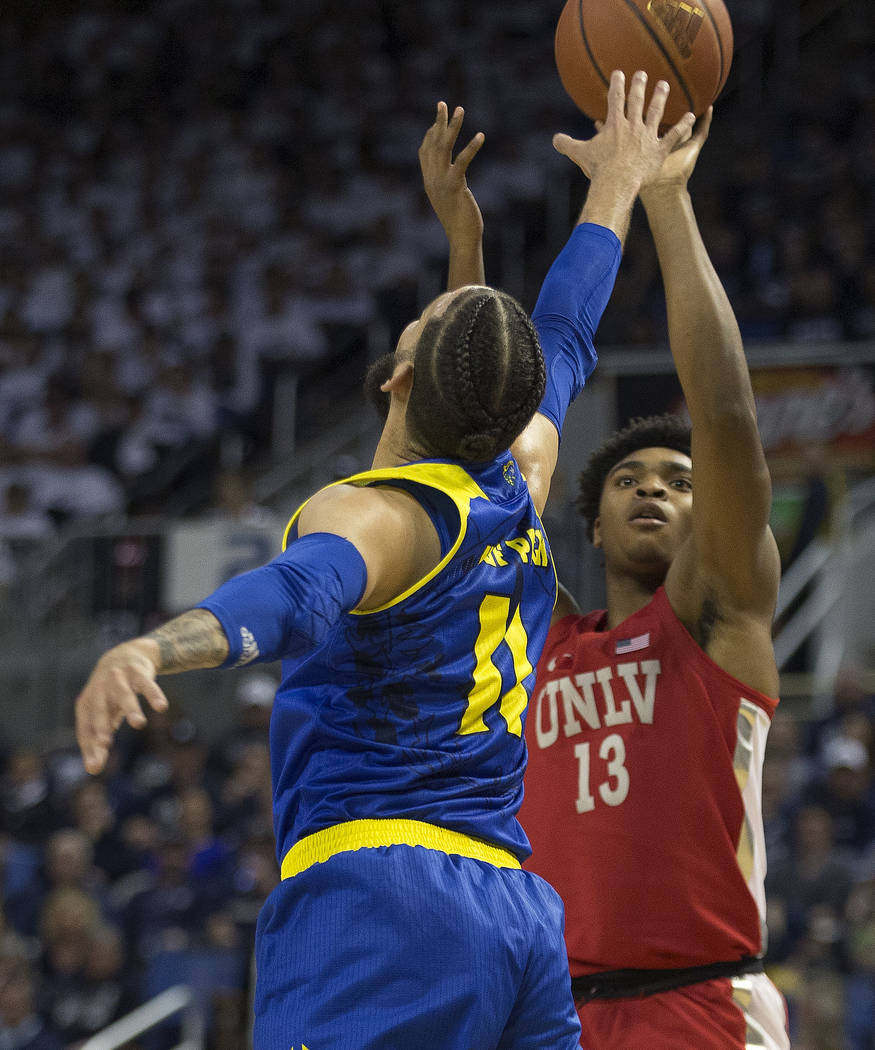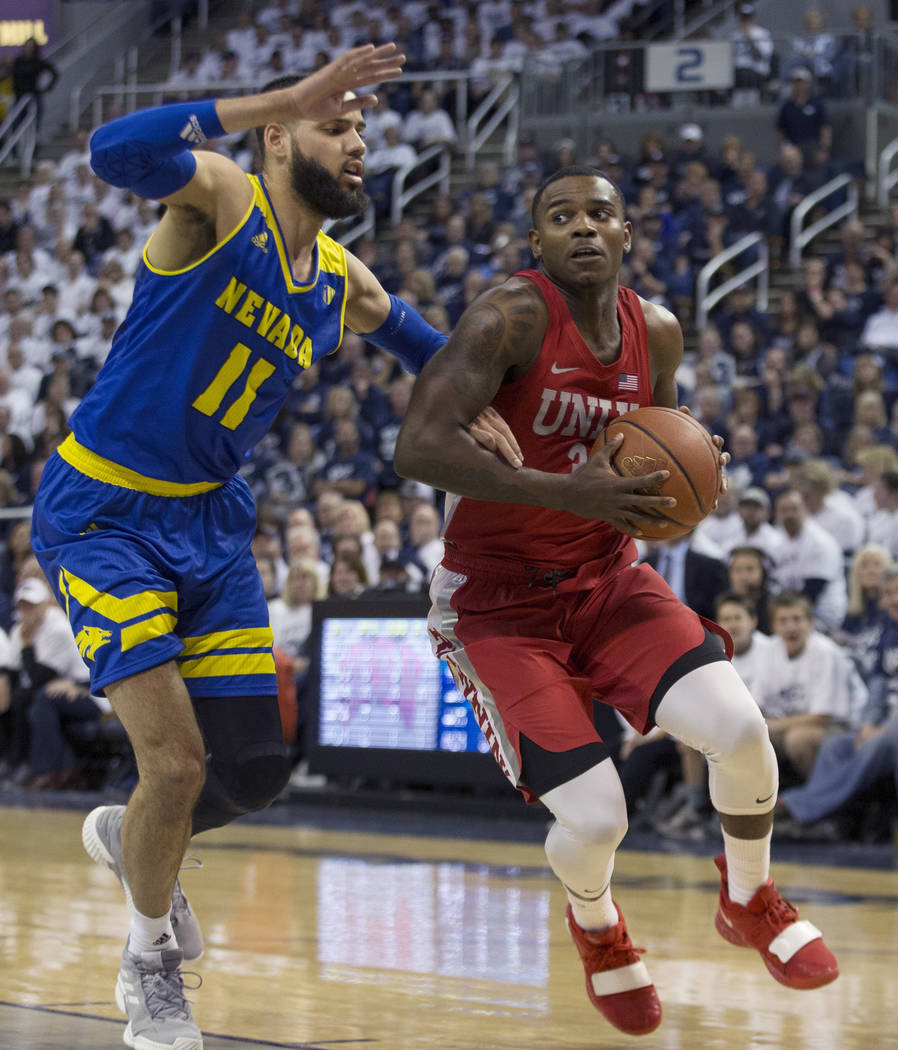 RENO — UNR guard Caleb Martin has a funky shooting motion in which he kicks out his legs and throws up a shot as if in a rush to beat the clock, but it works.
And when he went full funky with half a minute to go in the first half of Wednesday night's game against UNLV, the ball dropped through the hoop to extend the Wolf Pack's lead to 18 points.
Martin looked and pointed at the boisterous student section behind the basket, knowing he and his teammates had made their point — there would be no upset this time.
UNLV looked like a helpless bystander at the time, and though the Rebels fought back in the second half, they never challenged the 12th-ranked Wolf Pack in an 89-73 loss at Lawlor Events Center.
"I'm frustrated after every loss," Rebels guard Amauri Hardy said. "This game or another game, if we lose, I'm still going to be frustrated."
This game proved that last year's 86-78 UNLV victory was more the exception than the rule in recent meetings of the state rivals, making UNR Nevada's pre-eminent program, a painful thought for fans of the Rebels and their more storied history.
Not that it has been a secret, with the Wolf Pack winning six of the past seven meetings and only last season's 79-74 UNR victory in the Mountain West tournament closer than 16 points.
This game played out much like last month's in Las Vegas. UNR took a 48-26 halftime lead in that one before coasting in the second 20 minutes to an 87-70 victory.
The Wolf Pack were never seriously challenged in the second half Wednesday, and they perhaps lost interest at times as UNLV cut its deficit to 11 points twice in the half.
UNLV coach Marvin Menzies said he thought the pieces were being put in place to close the gap between the programs.
"But sometimes we're only getting an inch better, sometimes we get two inches better," Menzies said. "Tonight I thought we were really good in the second half. But for the most part, they were the better team on both occasions. They beat us both times on those nights."
UNR (26-2, 13-2 Mountain West) came into this game apparently not at full strength — Jordan Caroline and twins Caleb and Cody Martin had various ailments, according to Wolf Pack coach Eric Musselman — but it didn't show against the Rebels (15-13, 9-7).
Caroline almost had a double-double in the first 10 minutes, and he finished with 20 points and 12 rebounds.
Caleb Martin (6 of 11) and Cody Martin (4 of 6) were hot from 3-point range, with Caleb scoring 24 points and Cody 23.
UNR shot 53.3 percent, including 48.1 percent from 3-point range.
Hardy led the Rebels with 19 points. Kris Clyburn scored 18 and Noah Robotham 16.
UNLV must quickly regroup with Boise State visiting the Thomas & Mack Center on Saturday for the final home game of the regular season.
The Rebels finish at Colorado State on March 9, then head into the conference tournament at the Thomas & Mack Center.
More Rebels: Follow at reviewjournal.com/Rebels and @RJ_Sports on Twitter.
Contact Mark Anderson at manderson@reviewjournal.com. Follow @markanderson65 on Twitter.
Three takeaways
1. Can't coach size. The Wolf Pack took full advantage of their edge in length, and UNLV made adjustments, but it was a bad matchup for the Rebels. They needed UNR to have an off night, and it didn't happen.
2. Going big. UNR's Jordan Caroline had nine rebounds through the first half of the first half, prompting UNLV to go with a bigger lineup, with 6-foot-9-inch Joel Ntambwe guarding the 6-7 Caroline, who didn't have a rebound the rest of the first half. Caroline finished with 20 points and 12 rebounds.
3. Knowledgeable crowd, sort of. UNR students began chanting "Rick Pi-ti-no" with about 5½ minutes left in the first half, a dig at the rumors over the Rebels possibly making a coaching change. Pitino shot down such talk last week.
Mark Anderson Review-Journal