Northern Iowa guard's 25-foot 3-pointer KOs Rebels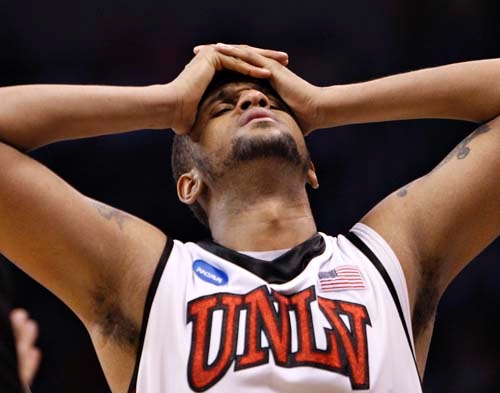 OKLAHOMA CITY — As the clock ticked toward zero, Ali Farokhmanesh said he had "no idea" he was about to take a shot he would remember for a lifetime. But when he released it, he knew it was true.
"The shot felt good as soon as it left my hands," the Northern Iowa guard said.
UNLV junior Tre'Von Willis watched in disbelief as Farokhmanesh launched a 25-foot jumper.
"No way. I definitely was thinking overtime," said Willis, who ran out to defend. "But the kid hit the shot, and here we are now."
Farokhmanesh's long 3-pointer with 4.9 seconds remaining broke a tie and the Rebels' hearts and lifted Northern Iowa to a 69-66 victory over UNLV on Thursday in an NCAA Tournament first-round game at the Ford Center.
The Panthers (29-4) won their first NCAA tourney game since 1990 and advanced to face top-seeded Kansas on Saturday.
The parting shot by Farokhmanesh sent the Rebels, the No. 8 seed in the Midwest Region, home with a 25-9 finish to the season.
"It's disappointing to lose at all, but to go out like that is horrific," UNLV freshman Anthony Marshall said. "A big-time player made a big-time shot for them."
The Rebels' Oscar Bellfield sank a tying 3-pointer with 37 seconds remaining, leaving Northern Iowa the opportunity to milk the clock and get the last shot.
Point guard Kwadzo Ahelegbe fended off UNLV's pressure near midcourt, the ball was rotated to Farokhmanesh on the left wing, and his shot over Willis spelled doom for the Rebels.
Bellfield pushed the ball upcourt before it was swatted away with 1.6 seconds left. UNLV coach Lon Kruger used his final timeout to design a play for Willis. Inbounding under the Rebels' basket, Bellfield lobbed a pass to the top of the key for Willis, who couldn't get loose from the Panthers' Lucas O'Rear and failed to get off a 3-point try in time.
"We had 1.6 seconds, a pretty good amount of time to get my feet under me and hit the shot. I didn't have my balance, and the clock ran out on us," Willis said. "It feels awful right now after a first-round exit."
Farokhmanesh, a 6-foot senior, made 5 of 9 3-pointers and finished with a game-high 17 points for Northern Iowa. Ahelegbe scored four of his 13 points in the final three minutes.
Junior forward Matt Shaw led UNLV with 14 points, and Bellfield and Willis each scored 13. Shaw had 12 points and Willis 11 to lift the Rebels to a 36-35 halftime lead.
Kendall Wallace's 3-pointer put UNLV ahead 48-47 with 11:50 remaining, but the Panthers scored the next six points on a pair of 3s by Farokhmanesh. Adam Koch made two free throws and converted a three-point play to push Northern Iowa's lead to 58-49 with 7:16 remaining.
The Rebels responded to that 11-1 run, though, and Chace Stanback's baseline jumper trimmed the deficit to 58-56 with 5:23 to go.
Kruger's plan to use pressure defense and trapping to disrupt the Panthers worked for the most part, as UNLV scored 17 points off Northern Iowa's 16 turnovers.
But the Panthers helped their cause tremendously at the free-throw line, where they shot 20-for-23 and made all 11 in the second half.
Jordan Eglseder, Northern Iowa's 7-foot center, had nine points and 10 rebounds, but he was invisible after halftime.
"We were down nine, and the guys battled to get back into it," Kruger said. "I was really proud of their fight. I was proud of them all year."
The Rebels leaned on Willis' scoring most of the season, but he shot 5-for-15, including 1-for-7 in the second half.
"I had good shots. Most of the misses were in-and-outs," Willis said. "This was really a good group, and it's sad to send off two seniors that were great for us all season."
UNLV loses seniors Darris Santee and Steve Jones but returns all five starters from Thursday's game. That group includes Stanback, a sophomore forward, who had 11 points and six rebounds.
"You hate to go out like this," Stanback said. "It's definitely devastating. You could see it on everybody's faces after the shot went in at the end."
Contact reporter Matt Youmans at myoumans@reviewjournal.com or 702-387-2907.
Slide show: UNLV vs. Northern Iowa
Video: Fans enjoy NCAA Tournament opener
NORTHERN IOWA – 69
UNLV – 66
KEY: Panthers guard Ali Farokhmanesh made a tiebreaking, 25-foot 3-pointer from the left wing with 4.9 seconds to play and scored a game-high 17 points to oust the Rebels from the NCAA Tournament.