Pacific rallies for 74-66 victory over UNLV
Updated December 18, 2019 - 10:54 pm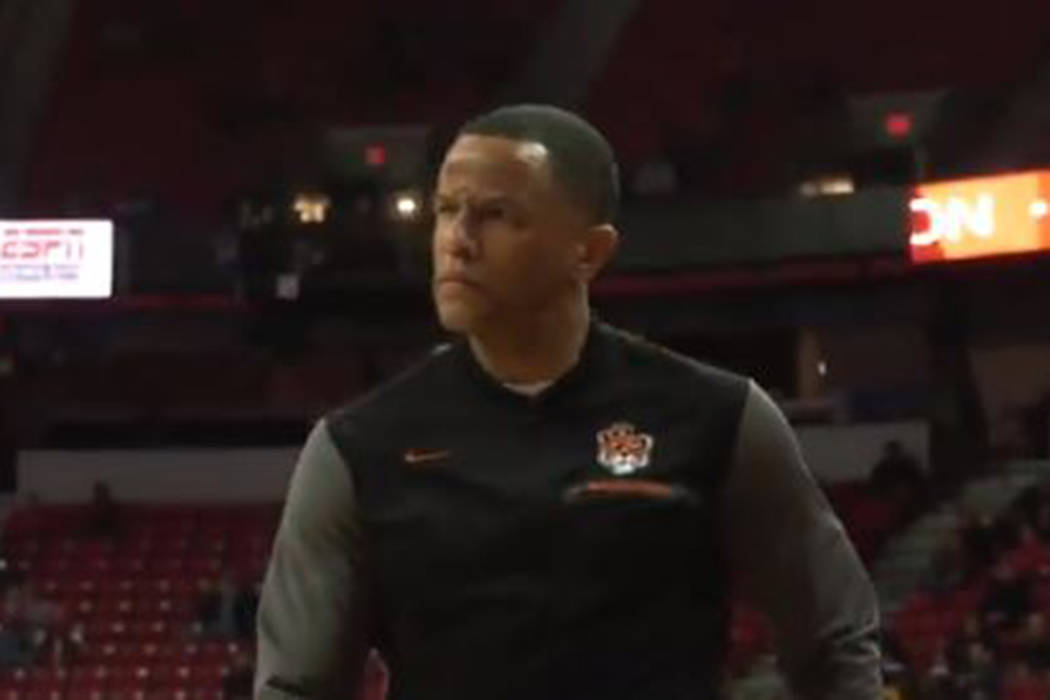 UNLV looked as if it might be pulling away, taking a nine-point lead less than a minute into the second half.
Instead of creating distance, however, the Rebels gave up 45 points in the final 20 minutes as Pacific rallied for a 74-66 victory Wednesday night at the Thomas &Mack Center.
And, once again, UNLV coach T.J. Otzelberger criticized his team for a lack of energy. He expressed similar sentiments after the Rebels' most recent game, an 83-50 loss to Brigham Young in Salt Lake City on Dec. 7.
What explains, after an 11-day break, the lack of enthusiasm?
"I'm searching for answers," Otzelberger said. "We'll find them really early in practice tomorrow. We're going to spend a lot of time taking charges, diving for loose balls, guarding the dribble, because anything else you do in basketball, if you don't do those things, you're not going to be successful. There's a team that came into our court, played harder, tougher, more physical and more aggressive."
The Rebels (4-8) figured to receive a boost with the return of guard Jonah Antonio, who missed the previous six games with an injured left thumb. But Otzelberger also put guard Bryce Hamilton and forward Donnie Tillman on the bench to start the game for breaking team rules.
Amauri Hardy led UNLV with 19 points. Justin Moore scored 22 for Pacific (11-3).
The Rebels next host Robert Morris on Saturday.
Here are three takeaways from the loss:
1. Sitting down starters
Hamilton and Tillman having to start the game on the bench meant two former walk-ons, Nick Blair and Marvin Coleman, got the starts.
This is the second time Tillman did not start because of a rules violation. He also sat at the beginning of the Nov. 30 game at Cincinnati.
"You can't have stuff like that happen," Blair said. "Distractions like that aren't necessary. We got it situated and talked to them and everything. They understand they can't do it again."
Otzelberger said he would reinforce the importance of following rules.
"I don't care who you are or what the reason, but if you don't do everything we hold a standard to all the time, there's no slippage, there's no margin for error," he said. "So when guys need to be reminded of that, they will. Consequences will only get more severe if those things happen moving forward."
2. No confidence builder
UNLV always figured to be in a fight with Pacific, but the Rebels looked like they might take control up 38-29 less than a minute into the second half.
Like so many other games this season, the Rebels struggled down the stretch, and the problems that plagued them before the break were still apparent.
This is who the Rebels are this far into the season, and though they might improve in certain areas between now and March, don't expect a major transformation.
3. Getting clobbered on the boards
Pacific grabbed 15 offensive rebounds and outscored the Rebels 15-4 in second-chance points.
"Lack of effort, lack of care, lack of passion," Otzelberger said. "I don't think it's a basketball thing. I think it just comes down to having the guts to go get the rebound."
Contact reporter Mark Anderson at manderson@reviewjournal.com. Follow @markanderson65 on Twitter.