Pitino makes return to Vegas
November 21, 2007 - 10:00 pm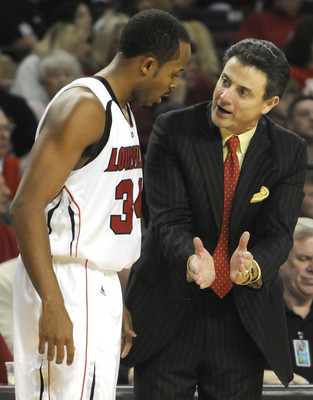 If not for a bad bounce of a pingpong ball, Rick Pitino still might be coaching the Boston Celtics. And if not for a delayed flight and a communication breakdown, UNLV might be his basketball team.
But fate led him in a different direction, and he is now in his seventh season at Louisville.
The Rebels (3-0) and No. 6 Cardinals (2-0) meet at 6 p.m. today at the Thomas & Mack Center, where the stage was being set for Pitino long ago.
Pitino's return to Las Vegas, which he said was "very close" to becoming his home in March 2001, has brought back memories and a chance for him to explain a story that was blown to almost legendary proportions.
"I really wanted to take the job," he said Tuesday, recalling an offer to become UNLV's coach. "I was gung-ho about it."
In January 2001, four days after Pitino resigned as Celtics team president and coach, The Boston Globe reported Pitino was about to be introduced as the Rebels' next coach "barring unforeseen circumstances."
In late February, a five-year contract worth approximately $1.6 million per year was on the table. All it needed was a few finishing touches that included Pitino's signature.
He waited in Florida as his wife, Joanne, took a two-day visit to Las Vegas to give her stamp of approval. The Pitino family is close friends with Steve and Elaine Wynn, and Pitino said he felt comfortable with the move to UNLV.
But as the story goes — and it has been embellished and twisted over the years — Joanne Pitino was driven to McCarran International Airport by then-Rebels athletic director Charles Cavagnaro, who dropped her off at the curb and went on his way. Her flight was delayed, and she could not reach anyone for help and was stuck at the airport.
Pitino notified UNLV on March 4 that he was not taking the job, and 17 days later he was introduced at Louisville.
"What happened was they dropped her off curbside, and her flight got delayed," Pitino said. "Instead of it being a three-hour delay, it was about 14 hours, and she ended up sleeping in the airport. It was really no one's fault."
He said his wife being abandoned at the airport was not his deciding factor in declining the offer to coach the Rebels.
"That was not the reason," he said. "My wife had an ailing mother and she wanted to be closer to her mother, and that was the primary reason. Our family situation took priority."
UNLV's program, placed on four years' probation by the NCAA in December 2000, was in turmoil at the time. Bill Bayno was fired as coach, Max Good was named interim coach for the remainder of the season and Charlie Spoonhour was hired three weeks after Pitino withdrew.
Pitino said he had only a few minor concerns about what was needed to rebuild the Rebels, but he was ready for the challenge.
"I thought this was a sleeping giant," he said of UNLV.
One year after leading Kentucky to the 1996 national championship, Pitino took his miracle-worker reputation to Boston, where he failed miserably and resigned after posting a 102-146 record.
In the NBA's draft lottery in 1997, the Celtics owned two pingpong balls and a good shot at the top pick. The balls bounced the wrong way, and the Celtics got the No. 3 (Chauncey Billups) and No. 6 (Ron Mercer) overall picks, while dominant big man Tim Duncan went No. 1 to the San Antonio Spurs, who have won four titles with him.
"With the Celtics, we missed out on the pingpong balls. I would probably still be with the Celtics if I had Duncan," Pitino said. "I love the NBA. Pat Riley put it best: It's winning and misery.
"College coaches get a bad rap that they can't coach in the pros. The college guys get offered jobs like the Washington Wizards or Celtics when they're down."
Or they get the Atlanta Hawks. Late in his third year at UNLV, Spoonhour stepped down and Lon Kruger was hired in 2004. Kruger was fired by the Hawks in 2003 after a failed run in the NBA.
While Pitino was at Kentucky in the early- to mid-1990s, he coached against Kruger's teams at Florida.
And that partly explains why Louisville is playing UNLV today.
The Cardinals are playing five games in eight days to open the season. After meeting the Rebels, they face Brigham Young on Friday in the Las Vegas Invitational at the Orleans Arena — setting up a potential championship game against No. 1 North Carolina on Saturday.
"I've been great friends with Lon and I thought it would be a great series with UNLV," Pitino said. "I know our fans would like to see it, and I know Lon is building a great program out here."
Contact reporter Matt Youmans at myoumans@reviewjournal.com or (702) 387-2907.
UNLV Basketball
GAME DAY
LOUISVILLE VS. UNLV
WHEN: 6 p.m. today
WHERE: Thomas & Mack Center
TV/RADIO: Versus (Cable 67); KBAD-AM (920)
LINE: Louisville -61/2