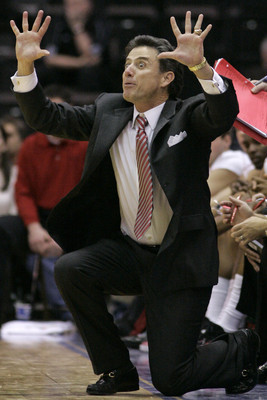 LOUISVILLE, Ky. — A skeptical Rick Pitino inquired about the status of injured UNLV guard Wink Adams.
"Is he practicing?" the Louisville coach asked.
The answer was that Adams, recovering from a lower abdominal strain, has not practiced for a week. But Pitino's mind was made up.
"We're preparing for him to play," he said. "Generally, when you hear a guy might not go, he does go."
But when the Rebels (11-2) meet the 18th-ranked Cardinals (8-2) at 3 p.m. today at Freedom Hall, the reality is Adams is closer to doubtful than he is probable to go.
Adams, UNLV's leading scorer at 14.1 points per game, has played in all 115 games of his career, and coach Lon Kruger said it will be a game-time decision as to whether the senior's streak continues.
"Wink's such a big part of their offense," Pitino said. "Tell Lon I will not play Kyle Kuric just to make it even."
Kuric is a freshman guard who rarely gets off Louisville's bench.
Even with a healthy Adams, the Rebels were going in as big underdogs to the Cardinals, who were ranked No. 3 in the nation in the preseason.
"They're definitely one of the top 10 teams in the country," Kruger said.
Pitino said he's not so sure about that. Maybe in March that will be true, he said, but not on the last day of December.
Louisville has been untouchable at home, going 7-0 with an average victory margin of 28.7 points, but it suffered neutral-court losses to Minnesota and Western Kentucky.
"We've got the potential to be a very good team, but I don't think we're anywhere near our potential," Pitino said.
The Cardinals return four starters from the team that buried UNLV 68-48 in November 2007 in Las Vegas. The one major addition is 6-foot-8-inch, 240-pound freshman forward Samardo Samuels.
Joining a front line that includes stars Earl Clark and Terrence Williams, Samuels leads Louisville in scoring at 15.2 points per game. He was the USA Today national high school player of the year.
"Samardo is just learning everything," Pitino said. "He's a very talented young man, but he doesn't know much about defense, he's just learning how to pass out of the post, and he's a decent rebounder."
The Cardinals appear to have a sizable inside edge against the Rebels. Pitino said exploiting that advantage could be a key because he's not certain if UNLV guards Oscar Bellfield, Rene Rougeau, Tre'Von Willis and Adams — if he plays — will be bothered by full-court pressure.
Pitino said he made that assessment after watching the Rebels' 79-64 victory over Arizona on Dec. 20.
"They are very good against pressure. They went right through Arizona's pressure," Pitino said. "They're a much different basketball team in the way they play this year, more of an up-and-down team.
"They're doing a lot of the things Memphis does offensively, driving and kicking the ball out and using rub screens. They're a very good shooting team."
But UNLV also could be a short-handed team if Adams is absent. Still, Rougeau said, there are no excuses.
"We can't just roll over and die just because Wink is gone," Rougeau said. "If anything, we've got to use that to our advantage. They're probably going to take us for granted, seeing that we don't have our best player. But they don't know about all these other guys.
"We really want Wink to play, but we've got to prepare for the worst, so we're going as if he's not going to be ready to play. Everyone has got to step up in this game."
Pitino said he is sure of one thing — the Rebels' defense is their strength, and that makes them dangerous.
"I think they're a lot better team than last year, and they were good last year" he said. "They're a team you wouldn't want to play in the NCAA Tournament because of their style."
Contact reporter Matt Youmans at myoumans@reviewjournal.com or 702-387-2907.
UNLV vs. LOUISVILLE WHEN: 3 p.m. today WHERE: Freedom Hall, Louisville, Ky. TV/RADIO: ESPN2 (31); KWWN-AM (1100) LINE: Louisville -11