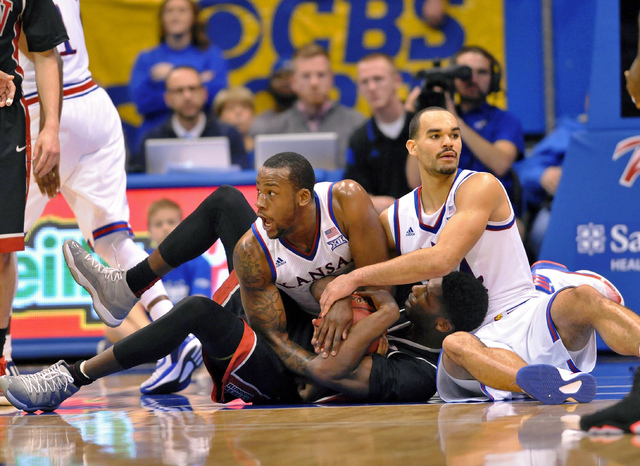 BACKCOURT: B-
If there is to be a true positive taken from Sunday's 76-61 loss at Kansas, it would be that senior point guard Cody Doolin was really, really good in a very tough environment. Doolin went into Allen Fieldhouse and helped keep UNLV in the game for more than 30 minutes. He finished with 12 points on 5 of 6 shooting and had seven assists to just one turnover. That's the good. Of course, the bad would be that he struggles to cover anybody and the Kansas guards made him pay often. Rashad Vaughn was clearly out of sync. He hit just 4 of 10 shots and turned the ball over four times. He certainly appeared to be feeling under the weather. Jelan Kendrick played a solid game. He made good decisions and scored seven points while not turning the ball over in 25 minutes of action. He also had three assists.
FRONTCOURT: C-
Chris Wood and Goodluck Okonoboh both played fine on Sunday, particularly based on the box score. Wood finished with 12 points and eight rebounds. Okonoboh had six points, seven rebounds and five blocked shots. Those numbers will get the job done on most days. Playing No. 13 Kansas in Allen Fieldhouse is not a normal game, though. The Rebels needed a special effort from their forwards in order to compete with the Jayhawks and they just didn't get it. Wood and Okonoboh were pushed around quite a bit on the blocks and UNLV was out-rebounded 45-31. Perry Ellis had his way on the inside and there was not enough resistance when Frank Mason was able to get past the guards and into the lane.
BENCH: D
The short rotation affected UNLV on Sunday as several players were said to be feeling under the weather. Rashad Vaughn in particular looked to be under the weather and unable to perform to his usual level, but still the three bench players combined to play just 41 minutes. Patrick McCaw went 3 of 10 from the field. The biggest issue he had was going just 1-for-6 from 3-point range. McCaw had wide open looks rim out on three different occasions in the second half. He has to make those shots. The freshman also turned the ball over three times. Dwayne Morgan made several aggressive moves that didn't result in points. It was still a good sign moving forward. Jordan Cornish missed both of his shots and only played six minutes.
COACHING: C
UNLV was simply overwhelmed down the stretch by a good Kansas team on Sunday. The Rebels should be given credit for being in the game so long, however, especially after falling behind 13-4 in the opening minutes. Dave Rice said he expected his young team to get caught up in the moment at least in the first few minutes and he was right. But Rice also believed the team could settle in and play right with the Jayhawks as long as the game didn't get away too much before the first media timeout. He was right. UNLV was right in the game until the final 10 minutes. There just wasn't anything RIce and his staff could come up with to stem the tide. Again, much of that goes back to just not having any depth whatsoever.
Contact reporter Adam Hill at ahill@reviewjournal.com or 702-224-5509. Follow him on Twitter: @adamhilllvrj.