'Privileged' Wallace awaits breakout
December 31, 2011 - 2:00 am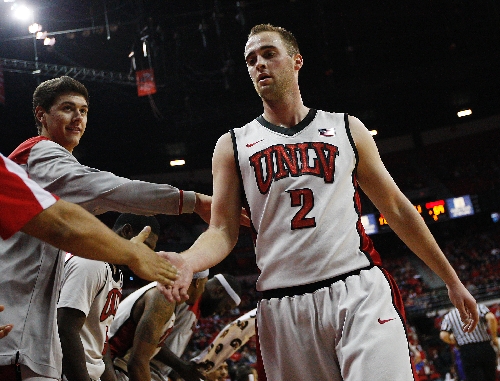 HONOLULU — All the coaches who recruited him are gone, he has seen several teammates come and go, and now Kendall Wallace is UNLV's elder statesman. So when he speaks, it's from experience.
While the fifth-year senior guard waits for his breakout game, he sees a team that is blossoming around him.
"I'd say this is our deepest team and our most athletic team since I've been here," Wallace said. "It's fun to watch these guys and play with these guys.
"I feel privileged. Even though I had an injury last year, I feel like it was a blessing that I'm able to come back and play with these guys and make this run at it."
The 19th-ranked Rebels (14-2) run into Hawaii (8-5) at 5 p.m. today at the Stan Sheriff Center. The game will be televised in Las Vegas on KLAS-TV (8).
Both teams are coming off triple-digit scoring performances. The Warriors routed South Carolina State 100-73 on Thursday for their third straight victory. Their other recent victims were Xavier and Clemson.
UNLV blew out Central Arkansas 124-75 on Wednesday in its highest-scoring output since 1991. But on a team that is finding a groove offensively, Wallace still is a little out sync.
"Every time he goes in the game, I think that time is going to be his breakout game," coach Dave Rice said. "Kendall has a reputation as an outstanding shooter, and so he goes in the game and everyone in the gym knows he can shoot the ball.
"Just by being out there, he opens things up for everyone else, and yet we'll continue to run things for him, and he'll continue to be a big part of our rotation."
Wallace has not scored in double figures in any of the 16 games and contributed only three of the 124 points Wednesday. He's shooting a solid 39.2 percent (20-for-51) from 3-point range and averaging 3.9 points, the lowest since his freshman year.
"He is not as healthy as I'm sure he would like to be, but he doesn't ever miss practice, and he never takes a play off," Rice said.
After missing last season because of a torn anterior cruciate ligament in his right knee, Wallace declared himself physically fit in October. Two months of strenuous activity on the court have caused swelling and soreness in the knee, which required surgery in September 2010.
"There are definitely some issues going on there, but I just play through it, get used to it and not think about it," Wallace said. "I'm just glad I've got the opportunity to get out there and play."
Getting more leg strength into his jumper, Wallace said, is something he needs to improve. He developed some bad habits while hobbling during rehabilitation.
But the Rebels' 3-point shooting specialist is bound to have a few big shooting nights this season. In a win at New Mexico in January 2010, Wallace made seven 3s, and there is a sense that a similar exhibition could come from him again soon.
"It's definitely going to happen. I know everybody is kind of waiting for it," sophomore forward Mike Moser said. "I'm sure it's going to be pretty spectacular because he can really shoot it. But he's playing his role.
"He doesn't have to come in and hit nine 3s because nobody's making any. A lot of guys are filling it up."
Rice called Wallace the team's most improved defender, and it's on that end of the floor where Moser and junior guards Justin Hawkins and Anthony Marshall are triggering UNLV's faster-paced attack.
"If we have the energy on the defensive end, our offense and our transition game usually comes with that," Wallace said. "Once we get that going, we're tough to beat.
"We've got Mike grabbing rebounds and going coast to coast, and Anthony is doing the same thing. The way we're able to get out and go on the run, and the way we create offense off of our defense, is something we haven't really had here in a while. It's fun to play that way. Once we get on those rolls, there's nothing like it out there."
With victories today and at Cal State Bakersfield on Thursday, the Rebels would be 16-2 going into their Mountain West Conference opener at San Diego State on Jan. 14. But Wallace cautioned that a hot start guarantees nothing in March.
Three years ago on New Year's Eve, Oscar Bellfield banked in a runner to lift UNLV to a 56-55 upset victory at Louisville.
"It was something I'll never forget. It was one of the most exciting wins since I've been here," Wallace said. "But then it was a disappointment after that."
The Rebels wrapped the 2008-09 nonconference schedule at 12-2, but they lost at Texas Christian and Colorado State in early January and finished 21-11.
"It was such a promising year, and they were hyping us up," Wallace said. "Our heads got way too big. It can fall apart that quickly. That's where we want to keep it in perspective and not look too far ahead.
"But I think we have some mature guys on this team who know that and know what kinds of pitfalls are there. We have a lot of promise. There's a long way to go."
Contact reporter Matt Youmans at myoumans@reviewjournal.com or 702-387-2907.
UNLV VS. HAWAII
WHEN: 5 p.m. today
WHERE: Stan Sheriff Center, Honolulu
TV/RADIO: KLAS-TV (8), KWWN (1100 AM, 98.9 FM)
LINE: UNLV -11.5; total 148