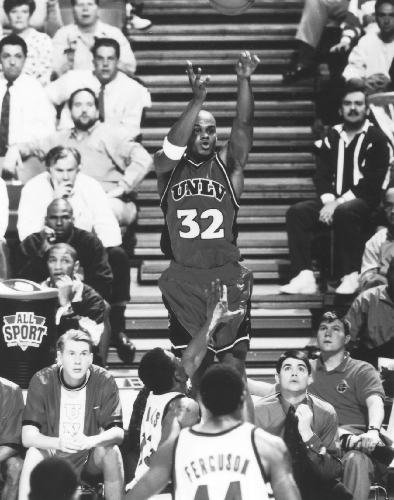 Clayton Johnson
Years: 1993 to 1996
Career highlights:
■ The 6-foot-6-inch forward scored 872 points in 60 games for a career average of 14.5 per game.
■ As a senior, led the team in scoring with a 16.7 average and made a team-high 57 3-pointers.
■ Played for five head coaches in three seasons.
Quotable: "If we would have been a little more stable, we could have been a great team. We had great athletes on those teams. But when we got here, all the turmoil started. I wouldn't change anything except the coaching situation." — Johnson
Currently: Is part-owner of a limousine service in Las Vegas and has a 12-year-old son, Clayton III, and 6-year-old daughter, Tatiana. He played in the CBA, in Taiwan and for 10 years in Europe.
The Review-Journal counts down the top 100 players in UNLV basketball history, 20 years after the Rebels' NCAA championship season in 1989-90.