RANKING THE REBELS: 91 – Joe Darger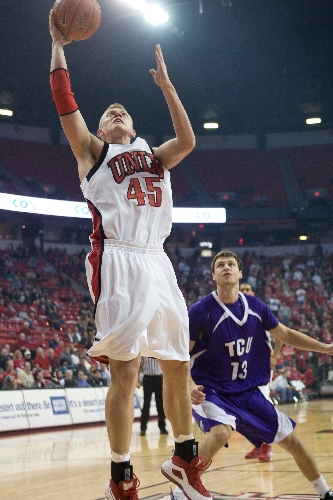 Joe Darger
Years: 2005 to 2009
Career highlights:
■ The 6-foot-7-inch forward started 69 of 127 career games, averaging 7.6 points.
■ Averaged a career-high 11.3 points in 2007-08, when the Rebels went 27-8 and reached the second round of the NCAA Tournament.
■ Ranks third in career free-throw percentage (.811) and fourth in career 3-pointers (207).
Quotable: "Joe was a tough matchup for other teams' big players because he could step out to the 3-point line and make shots. He was an extremely hard worker defensively in the low post." — Lon Kruger, UNLV coach
Currently: Spent last season with Utah in the NBA Development League. Recently joined a summer pro team that left Monday for a tour of China.
The Review-Journal counts down the top 100 players in UNLV basketball history, 20 years after the Rebels' NCAA championship season in 1989-90.