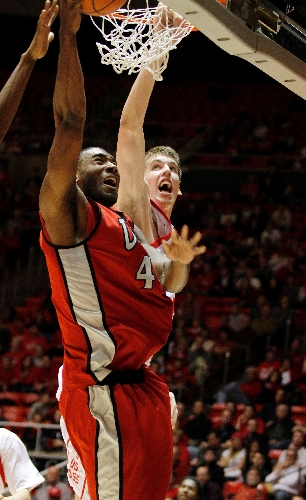 During his two years at UNLV, Darris Santee has seen himself progress as a basketball player.
"Before getting here, I didn't really think the game. I just went out and played," he said. "My mental game got a lot better."
Santee's transition from junior college was not always smooth, on or off the court. But he always had someone to lean on in his mom, Carolyn.
Santee's mom will be present to see him conclude part of his college journey today when the Rebels (22-7, 10-5) play Wyoming (10-19, 3-12) in the teams' Mountain West Conference regular-season finale at 1 p.m. at the Thomas & Mack Center.
Santee, a 6-foot-8-inch forward, and walk-on guard Steve Jones will be honored on Senior Day.
"She's a real big influence. I talk to her almost every day," Santee said of his mom, who is making the trip from Houston. "Being a student-athlete is kind of hard sometimes, so it gets stressful. When things get negative, I can talk to her about it, and she keeps me positive."
Santee said his academic career will end positively when he earns a degree in sociology this summer. He's hoping for a strong finish to the basketball season, too.
After coming off the bench for three months, Santee is set to make his fourth consecutive start. He is averaging 4.5 points and 3.4 rebounds through 29 games.
"Darris is not a big scorer or a big numbers guy, but he has contributed every day," coach Lon Kruger said. "He's had some really good moments."
Santee's senior-year highlight came when he scored 13 points in the Rebels' 76-71 victory over Louisville on Nov. 28. As a junior, he started 21 games and posted a career-high 21 points in a victory at Fresno State.
But Santee, who helped Midland (Texas) College win the NJCAA national championship in 2007, also endured long stretches on the bench.
"At times during his career he's been a starter, and at times he's played just a few minutes," Kruger said. "But Darris is great in that he just puts in his work every day. He's not real talkative. He just goes about business and whatever he can do to help the team."
Santee and Jones have not formed one of UNLV's most significant senior classes, yet Kruger said each player's dedication is appreciated by his teammates and coaches.
"We hope they remember us as hard workers, and guys who really would do anything for the team," Jones said. "Darris just works his butt off every day, and you have to love something like that."
Santee drew inspiration for this season from his godfather, Charles Phillips, who died from kidney cancer Oct. 15, the day before the Rebels' first practice. Santee said he reflected on his talks with Phillips, who urged him to be more aggressive.
While at UNLV, Santee started meeting with Dr. Ed Klein, a sports psychologist who teaches visualization to enhance the performance of athletes. Klein volunteers his services and has worked with several Rebels players the past few years, and Santee credits the sessions for improving his mental focus.
Lately, Santee said his thoughts have been on a longtime friend from Houston, Lloyd Dunseth, who is serving a 20-year prison sentence for being involved in an attempted bank robbery. Santee is writing him a letter of encouragement.
"He started hanging out with the wrong people and got into a lot of trouble," Santee said.
Meeting the right people, Santee said, helped him grow as a person at UNLV.
"I've learned a lot from the coaches. The fans are always good, coming up and talking to me," he said. "This whole experience has been very good for me."
Contact reporter Matt Youmans at myoumans@reviewjournal.com or 702-387-2907.
WYOMING VS. UNLV
WHEN: 1 p.m. today
WHERE: Thomas & Mack Center
TV/RADIO: Versus (38), KWWN-AM (1100)
LINE: UNLV -18