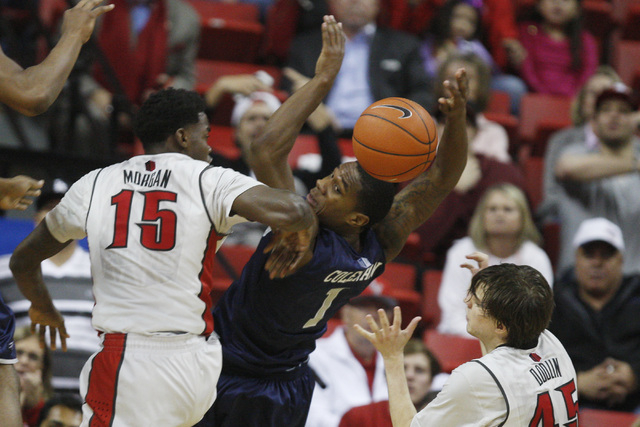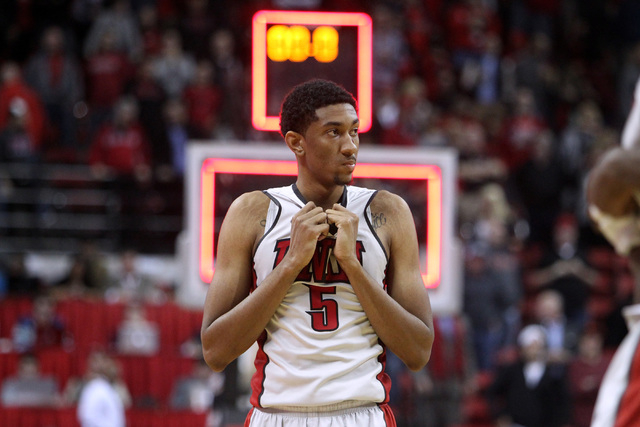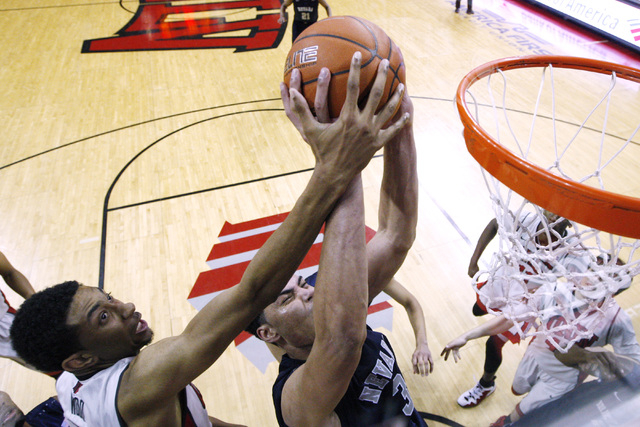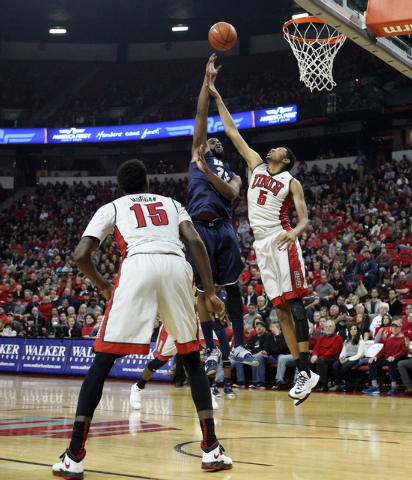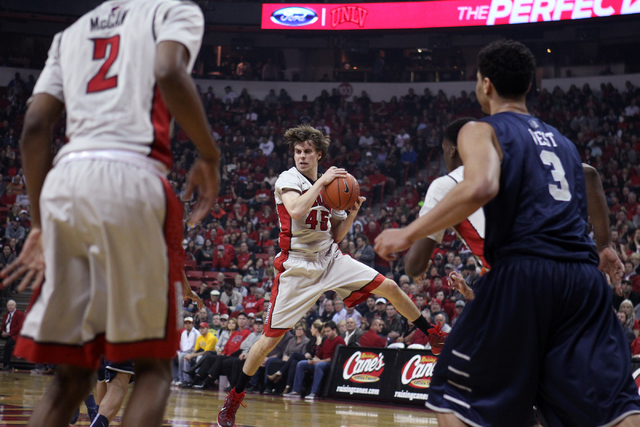 BACKCOURT: C-
Cody Doolin was steady with seven points and four assists in Wednesday night's dreadful 64-62 loss to UNR. He also pulled down eight defensive rebounds. No Rebel had more than that on the defensive end. That's a problem. UNLV got abused on the defensive glass and Doolin leading the team in that category is a major reason. Rashad Vaughn was great down the stretch on the offensive end. He finished with 20 points and made all seven of his free throws. That's where the positives end. Vaughn and the rest of the offense took far too long to get going and Jelan Kendrick was nearly invisible. Kendrick went 1 of 8 from the field and had just two rebounds in 18 minutes of action. Playing what is essentially a small forward position even though he's listed as a guard, Kendrick has to play a role in support of the forwards on the glass. He was unable to do so.
FRONTCOURT: D-
Chris Wood's numbers are always going to look impressive. He's too good not to make a major impact on the box score just by stepping on the floor. He finished with 17 points and 13 rebounds in the loss. Goodluck Okonoboh had six points and seven rebounds. Both players failed far too often to get a body on UNR's A.J. West, who played a spectacular game. West had 15 points, 15 rebounds and six blocked shots. Wood and Okonoboh can't allow that to happen.
BENCH: D+
Patrick McCaw played a few really nice possessions around the free-throw line against UNR's zone that helped UNLV get back in the game and even take a late lead. He was unable to sustain that impact, however. McCaw had just four points and turned the ball over three times in 29 minutes of action. He's relied upon too much by this team at this point to have an off game like he did on Wednesday. Dwayne Morgan made two shots, but had just one rebound in 15 minutes. Jordan Cornish had almost no impact in 13 minutes off the bench. While Cornish and Morgan got a few extra minutes, in order to provide a bit more rest than usual for a worn out team, they didn't do enough to take advantage of the opportunity.
COACHING: F
Dave Rice continues to insist he has drilled into his young team's head the importance of working hard to secure every single rebound. It's just not showing up in the numbers, though. The Rebels had started to show some progress in that regard, but it was really the single biggest factor in Wednesday's embarrassing loss. There might be a few minor things a coach can do schematically to help on the glass, but it really comes down to convincing the players how important it is to do the dirty work. That just hasn't happened yet. If this debacle isn't enough to do that, it might not happen.
There were a few bright spots for the coaching staff. Patrick McCaw was put in the high post against the UNR zone and proved quite effective in helping the Rebels get a few easy baskets. UNLV failed to sustain the momentum after seizing the lead, though. Rice also said he informed the team over and over about the importance of being ready to take every opponent's best shot once conference play started. The Rebels came out lethargic and looked disinterested as they were taking a big step down in competition. It proved very costly. That's not acceptable and though it's on the players, those are the kinds of things that make coaches look very bad.
Contact reporter Adam Hill at ahill@reviewjournal.com or 702-224-5509. Follow him on Twitter: @adamhilllvrj.