Rebel Report Card: UNLV vs. Cal Poly
November 13, 2015 - 11:19 pm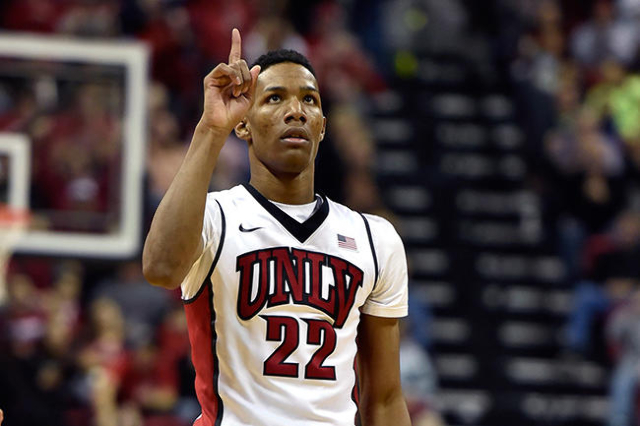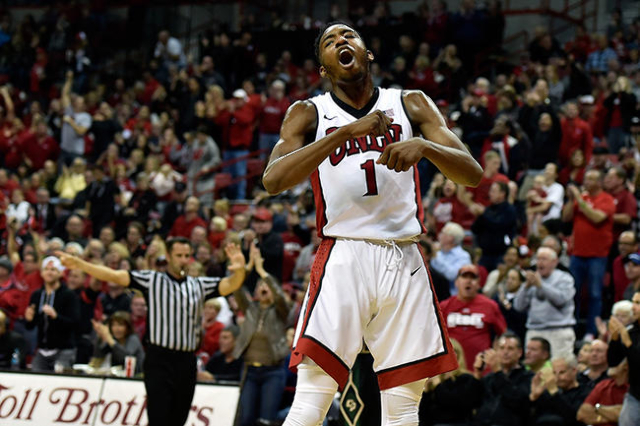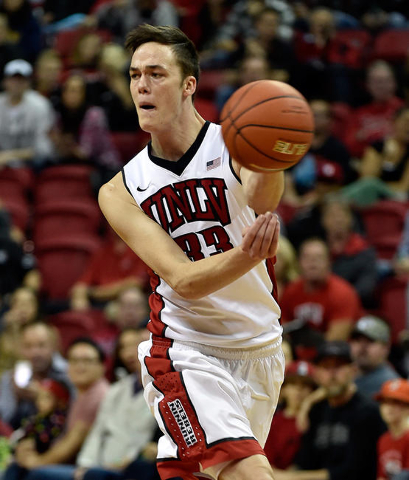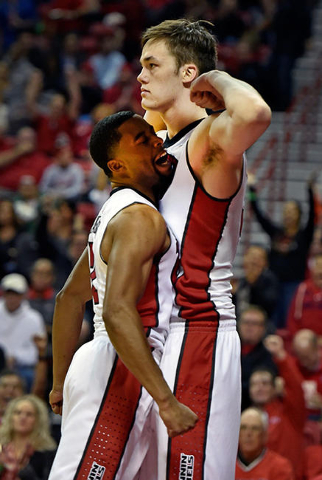 Backcourt: C+
Senior point guard Jerome Seagears waited a year to run the Rebels' offense. Unfortunately for the Rutgers transfer, his first game was against a stifling Cal Poly defense. Seagears struggled to break through Cal Poly's zone in the first half. Credit goes to Seagears for attacking the rim, despite coming up empty many times, and not letting the Rebels settle for jumpers. Seagears scored 11 points with five assists in UNLV's 74-72 victory over the Mustangs on Friday at the Thomas & Mack Center. UNLV didn't get much from its two other starting guards Ike Nwamu and Jordan Cornish, who combined for 11 points. Cornish, usually reliable from three, went 0-for-2 from long range.
Frontcourt: B
Freshman forward Stephen Zimmerman Jr. had a tough start in his UNLV debut against the bulkier Mustang defenders. The 7-footer eventually settled in with his mid-range shot and athleticism to the basket. Zimmerman finished with 12 points, nine rebounds and three blocks. Zimmerman had a good pick-and-roll connection with Seagears. The five-star recruit and hometown kid made a good impression against a physical team. He'll feel the hits tomorrow. "I got kneed in my thigh. My thigh hurts pretty bad," Zimmerman said after the game. Center Goodluck Okonoboh went 1-of-4 from the field and recorded three rebounds.
Bench: A
This game could have easily been a 10-point win for Cal Poly if the UNLV bench didn't step up at crucial times like it did. Freshman forward Derrick Jones Jr. and sophomore forward Dwayne Morgan provided a spark when the Rebels couldn't find a rhythm offensively in the first 20 minutes. Jones provided momentum-swinging plays with dunks and Morgan contributed by defending and going after rebounds. In the second half, it was Patrick McCaw who lifted the Rebels. McCaw's three-pointers were the main reason UNLV was up 13 with 9 minutes and 22 seconds left in regulation. McCaw led the team in scoring with 15 points and went 4-of-7 from 3-point range.
Coaching: B
Dave Rice, now in his fifth season leading the Rebels, did a good job mixing up the rotations on the floor to find a spark during cold spurts. He allowed Morgan to play extensive minutes in the first half and he did the same with McCaw in the second. The only reason Rice doesn't get an A is because he took McCaw out during his hot streak and Cal Poly was able to get back in the game while he was sitting. Calling pick-and-roll plays for Zimmerman was another solid move by Rice. Cal Poly had to respect Zimmerman's jumper and that allowed the big man to make moves to the rim.
Gilbert Manzano can be reached at gmanzano@reviewjournal.com. Follow him on Twitter: @gmanzano24
Check our GameDay page for full coverage of the UNLV-Cal Poly game.