Rebel Report Card: UNLV vs. St. Katherine
December 5, 2014 - 11:11 pm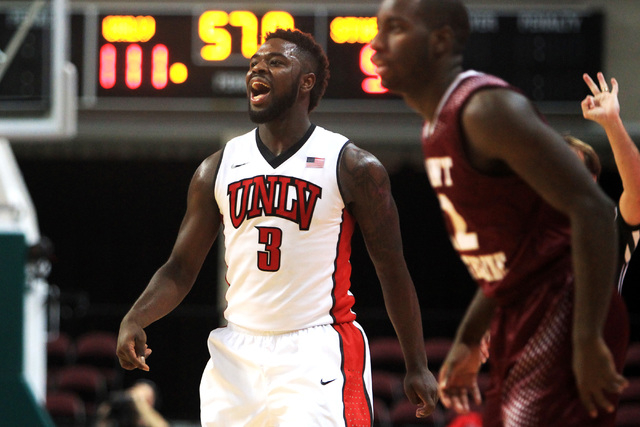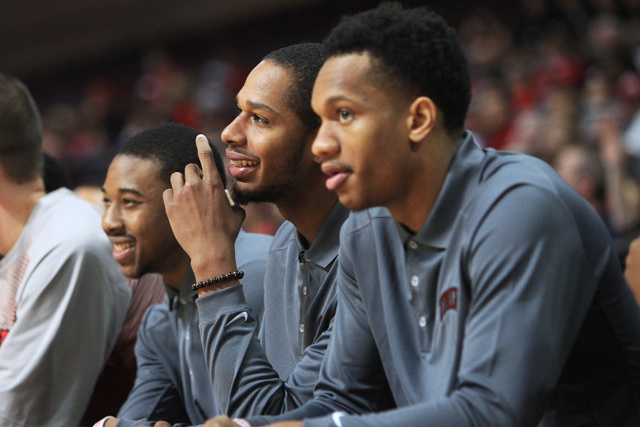 BACKCOURT: B+
The guards played well for UNLV on Friday night in a 113-53 win over a vastly overmatched St. Katherine squad at Orleans Arena. Jordan Cornish, making a spot start because of injuries to Jelan Kendrick and Rashad Vaughn, was phenomenal. The freshman had 19 points, eight rebounds and six assists. He was also efficient, hitting 6 of 12 shots, including 4 of 7 from 3-point range. It was a breakout performance for Cornish. Cody Doolin turned in his typical solid performance at the point. Patrick McCaw struggled a bit in his first start. He missed all four attempts from deep and turned the ball over seven times. He did dish out nine assists, however.
FRONTCOURT: A
Goodluck Okonoboh and Chris Wood were just far too athletic for the Firebirds on the inside. Okonoboh blocked six shots and Wood swatted away five more. Wood was outstanding on both ends of the floor. He had 20 points, 11 rebounds and five assists. Okonoboh also had a double-double with 12 points and 10 rebounds. Both players had an easy go of it on Friday night, but they still had to perform and they combined to hit 12 of 17 shots.
BENCH: A+
This was a game for some seldom-used players to get out and have some fun. They took full advantage. Dantley Walker hit 4 of 6 from 3-point range and Barry Cheaney hit both of his attempts from outside. Dwayne Morgan was a star. The freshman had 23 points and 12 rebounds in 26 minutes. The bench had all that success despite several usual backups being forced into the starting lineup due to injuries.
COACHING: C
There really was no game-planning to be done for the matchup against St. Katherine. The grade here suffers because UNLV came out completely flat against a totally overmatched opponent. Granted, it's difficult to get a team fired up for a game when the outcome is never going to be in doubt. There's just no excuse for such a poor early effort after the disastrous second-half on Wednesday night against Arizona State. It was also a bit of a joke of a game, so the staff must be docked a point for putting it on the schedule.
Contact reporter Adam Hill at ahill@reviewjournal.com or 702-224-5509. Follow him on Twitter: @adamhilllvrj.