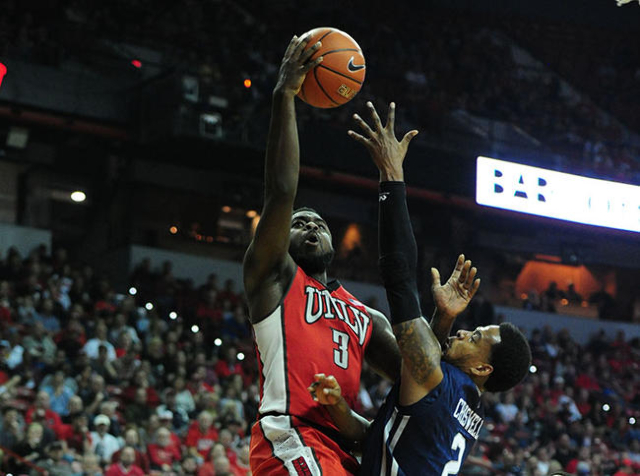 UNLV's 102-91 victory over UNR at Thomas & Mack Center wasn't always pretty.
In fact, the Rebels tried to ugly it up at times almost out of necessity as they were down to six scholarship players by the time the game tipped off.
In the end, the Rebels not only escaped with a win but made it awfully exciting for the announced crowd of 14,640.
After the Wolf Pack looked for all intents and purposes like they had won the game on a deep 3-pointer by Marqueze Coleman, Patrick McCaw put an abrupt end to the celebration with a running 3-pointer at the buzzer to force overtime.
UNLV took over in the extra session and avoided what would have been another disheartening home loss.
Backcourt: A
This unit didn't play at a completely superior level throughout the game, but the final numbers certainly warrant a very high grade.
McCaw had 25 points, 18 rebounds and five assists. He also went 7 of 11 from the field and went 8-for-10 from the line. Those numbers don't even tell the story of his ridiculous shot to force overtime. He was nothing short of sensational on Saturday night.
His contributions on the glass were particularly important as UNLV could have been dominated on the glass with no true frontcourt players in uniform. As it was, the Rebels were out-rebounded just 53-48 on the night. That has to be considered a win.
Jerome Seagers hit three early 3-pointers and scored 21 points. He didn't commit a turnover, but also failed to record an assist. Still, the scoring was vital for a UNLV team looking for offense.
Jordan Cornish added 17 points and Ike Nwamu had 13 for a Rebel team that started four guards after Dwayne Morgan suffered a shoulder injury at shootaround.
Both Nwamu and Cornish hit several outside shots, but also took the ball to the rim on several occasions to draw fouls and force the defense to respect dribble penetration.
Nwamu added eight assists.
Frontcourt: B
Derrick Jones Jr. is far from a traditional interior player, but he's the only healthy guy left on the roster who could even be remotely considered a forward.
He made 6 of 8 shots on Saturday to finish with 14 points and eight rebounds. He also blocked three shots and had four assists.
It was a massive contribution for a team that needs to find some semblance of interior play with Stephen Zimmerman, Ben Carter and now Morgan all injured.
Bench: C+
What bench?
Jalen Poyser was the only healthy scholarship player not to start the game on Saturday.
He provided 27 quality minutes as several starters battled fatigue and foul trouble. Poyser had 12 points and six rebounds in his time on the floor.
Freshman walk-on Austin Starr was also pressed into duty for five minutes. He had a rebound and an assist, but missed three open 3-pointers and failed to score a point.
Starr will likely be counted on to give UNLV a couple minutes here and there down the stretch, but he's got to make shots when they're open.
Barry Cheaney entered the game for the final defensive possession of the first half to make sure none of the key Rebels picked up a cheap foul.
Coaching: B-
Interim coach Todd Simon and his staff will be forced to perform a juggling act with minutes down the stretch as a team once lauded for depth is suddenly down to six scholarship players. It worked on Saturday as UNLV had just about everyone in foul trouble, but managed to not have anyone foul out until the game was well in hand during the overtime period.
Simon and his staff, also helped protect the short-handed Rebels with a tightly-packed zone defense that confused UNR a great deal in the first half. It worked very well until UNR made the second-half adjustment of trying to score early in the shot clock before UNLV could set up its defense.
Simon is also fortunate McCaw made the dramatic shot to force overtime to avoid criticism of another loss to UNR. He would have had to face a lot of questions about UNLV's second-to-last possession that
resulted in a terrible shot with the game tied.
— Contact reporter Adam Hill at ahill@reviewjournal.com or 702-224-5509. Follow him on Twitter: @adamhilllvrj
Check our GameDay page for full coverage of the UNLV-UNR game.
–Box score