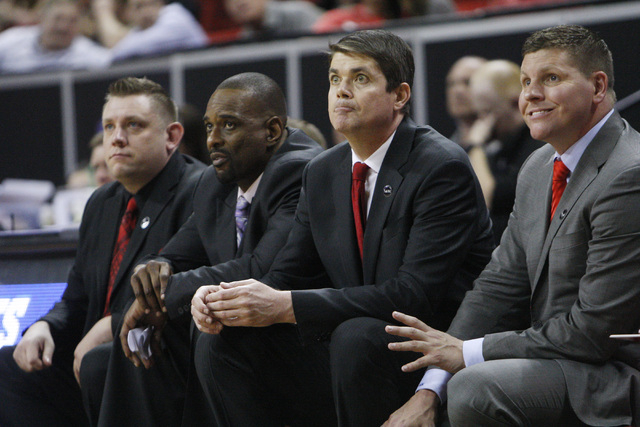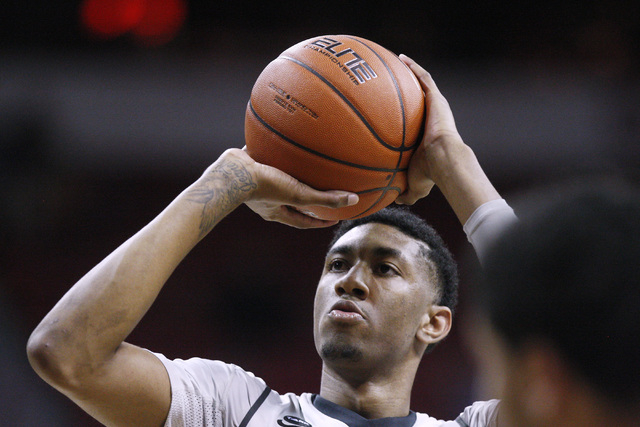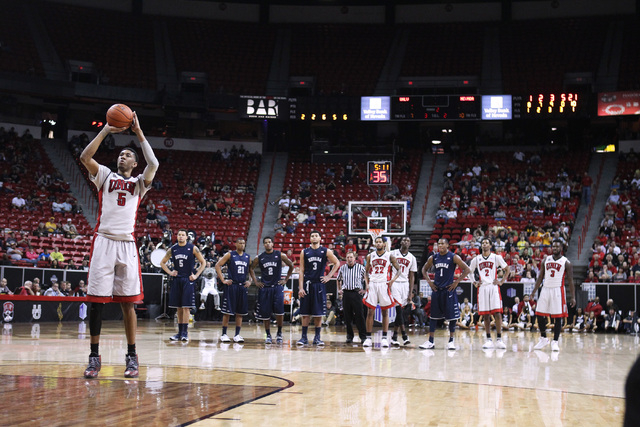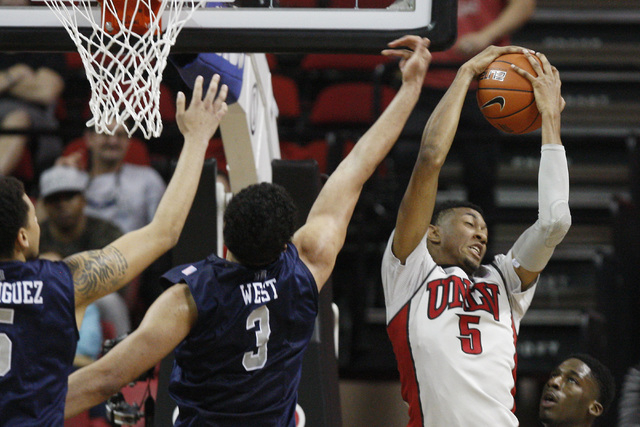 BACKCOURT: B
Senior point guard Cody Doolin had five assists and no turnovers to help lead UNLV to a 67-46 win over UNR in a Mountain West Conference tournament opening round game on Wednesday afternoon. He was a calming influence in a game that saw the Rebels score 21 points off of 20 UNR turnovers. It was the difference in the game. The Wolf Pack failed to score a single point off of six Rebel turnovers. Jelan Kendrick and Patrick McCaw didn't have their best games. McCaw, coming off a concussion that forced him to miss Saturday's game at San Jose State, went 1 of 7 from 3-point range and turned the ball over three times. He did get four steals as he continues to be a disruptive force in the passing lanes. Kendrick went 2-for-9 from the field, but did have six rebounds and four assists.
FRONTCOURT: A
Chris Wood was sensational. The sophomore forward, who may be playing his final games with the program, clearly wants to continue the season. He scored 28 points on 9 of 13 shooting and blocked three shots. Wood absolutely took over the game in the second half, scoring 21 points after the break as UNLV pulled away. Goodluck Okonoboh had just four points, but blocked four shots and had two steals. The duo also had a lot to do with the forced turnovers as many were caused by UNR's hesitance to attack the rim.
BENCH: B
Freshman Jordan Cornish had his highest scoring output against a Division 1 opponent this season as he scored 13 on Wednesday. Cornish hit 3 of 6 from the 3-point line and all came at key moments to help UNLV stretch the lead. Dwayne Morgan was the only other Rebel off the bench to see significant time. He had two points and two rebounds in 15 minutes. His effectiveness was largely limited by foul trouble as he picked up four in his brief appearance. Charles Rushman thrilled the crowd by scoring a basket in the final minute and drawing a charge.
COACHING: B
UNLV has really struggled in the first five minutes of the second half throughout this season. That weakness has been well documented. Dave Rice decided to come out of halftime in a full-court press and it had an impact. UNR was not ready for it and was forced to take an immediate timeout. They played even over the first few minutes of the second half, which could be considered a victory. UNR put together about five straight quality possessions and got within three points, but the Rebels surged ahead and pulled away. Rice also found a way to get the good version of Wood to show up for the tournament's first game. When he's playing well, this team is dangerous. The coaching staff will need to find a way to get the same guy to Thursday's quarterfinal matchup with San Diego State
Contact reporter Adam Hill at ahill@reviewjournal.com or 702-224-5509. Follow him on Twitter: @adamhilllvrj.