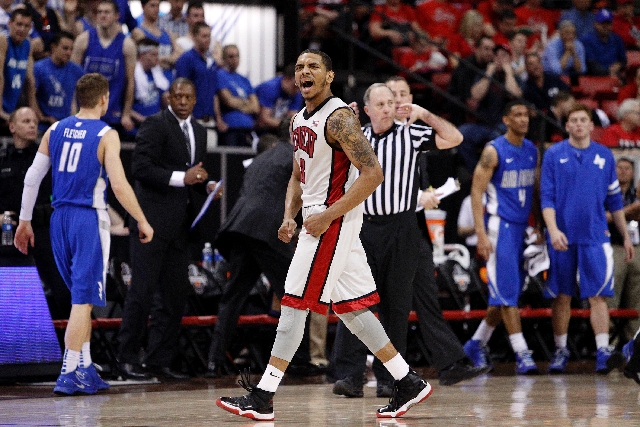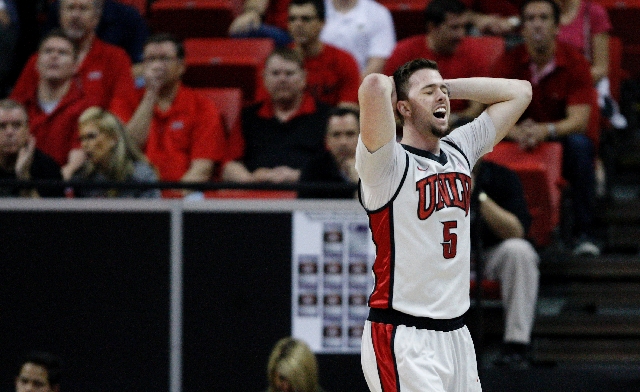 If time didn't heal Anthony Bennett's wounds, a shot of adrenaline and a bigger stage did the trick for UNLV's freshman star.
A left shoulder that bothered Bennett for more than two weeks suddenly is not so sore anymore.
"I wasn't really thinking about it. But it did feel pretty good," he said. "All throughout my high school career, just watching the tournaments, it's a great feeling. Now that I'm here, I've just got to make the best of it. It's a dream come true."
Bennett showed no signs of being injured, and junior forward Mike Moser's return from a dislocated right elbow was no longer a talking point. A healthy team in March is a happier one.
All of the misfortune was on the other side Wednesday.
Bennett's 23 points and seven rebounds helped the third-seeded Rebels defeat No. 6 Air Force 72-56 in a Mountain West tournament quarterfinal at the Thomas & Mack Center.
UNLV (24-8) advanced to play second-seeded Colorado State (25-7), a 67-61 winner over Fresno State, in the semifinals at 8:30 p.m. Friday.
The Falcons (17-13) never had a fair chance to advance, getting dealt a severe setback when senior guard Michael Lyons, the league's leading scorer, went down with a right knee injury 1:36 into the game. Lyons never returned, and the Rebels never looked back.
Air Force also lost center Taylor Broekhuis, who suffered a lacerated chin and was limited to eight minutes. He was held out mostly for precautionary reasons with concussion-like symptoms.
Lyons, who had 27 points in a blowout win over UNLV on Feb. 13, twisted his knee while lunging for a loose ball at midcourt. He was helped to the locker room, unable to put weight on his right foot, and the injury was reported as a sprain.
"As he goes, we go," Falcons coach Dave Pilipovich said. "Obviously, it wasn't a game that we anticipated or prepped for. When you lose two key components of your starting group, we had to make some adjustments on the fly."
After a jumper by Broekhuis with 4:52 elapsed in the first half, Air Force suffered through an eight-minute scoring drought and fell behind 21-7. Anthony Marshall's 3-pointer put UNLV up 33-20 at halftime.
Bennett hit back-to-back 3s as the Rebels took control, 44-31, four minutes into the second half.
"Lyons is a terrific player, and they are certainly better with him," UNLV coach Dave Rice said. "Nobody looks at a board and says, 'I'll take Air Force.' It's not the matchup that anybody wants. We rose to the challenge."
Bennett shot 10-for-14 from the field as UNLV hit 50.8 percent, including 64 percent (16-for-25) in the second half when Bennett scored 19 points.
Bryce Dejean-Jones finished with 12 points, Marshall scored 11, and Moser contributed nine points and 10 rebounds. Khem Birch had eight points, and his willingness to come off the bench allowed Moser and Bennett to start side by side for the first time since Jan. 24.
"Coach said we were starting together, and we both had big smiles," Moser said. "We love playing together. It's always easy because we have such a good chemistry."
The Rebels were more effective in the open court with Moser often triggering them in transition, and more impressive was their defensive effort. The Falcons ran a back-door layup drill against UNLV in February, but not this time.
Kyle Green and Marek Olesinski scored 13 points apiece for Air Force, with Cameron Michael adding 11.
Pilipovich smiled and said, "You guys were checking your scorebook. Who are these guys?"
The Rebels and Rams, who split a closely contested regular-season series, will meet for a third time Friday. But Colorado State might be short-handed, too, with senior point guard Dorian Green unlikely to play because of an ankle injury.
"Make it a commercial. Friday night, those semifinal games in the Mountain West tournament, that's as good as it gets," Rice said. "I want to keep coaching these guys as long as I can this season."
Contact reporter Matt Youmans at myoumans@reviewjournal.com or 702-387-2907. Follow him on Twitter: @mattyoumans247.