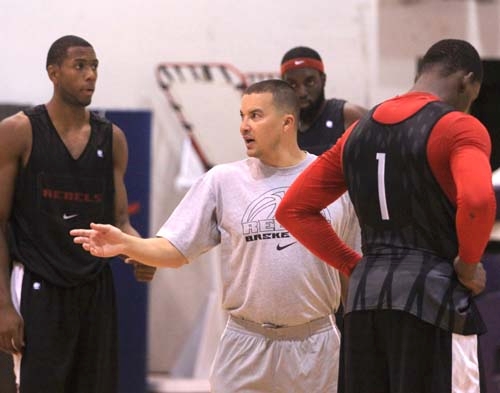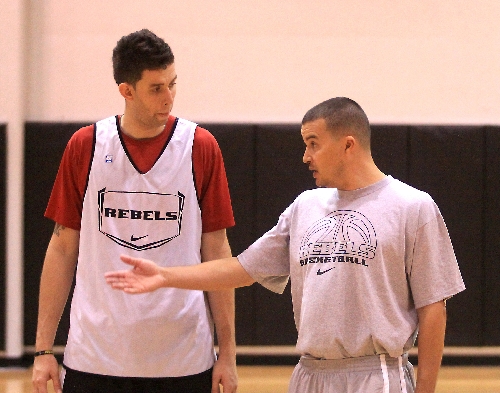 Just out of college and with "no clue" what he wanted to do for a career, Justin Hutson went back to his high school. Two hours with a group of freshmen showed him the future.
The son of a basketball coach, Hutson chose to follow the same path.
"The time went by," he said. "A two-hour practice felt like 10 minutes, so I said, 'This is not like work.' I knew I liked coaching and I wanted to be a coach.
"You know how people are, because they don't always want to do what their dad does, and that's how I was. But I had no clue what I wanted to do until I had that first practice with my freshman team at Bakersfield High School. It was really fun."
What began in Bakersfield, Calif., and continued with stops at Cal Poly and San Diego State, has brought Hutson to UNLV, where he's the associate head coach under Dave Rice.
In April, when Rice returned to his alma mater for his first head coaching position, his initial hire was the 40-year-old Hutson to be the Rebels' defensive coordinator and lead recruiter.
"I grew up a UNLV fan," Hutson said. "I grew up a Stacey Augmon fan. So I know about the tradition and the possibilities here."
Rice and Augmon, teammates on the Rebels' 1990 NCAA championship team and 1991 Final Four team, are joined by Hutson and Heath Schroyer on a coaching staff that is leading the way into a new era.
Rice, an offensive specialist, is implementing a running game, and Hutson is in charge of the defense to complement it. The season unofficially tips today with UNLV's exhibition against Washburn (Kan.) at 7 p.m. at the Thomas & Mack Center.
"Now you turn the page, it's a new chapter here, and you're learning from three other coaches," Hutson said. "You're trying to blend together personalities and philosophies, and it's great as far as personal growth.
"But you want it to translate into wins right away. You don't want to spend a year learning one another and taking any lumps. I think this is great for me as a coach as long as we're successful."
Hutson played an integral role in the recent success at San Diego State, where veteran coach Steve Fisher allowed him to do a lot of on-court coaching and almost exclusively handle the program's recruiting. Last season, the Aztecs were Mountain West Conference champions, advanced to their first-ever NCAA Tournament Sweet 16 and finished 34-3.
After five years at San Diego State, Hutson is adjusting to Rice's style. Rice ran one of the nation's highest-scoring offenses at Brigham Young last season, while Hutson orchestrated the nation's seventh-ranked scoring defense.
"Justin is really committed at the defensive end of the court. He has a really good eye for what's going on. He spends a ton of time watching film and studying defense," said Rice, whose run-and-shoot plan for the Rebels begins on the defensive end.
"Our base will be half-court, hard-nosed, fundamental man-to-man pressure defense. The biggest thing is trying to force tempo and trying to wear out the other team."
Expect to see UNLV apply full-court pressure in some situations, but how often that happens remains a mystery even to Hutson.
"That's Coach Rice's decision. We're going to have a full-court package in to get up and pressure. How much we do it is going to depend on how comfortable our leader is with that. We're all going to take our lead from Coach Rice on that," Hutson said. "The farther you go and the more the teams scout you, you're going to need to be solid in the half-court. It doesn't mean that you can't press and that you can't trap."
Augmon, a former NBA player and assistant coach, is coordinating the defense with Hutson and brings his perspective from the pro level. For all the coaches, it's an adaptation process in terms of personalities.
"As far as how they're going to mix, that's the magic question. It's a trial right now, and hopefully we don't make too many errors," Hutson said. "Hopefully we're not going to have growing pains, but it is growing with the staff.
"I didn't put that tag on me of being a great defensive coach. That's just my responsibility. In a lot of sports, you can't know one side of the ball without knowing the other. You can't be a good defensive coach without knowing the offensive side, and you can't be a good offensive coach without knowing what they're trying to do to stop you.
"One thing I try to do is bring energy every day, because being a defensive coach, a lot of it starts with energy and effort."
Hutson's approach works, Rice said, because it starts with his "great relationship with players." What makes Hutson effective as a recruiter is also what gets players to trust in what he teaches on the floor.
San Diego State was a dominant defensive team anchored by athletic big men — Kawhi Leonard, Malcolm Thomas and former Green Valley High star Billy White — who grew up under Hutson.
"I had such good relationships with our guys where I came from, so we're developing them here. The player-coach relationships are all about trust and being honest and real," Hutson said. "You're always working on that relationship, always maintaining it and monitoring it."
At UNLV, Hutson has players he did not recruit, and he's challenging those players to do something different. He has fast guards in senior Oscar Bellfield and junior Anthony Marshall, versatile wings in senior Chace Stanback and sophomore Mike Moser, and post men he describes as smart and strong.
"As a coach, you have some absolutes and some non-negotiables and some things you really believe in that will be year-in and year-out," Hutson said. "But you also have to adjust to your personnel, and I really like our personnel here. Our personnel is good enough to be great on the defensive end."
As a player, Hutson won a pair of Division II championships as a backup point guard at Cal State Bakersfield.
"I wasn't a great player, but a son-of-a-coach type player," he said.
In high school Hutson played three years on varsity for his dad, Mark Hutson, the winningest coach in California Central Section history. He had no clue at the time, but Hutson would follow his dad's career footsteps.
"We talk all the time," he said. "Not always about coaching, but every day about life."
In September, Hutson got married. He has two daughters who live in Bakersfield. His wife, Ruth, whom he met at San Diego State, also has a daughter who is a UNLV freshman.
"It was very hard to leave. But it was easy to say yes to Dave," Hutson said. "I am so blessed and happy to be here. It's even better than what I thought. Now it's time for us to produce."
Contact reporter Matt Youmans at myoumans@reviewjournal.com or 702-387-2907.
WASHBURN VS. UNLV
■ WHEN: 7 p.m. today
■ WHERE: Thomas & Mack Center
■ RADIO: KWWN (1100 AM, 98.9 FM)
■ LINE: None (exhibition)