Rebels' athleticism concerns UCLA's Alford in Maui
November 23, 2015 - 12:03 am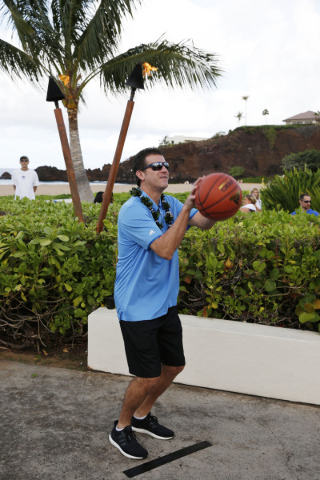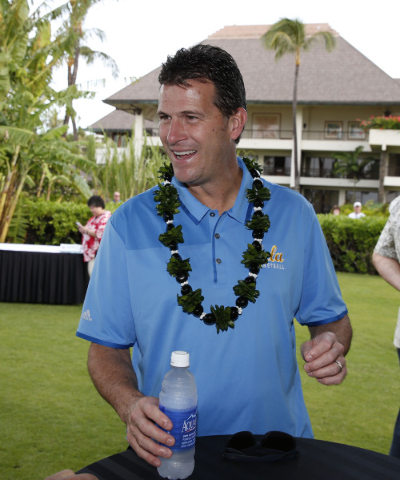 LAHAINA, Hawaii — Steve Alford and Dave Rice sat side by side, each wearing sunglasses and looking cool while waves crashed in the background. Instead of trading barbs, the two basketball coaches traded compliments.
This was not one of those contentious news conferences before a big fight. The Maui Invitational is played in a tropical environment and features a more relaxed atmosphere, at least before the games begin.
"This is a great tournament," said Alford, in his third season at UCLA. "When you're invited to a tournament like this, you know it's going to have elite teams. You're striving to be one of those teams."
Rice talked about how UNLV has "a lot of respect" for the team Alford will put on the floor.
The Rebels (3-0) and Bruins (2-1) square off at 8:30 p.m. PST today at the Lahaina Civic Center. UCLA is a 3½-point favorite in a game to be televised on ESPN2.
It's the first meeting between the teams since 1998, when the Bruins won 72-67 in Los Angeles. Unofficially, the teams played a closed scrimmage last year, and UCLA thoroughly pounded UNLV.
"It was the first college experience for a lot of our guys," Rice said.
The Rebels are led by more veterans now. Junior forward Ben Carter, a transfer from Oregon, and senior point guard Jerome Seagears, a Rutgers transfer, start for Rice after redshirting last season. Stephen Zimmerman Jr., a 7-foot freshman, represents UNLV's biggest addition.
"It's a different team from last year with multiple new starters," Alford said. "Carter is a very talented transfer. Zimmerman heads a very good recruiting class. Seagers is doing a very good job. He takes care of the ball and he makes good decisions.
"They are such an athletic team. They bring a lot of athleticism off the bench, where if things don't go well, they have got the athletic ability to make things happen at both ends of the floor. It's a great mix."
High humidity on the islands creates a hot, sweaty feel inside the 2,400-seat arena. If things work according to plan for Rice, the Rebels' full-court defensive pressure will wear down the Bruins. But guards Bryce Alford, Isaac Hamilton and Aaron Holiday are not easy to trap into mistakes.
"We're not going to change how we play," said Rice, who seems intent on pressing UCLA and forcing a fast pace.
Zimmerman will be tested by the Bruins' big men — 6-9 senior Tony Parker and 7-foot sophomore Thomas Welsh. Parker, averaging 16.7 points and 16.0 rebounds, is the first UCLA player with three double-doubles in the season's first three games since Bill Walton in 1973.
"They have a very potent front line with Parker and Welsh," Rice said. "It's a very balanced team."
If things work according to plan for Alford, his guards will attack and break down UNLV's pressure and his big guys will dominate around the rim.
Alford certainly did not plan on suffering a season-opening overtime loss to Monmouth, but the Bruins bounced back to beat Cal Poly and Pepperdine.
"It can take awhile to get to know your team and for your team to get to know you," Alford said. "I think that's why we are still a work in progress. Now we have to play three very difficult games in three days. We will leave this island knowing exactly what we need to work on as we move into our December schedule. We are nowhere near a finished product, but in our last two games we have taken steps in the right direction."
Contact reporter Matt Youmans at myoumans@reviewjournal.com or 702-387-2907. Follow him on Twitter: @mattyoumans247.
Check our GameDay page for full coverage of the UNLV-UCLA game.
UCLA vs. UNLV


WHEN: 8:30 p.m. today


WHERE: Lahaina Civic Center, Lahaina, Hawaii


TV/RADIO: ESPN2 (31); KWWN (1100 AM, 100.9 FM)


LINE: UCLA -3½


UCLA (2-1)


Coach: Steve Alford (52-24, third season;
515-259 overall, 25th season)


PROBABLE STARTERS:


Tony Parker F 6-9 16.7


Thomas Welsh C 7-0 13.3


Isaac Hamilton G 6-5 8.3


Aaron Holiday G 6-1 11.7


Bryce Alford G 6-3 19.7


UNLV (3-0)


Coach: Dave Rice (92-47, fifth season)


PROBABLE STARTERS:


Ben Carter F 6-9 7.0


Stephen Zimmerman Jr. F 7-0 12.7


Patrick McCaw G 6-7 16.7


Ike Nwamu G 6-5 6.7


Jerome Seagears G 6-1 11.3