Rebels blow second-half lead; winning streak ends at three
Updated February 3, 2023 - 11:49 pm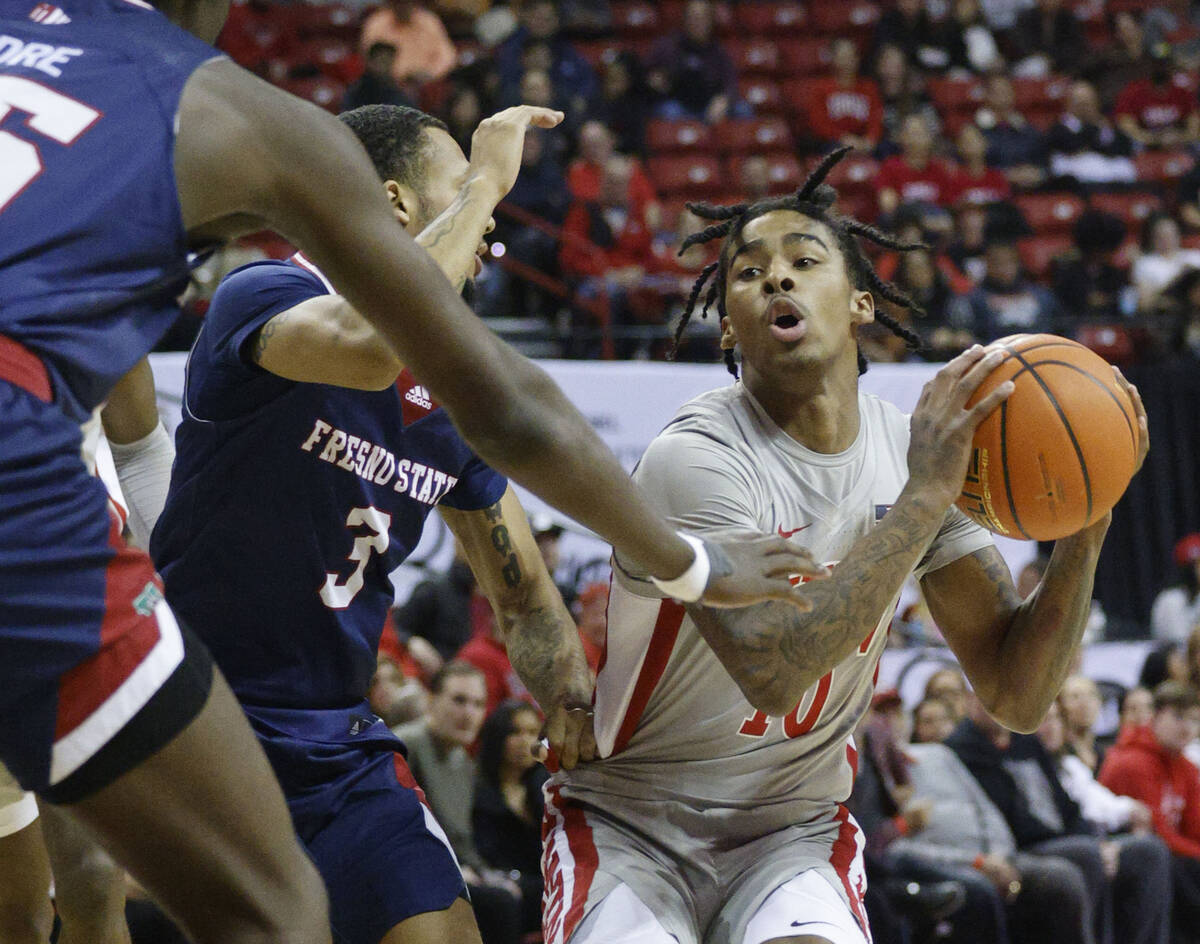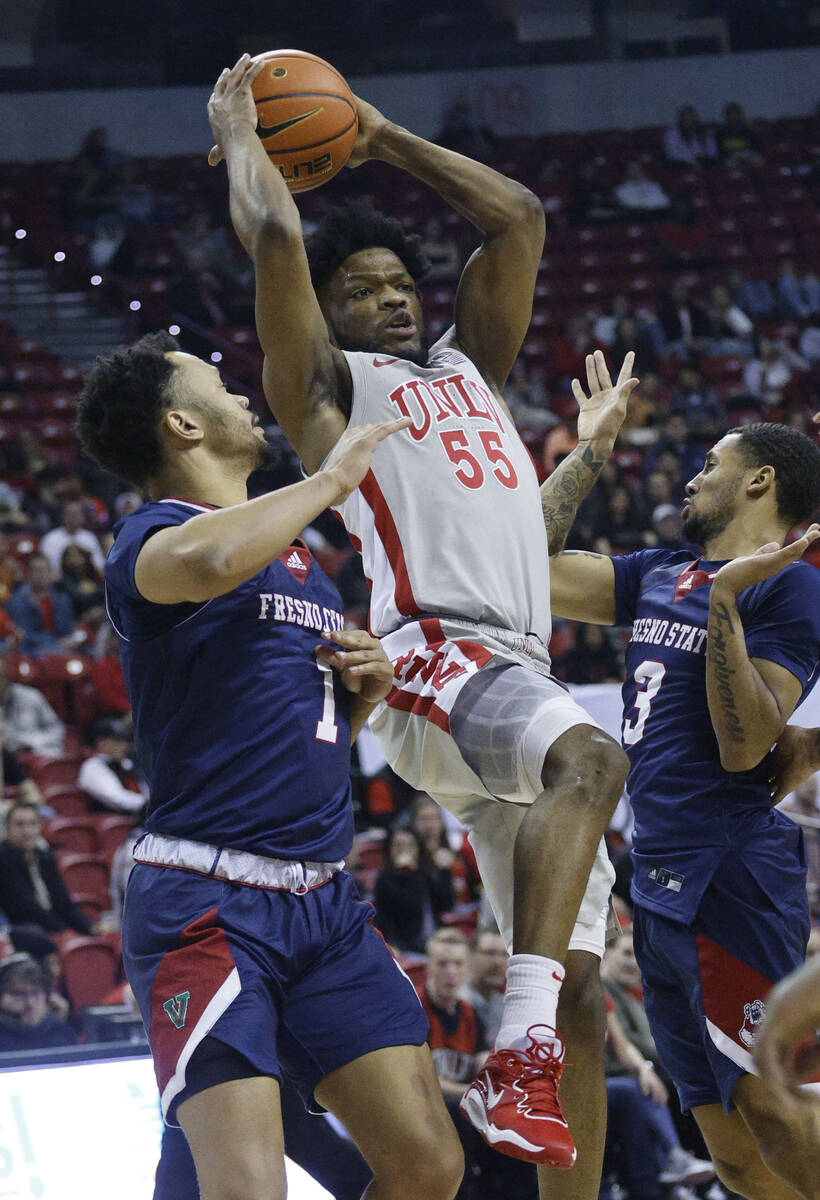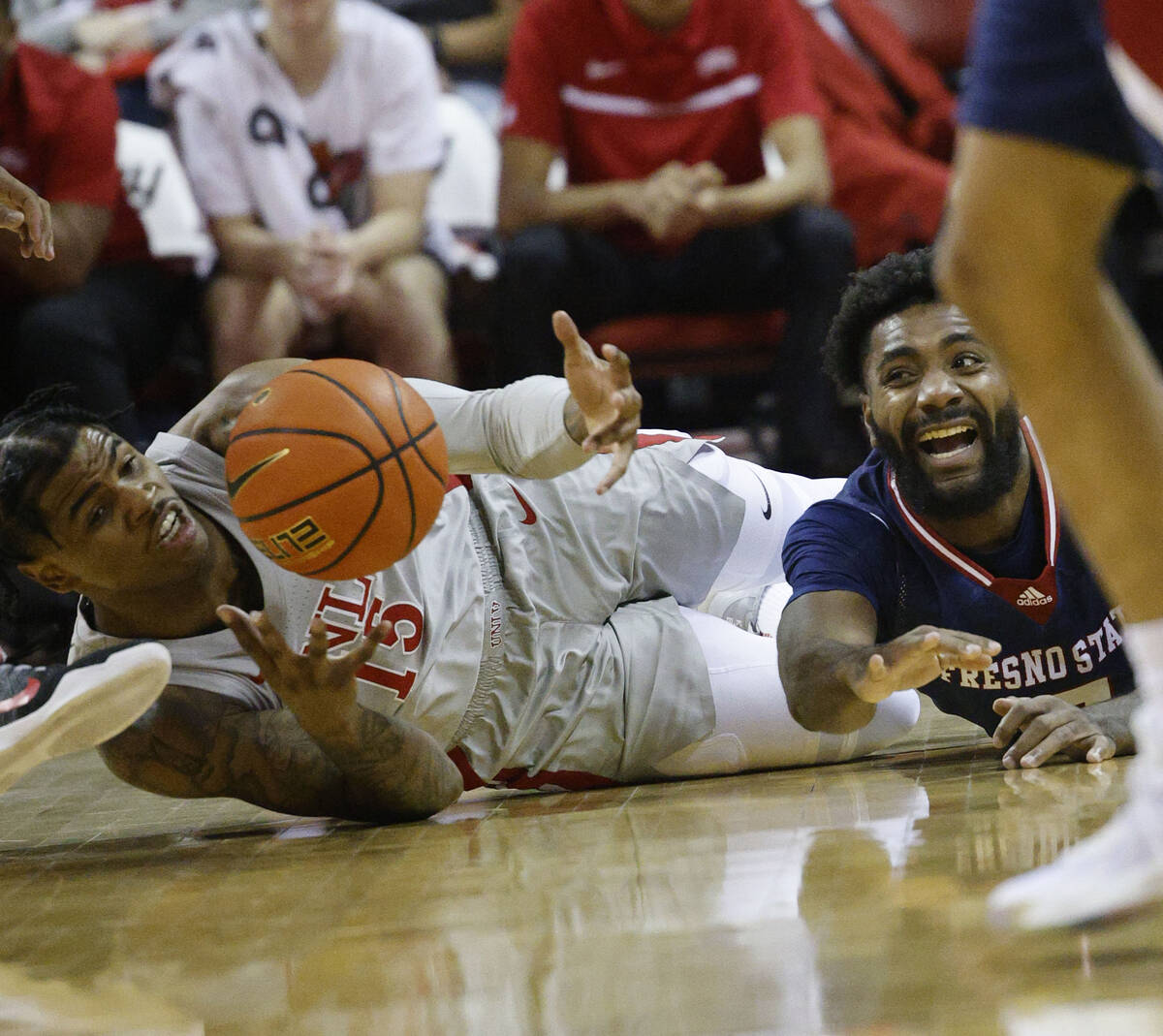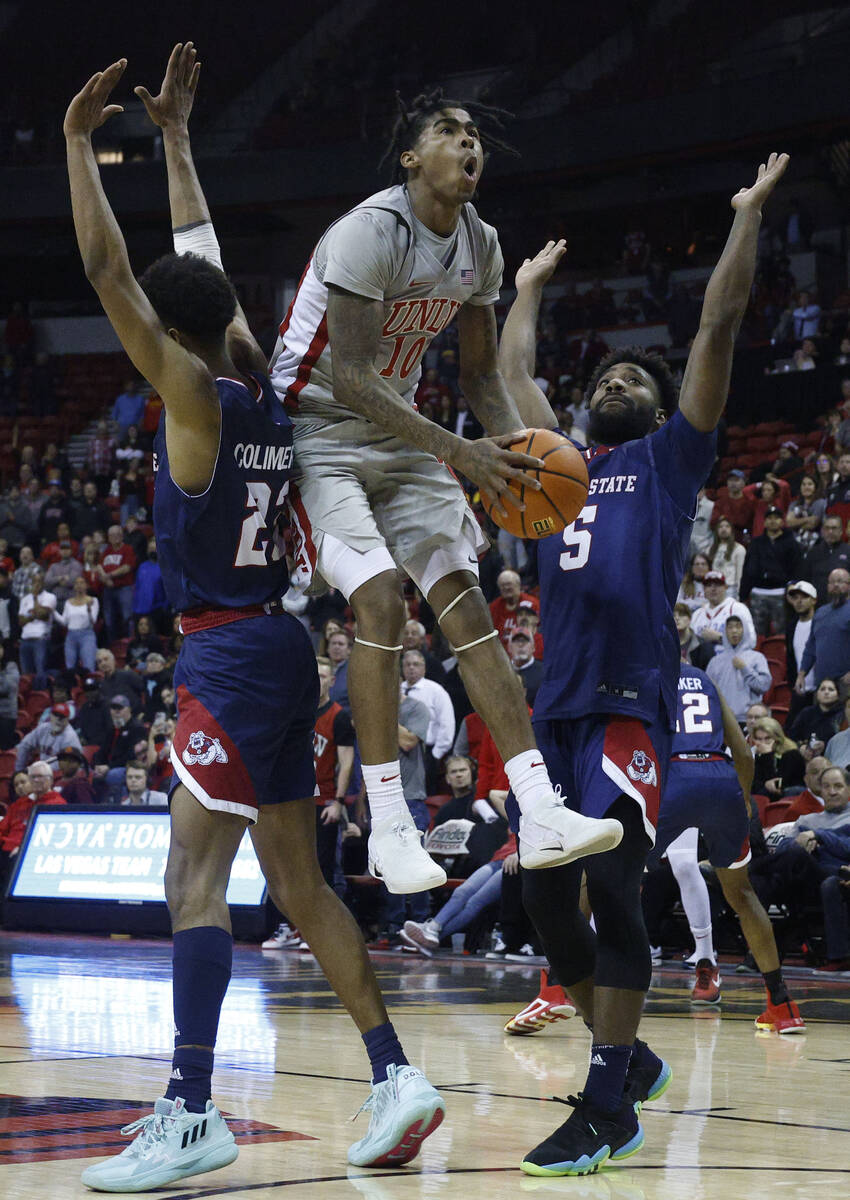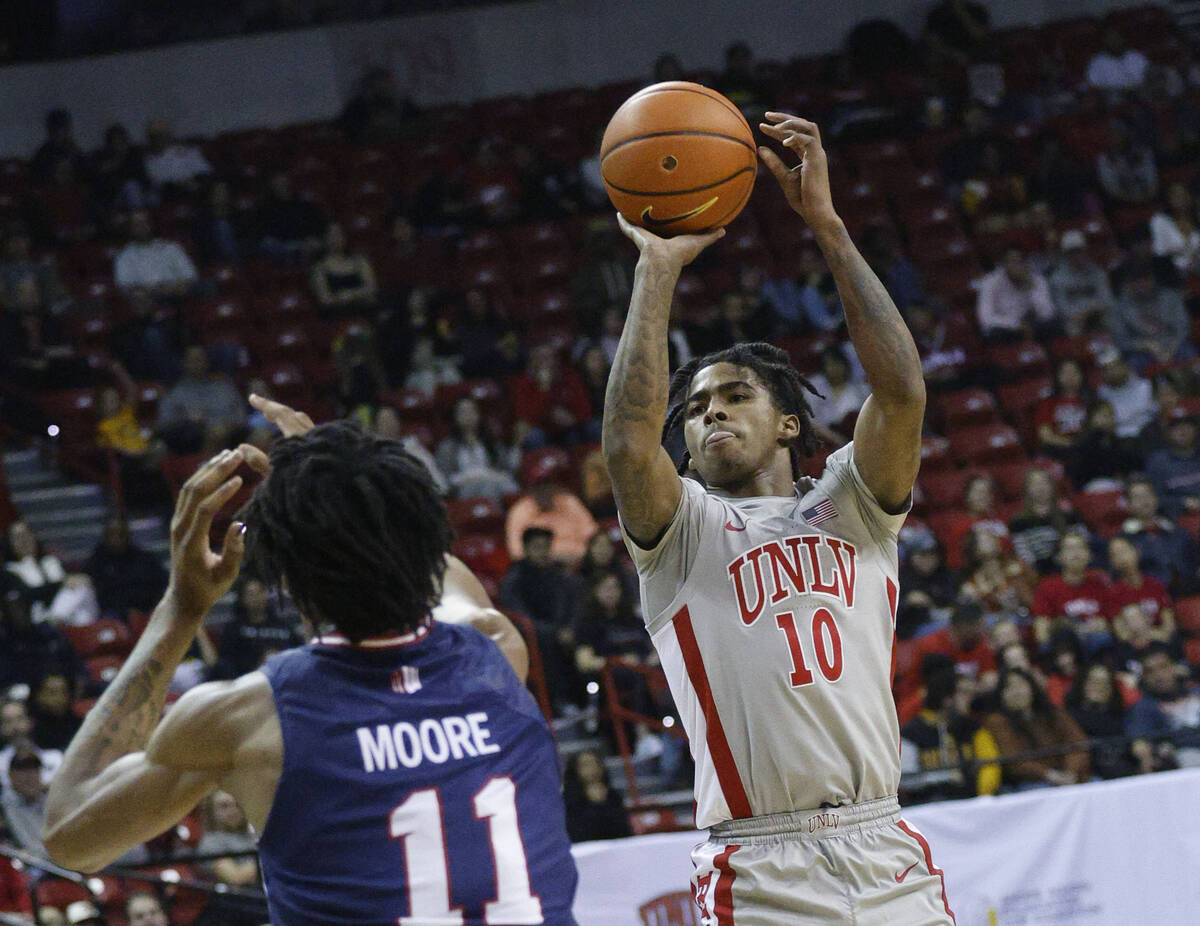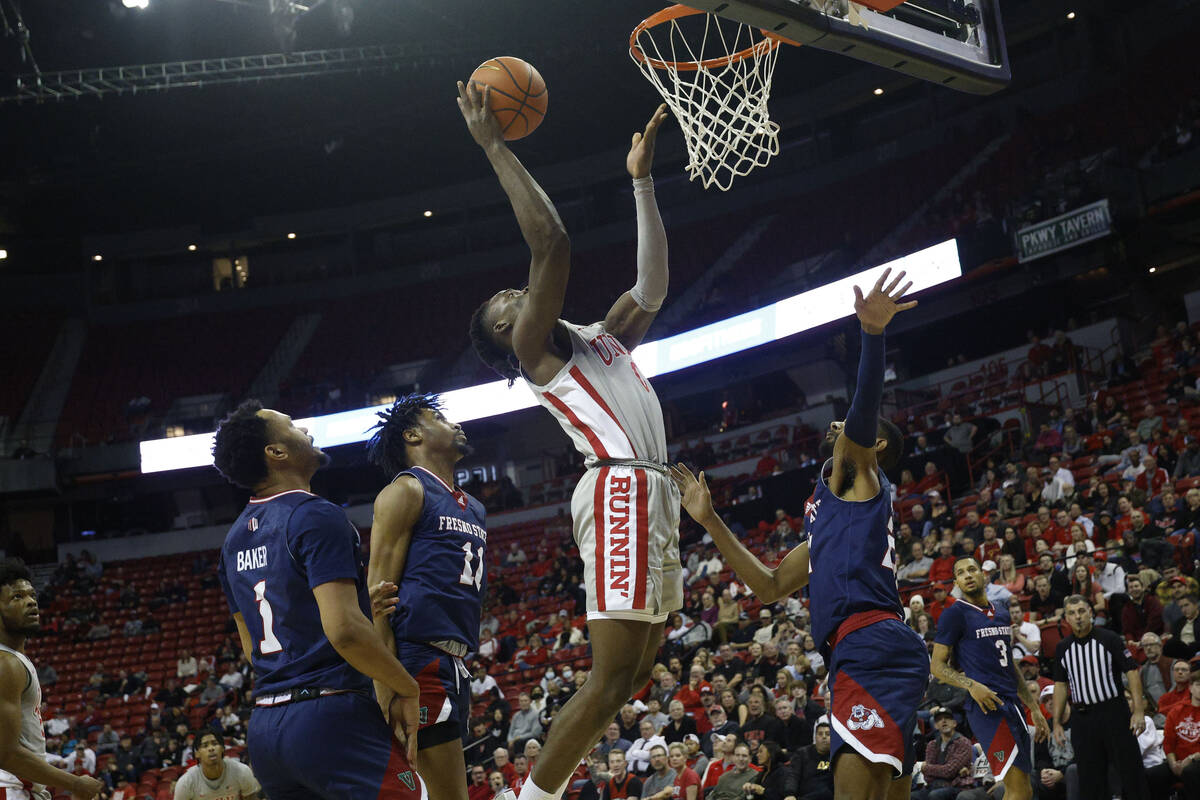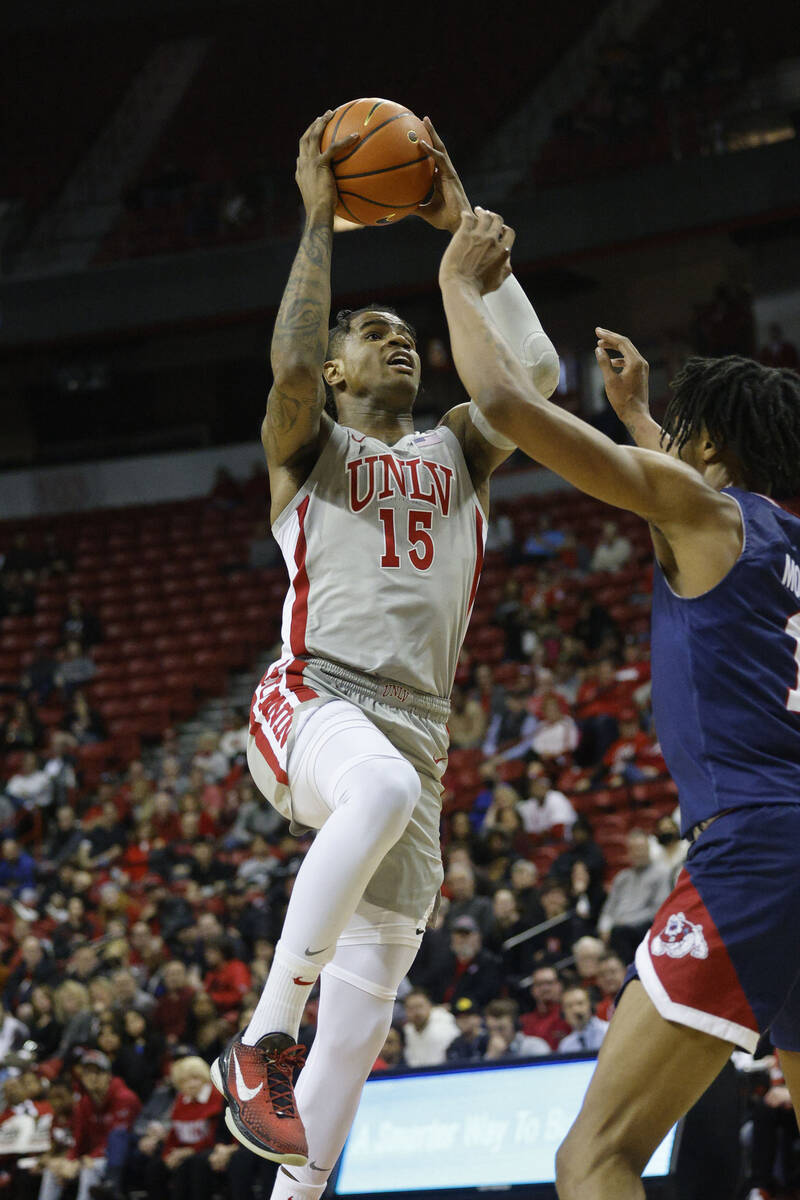 UNLV still had a chance to tie the game as it inbounded the ball to sophomore Keshon Gilbert.
The Rebels trailed by three with four seconds remaining in Friday's 82-79 loss to Fresno State. Gilbert was their best bet to make something happen.
Gilbert collected the inbounds pass and tried to turn up the court. Instead, the ball was knocked out of his hands by Fresno State senior Jordan Campbell. Fresno State's last-second dunk didn't count, but it didn't matter.
A second-half collapse by UNLV allowed Fresno State to end the Rebels' winning streak at three games Friday at the Thomas & Mack Center. Harkless scored 27 points and Gilbert added 19, but it wasn't enough to counter Fresno State seniors Isaiah Hill and Jemarl Baker, who combined for 45.
"Clearly, not the result we wanted," Rebels coach Kevin Kruger said. "We just couldn't quite get a rhythm going defensively."
UNLV (15-8, 4-7 Mountain West) and Fresno State (8-14, 4-7) have split the past eight meetings between the two schools. The Bulldogs had lost three consecutive games since beating the Rebels 76-63 at the Save Mart Center in Fresno, California, on Jan. 21, and they are the first team to sweep UNLV in conference play this season.
"They got comfortable," senior Luis Rodriguez said.
Fresno State was short-handed before the game even tipped off, as senior wing Anthony Holland was ruled out with an illness. He started all 21 of the Bulldogs' previous games, averaging 6.5 points and 3.8 rebounds. Campbell joined the team's starting five in his place.
Kruger also made a lineup change, moving senior guard Justin Webster to the bench for the first time since Dec. 17, and promoting Rodriguez back into the starting lineup following his recovery from a groin injury. Fifth-year wing Elijah Parquet also maintained his place in the starting lineup, as the Rebels entered the game 13-0 with the former Colorado wing as a starter.
But the change didn't look great to start. The Rebels struggled offensively, settling for mid-range jumpers, while the Bulldogs were content to throw the ball into the low post for junior center Eduardo Andre. However, he picked up an early second foul for barreling through Parquet less than five minutes into the game, then returned and picked up a third foul with one minute remaining in the first half.
UNLV still struggled to separate, even without Andre on the court. Fresno State shot 46.4 percent from the field and 50 percent from 3 during the first half. They were led by Hill, who had 13 points and made all three of his attempts from 3. He scored 28 points in the teams' first meeting this season.
"He was able to get downhill and make plays," Rodriguez said.
The Rebels' first-half offense was carried by Gilbert and Harkless, who each scored 12 points. Harkless also made two 3s in the first half, his first game with multiple 3s since Jan. 14 during an overtime loss to Colorado State.
A small run during the final four minutes allowed UNLV to take a 43-37 lead into halftime.
Fresno State went on a 7-0 run to briefly retake the lead at the beginning of the second half before a 3 from Rodriguez settled the Rebels back down.
Harkless was the key to the Rebels staying ahead. The former Oklahoma transfer propelled the Rebels' second-half offense with an array of mid-range jumpers, layups and free throws, but he fouled out with 28 seconds remaining after tripping over some fans underneath the basket and dragging Fresno State forward Isaih Moore down with him.
They received offsetting technicals, and both fouled out of the game.
Fresno State was efficient throughout its second-half comeback. The Bulldogs shot 52.2 percent from the floor and 57.1 percent from 3 during the final 20 minutes. Hill added nine points to finish with 22, while Baker added 16 and went 3-for-3 from distance on his way to 23 points.
"We've got to get back to work," Rodriguez said. "Nobody's going to feel sorry for us, so we've got to keep grinding it out, find ways to win."
Contact reporter Andy Yamashita at ayamashita@reviewjournal.com. Follow @ANYamashita on Twitter.