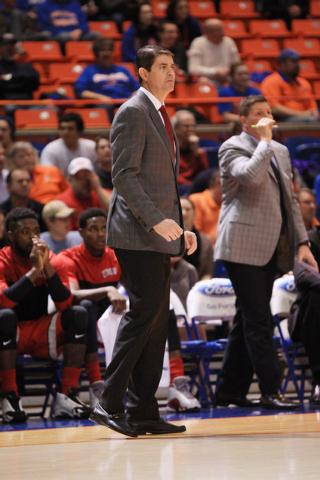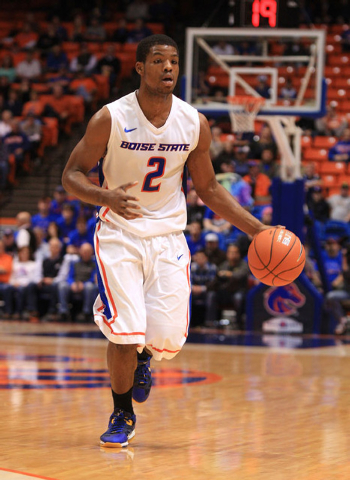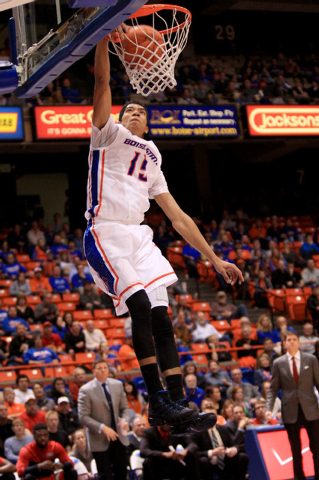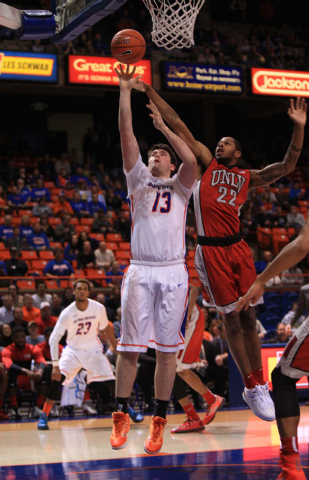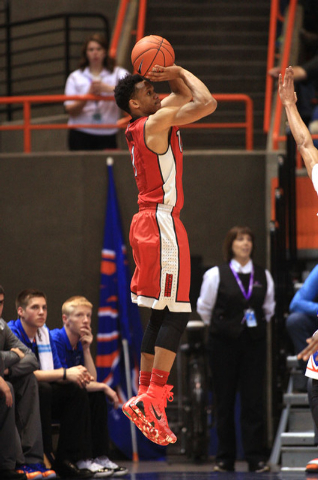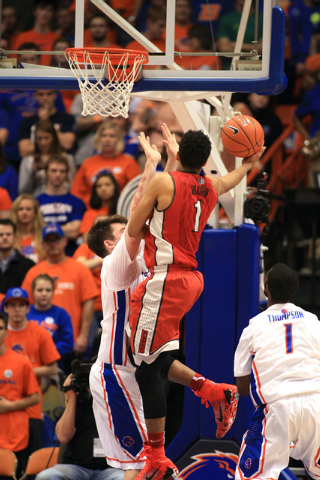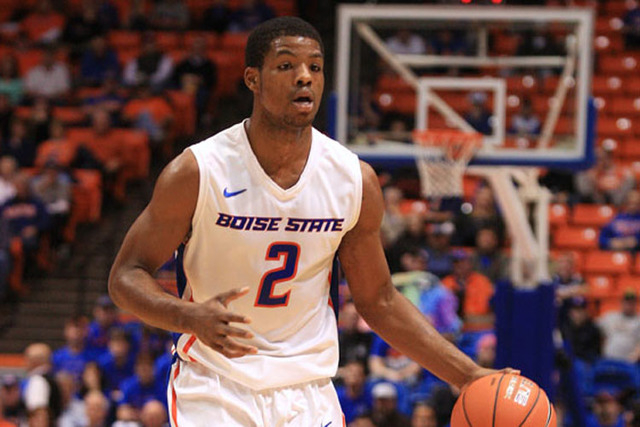 BOISE, Idaho — With the clock winding down and a shot to win in regulation, Rashad Vaughn pulled up from 25 feet and missed a jumper. And that was the beginning of the end for UNLV.
The Rebels came unraveled in an overtime period that turned into a five-minute fiasco Tuesday night.
Derrick Marks scored 28 points as Boise State rallied to beat UNLV 82-73 in a Mountain West shootout at Taco Bell Arena.
"It feels good, man, it feels good," Marks said. "It was a great game."
It was an agonizing result for the other side. Vaughn finished with 20 points for the Rebels (10-7, 1-3), a team still without a true road win in mid-January.
"We were just a play away from getting out of here with a win," coach Dave Rice said. "It was right in our grasp. Obviously, it's a very difficult loss to swallow."
Marks made the biggest shot of the night, backing down Vaughn in the low post and hitting a jumper to tie the score at 68 with 13.1 seconds left in regulation.
Rice had a timeout remaining but opted not to use it, and UNLV wound up out of sorts with the clock running down. Vaughn launched a jumper that was off the mark, and the teams went to OT in Boise for the third time in four years.
"I want us to be aggressive and drive the ball," Rice said of the final possession of regulation. "We want to attack the basket."
Marks shot 12-for-26 from the field, attacking on the dribble from start to finish as the Rebels offered little resistance.
James Webb had 12 points and 15 rebounds for the Broncos (11-6, 1-3). Webb's breakaway dunk in the final minute all but put UNLV on ice.
Marks' 3-pointer gave Boise State a 64-59 lead with 5:51 remaining. The Rebels retaliated with an 8-0 run as Chris Wood and Patrick McCaw made 3s and Vaughn banked in a short jumper with 3:21 to go.
Webb scored off an offensive rebound — for the the third time in the half — to slice the Rebels' lead to 67-66 with 2:35 on the clocl.
After the Broncos' Nick Duncan missed a free throw, McCaw was fouled with 25 seconds to play. He made the first free throw and missed the second.
Marks backed down Vaughn in the low post and dropped in the tying jumper. Vaughn needed double-team help, but it never came.
"We were good with one-on-one defense there," Rice said.
Vaughn hit a 3 at the 3:36 mark of overtime, but the Rebels lost their composure and followed with turnovers on three consecutive possessions as Boise State seized a 74-71 lead. Vaughn made two free throws to close the gap to one with 1:45 to go.
Thompson scored on a drive, and UNLV freshman Jordan Cornish was stripped of the ball, resulting in Webb's breakaway dunk.
McCaw made four 3-pointers and finished with 17 points, and Wood added 12 points and 10 rebounds.
The Rebels shot 11-for-29 from 3-point range but lost the rebounding battle 41-32.
Marks scored 15 points to lift Boise State to a 38-30 halftime lead. The Rebels were lazy and slow to react on the defensive end, and their offensive execution was sloppy.
Only the shooting of Cody Doolin kept UNLV in the game early. Doolin hit two 3-pointers and had 12 of the team's first 14 points. Vaughn got going late in the half and scored nine points.
Wood was held scoreless and appeared disinterested in 17 minutes.
Wood finally woke up in the opening minute of the second half, leading a fast break and banking in a floater for his first points at the 19:22 mark. A minute later, after grabbing an offensive rebound and dunking, he stopped and flexed both of his skinny arms while staring down the student section behind the basket. It was the first sign he showed of being into the game.
"I was not pleased with how we played in the first half," Rice said, criticizing his team's effort. "Absolutely, I just said it's unacceptable. We have to do a better job than that. We have so much to play for, it's just unacceptable."
Contact reporter Matt Youmans at myoumans@reviewjournal.com or 702-387-2907. Follow him on Twitter: @mattyoumans24