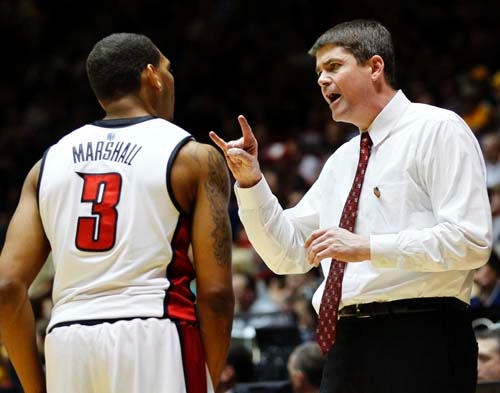 Each basketball season is a book that is separated by chapters, some promising and others depressing. The first one authored by Dave Rice as UNLV's coach is complete and ready for review.
Even the harshest critics will admit it was an exceptional read most of the way. At the same time, everyone will agree the story's ending was so surprisingly weak that the book won't land anywhere near The New York Times best-seller list.
"We're disappointed with how it ended for our seniors," Rice said. "I just think it's a situation where there are special things that are happening, and this is the start."
At the start of February, the Rebels were 21-3, ranked No. 11 in the nation and widely hailed as the best team in the West.
But by the middle of March, Rice was working to put a positive spin on a team that lost six of its final 11 games, finished third in the Mountain West Conference and was blown out of its NCAA Tournament opener.
After a victory over Boise State in late February, Rice said, "We don't have time for negativity."
UNLV made time for it, however, by unraveling down the stretch and finishing 26-9. Its third consecutive one-and-done NCAA Tournament experience left Rice "bitterly disappointed."
The Rebels never led while getting upset 68-64 by Colorado on Thursday in Albuquerque, N.M., and The Pit was the appropriate setting for the story's final scene.
It's also where UNLV was undressed on Feb. 18 in a 65-45 loss to New Mexico, which proved to be the Mountain West's best team.
In the losses to Colorado and New Mexico, the Rebels shot a combined 15-for-57 from 3-point range. So a team that lived by the 3 for much of the season died by it in the thin air of Albuquerque.
Rice made repeated efforts to run his half-court offense inside-out, but he had no legitimate post scorer to run it through, and most of his guards and wings were more eager to launch 3-pointers than compete for higher-percentage shots.
Another flaw in the season's "Let's Run" marketing slogan was that although UNLV wanted to run at all times, it didn't do enough defensively, especially away from home, to impose its will on opponents and force a fast tempo.
After falling into a 20-point hole against Colorado, Rice went to full-court pressure defense out of desperation, and the Rebels — who forced 23 turnovers in the game — fought back to within two points on Justin Hawkins' 3-pointer with 4:19 remaining. But UNLV's gang of streak shooters then missed seven shots in a row, and that stretch was a microcosm of the season.
When the jump shots were falling and the Rebels were running, they looked incredibly impressive. They showed flurries of heart, toughness and defensive determination but were unable to sustain any of the three qualities.
"One thing all year long is that we struggled a little bit establishing a go-to guy," Rice said.
Senior forward Chace Stanback was that guy when UNLV toppled top-ranked North Carolina 90-80 to win the Las Vegas Invitational championship at Orleans Arena in November. Stanback scored 28 points against the Tar Heels, but he averaged 6.4 points in the final five games.
Sophomore forward Mike Moser was by far the team's most outstanding player through mid-February, yet he was physically worn down at the finish line. Instead of finding ways to score in the post, he floated around the perimeter to fire more 3s.
Rice continually praised his outgoing senior class of Stanback, point guard Oscar Bellfield, center Brice Massamba and reserve guard Kendall Wallace. Bellfield (1,226 points) and Stanback (1,219) finished in the top 25 on the Rebels' career scoring list.
"The seniors laid the foundation for us. They put in so much time and effort into the program over the years," said guard Anthony Marshall, who returns next season with Hawkins as senior leaders.
Rice, who worked with a roster consisting entirely of former coach Lon Kruger's players, had a successful transition year in many ways, and now he can integrate his recruits into the system.
The biggest difference-maker figures to be 6-foot-5-inch guard Bryce Jones, a transfer from Southern California. Jones can score and defend, and he also brings much-needed toughness and a will to win.
As a Brigham Young assistant, Rice's offensive system was propelled by Jimmer Fredette. Rice hopes combo guard Katin Reinhardt of Santa Ana (Calif.) Mater Dei High eventually can be that type of player at UNLV.
Demetris Morant, an athletic 6-9 forward from Bishop Gorman High, and 6-1 point guard Daquan Cook from St. Frances High in Baltimore are Rice's other early signees. He has two more scholarships available and remains in the hunt for Gorman's Shabazz Muhammad and Findlay Prep's Anthony Bennett, two of the nation's top prospects.
Rice already has reeled in his big man of the future, 6-9 Khem Birch, who transferred from Pittsburgh midway through his freshman season.
"I've got a number of recruits who are excited to get to campus and get going with the next season," Rice said. "First of all, I learned that we've got a team that's got a chance to be special. We've got a group that works hard, and we'll try to make sure that it never happens like this again."
Will Reggie Smith, who rarely played after transferring from Marquette, develop into a dependable point guard as a junior? Will Rice reel in more top recruits? Will associate head coach Justin Hutson be handed total control to coordinate the defense? Will the Rebels, who went undefeated in Las Vegas during the regular season, learn how to win away from home?
Will the cast surrounding Moser and Marshall be better and tougher?
"It was a new coaching staff, and players really didn't know how to react at first. But I think we all bought into the system," Hawkins said. "I believe it's a very successful season. We got a lot of good wins."
Twenty-six wins, including a big one over North Carolina, 14 weeks in the national rankings and a No. 6 seed in the NCAA Tournament made UNLV's season worth reading.
The book seemed to promise a much better ending, but it's important to look forward and remember Rice is just getting started.
Contact reporter Matt Youmans at myoumans@reviewjournal.com or 702-387-2907.