Rebels fall to Arizona State; Vaughn leaves game with injury
December 3, 2014 - 10:09 pm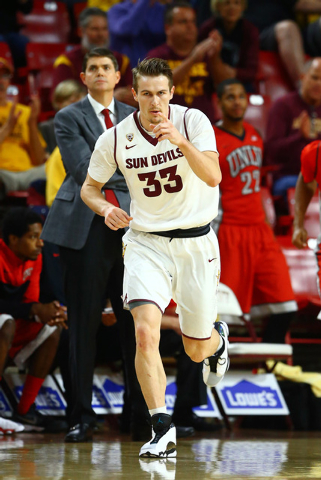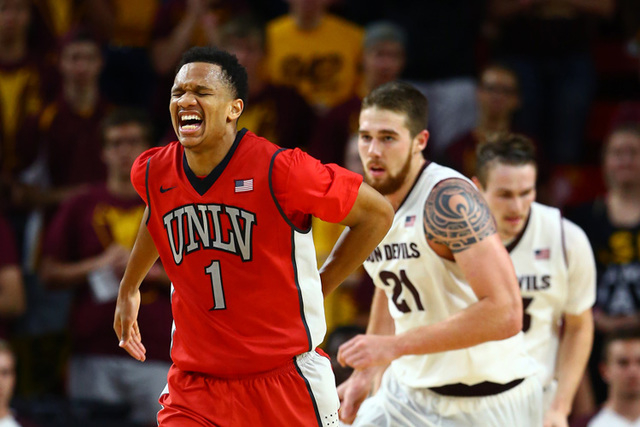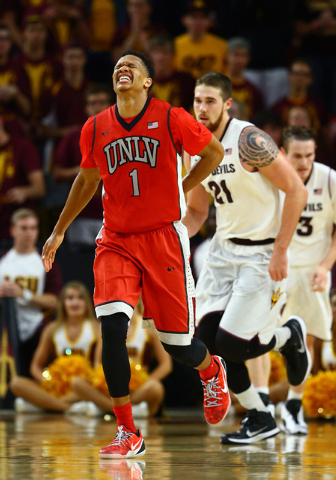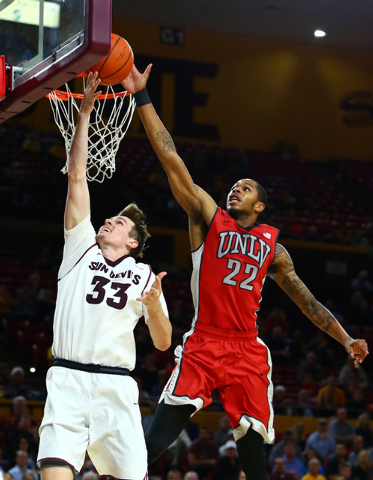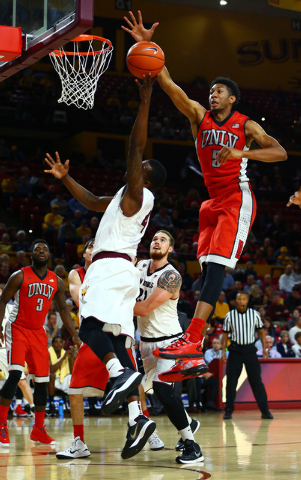 TEMPE, Ariz. — A bus was waiting outside the arena. Unlike his teammates, UNLV freshman Rashad Vaughn was unable to run for it.
Vaughn limped, grimacing in pain because of a back injury, as he was helped out of the locker room. At the end of the tunnel, there was darkness. A bad night for the Rebels got worse with the loss of their leading scorer.
All that started well ended in insult and injury for UNLV, which was blown away in a 77-55 loss to Arizona State on Wednesday before a crowd of 5,822 at Wells Fargo Arena.
"We just have to get better. We have to grow up quickly," coach Dave Rice said after the Rebels (4-2) were routed for the second time in two weeks by a Pacific-12 Conference opponent. "We're playing five freshmen, and that's the way it goes."
In its first true road game, UNLV finished with four true freshmen. With nine minutes remaining, Vaughn spun in the lane and hit a short jumper. The 6-foot-6-inch guard took a few steps before falling to the floor with a lower back injury.
"I saw him score the basket, and when he came down I saw him stagger," Rice said. "I was the first guy out there, and he said it was his back."
The Rebels already were staggering. After squandering a 15-point lead in the first half, they trailed 60-50 when Vaughn was assisted to the locker room, where he stayed sprawled out on a table for the rest of the night.
Freshman guard Jordan Cornish's free throw pulled UNLV within 60-53 with 7:05 to go.
"After that, it just went all downhill," Cornish said.
Shaquielle McKissic made a 3-pointer to trigger the Sun Devils (5-2) on a 10-0 run that turned out the lights on the Rebels, who suffered a 29-point loss to Stanford on Nov. 21.
Eric Jacobsen, a 6-10 forward, totaled 16 points, 12 rebounds and three blocked shots for Arizona State, which attacked from the perimeter when Jacobsen was not dominating in the paint.
The Sun Devils' shooters were repeatedly left alone and took advantage by connecting on 11 of 22 3-pointers. When its shots stopped falling, UNLV got exposed on the defensive end of the floor.
Kodi Justice had 13 points, Gerry Blakes and Bo Barnes each scored 11 and Jonathan Gilling added nine points for Arizona State. Barnes, Gilling and Justice hit three 3-pointers apiece.
"We've got to do a better job in defensive transition," Rice said. "There are no excuses for it. We need more game experience."
Senior point guard Cody Doolin, the Rebels player with the most experience, attempted to emphasize the positives.
"First of all, they have a lot of good shooters. Maybe a few times we lost our man," Doolin said. "It was our first true road game, and it was a learning experience for us. I looked out there at times, and it was four freshmen and myself out there.
"I think we're just a young team, and there's a lot we have to learn. We say it over and over, and we can't be using that excuse. But I thought we played a great first half."
Actually, UNLV was sharp for only the first seven minutes. The Rebels raced in front 21-6 after freshman Patrick McCaw's second 3-pointer. It took only five minutes for that lead to disappear. Cornish's late 3-pointer tied the score 37-37 at the half.
"We just came out flat. We didn't execute our plays," said Cornish, who along with Vaughn led the team with 10 points.
The Rebels experienced a second-half meltdown on both ends, shooting 8-for-33 (24.2 percent) from the field and missing all six 3-point attempts after the half while getting outscored 40-18.
Rice said he witnessed "a lot of good things," though not many were obvious to see.
"It got away from us in the second half," Rice said. "We're going to be a good basketball team. We just weren't very good in the second half. My focus is just trying to get better the next game."
UNLV returns to Las Vegas to host St. Katherine on Friday at Orleans Arena. Vaughn, who was averaging 17.4 points going into Wednesday's game, might not be ready to return. His injury was initially described as back spasms.
"He's a tough kid," Doolin said. "We really need him."
Contact reporter Matt Youmans at myoumans@reviewjournal.com or 702-387-2907. Follow him on Twitter: @mattyoumans247.