Rebels fall to Aztecs, start 0-2 in Mountain West play
Updated December 31, 2022 - 8:17 pm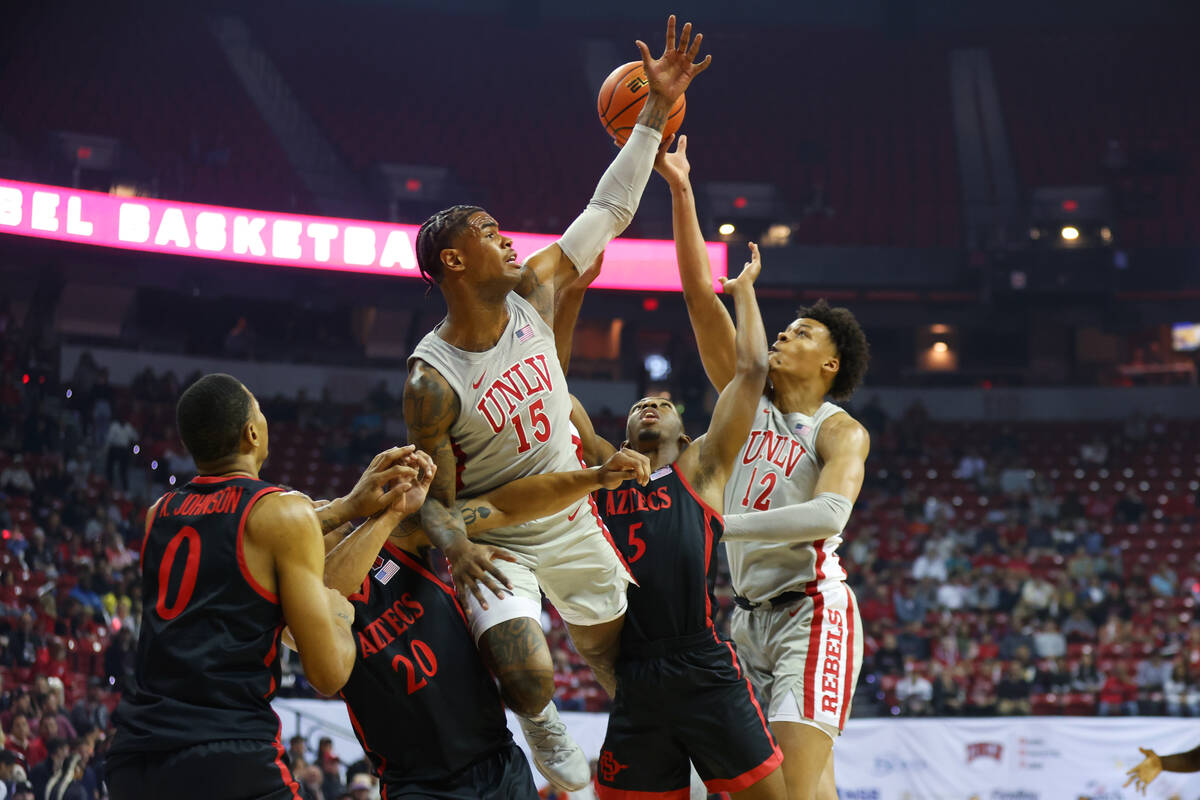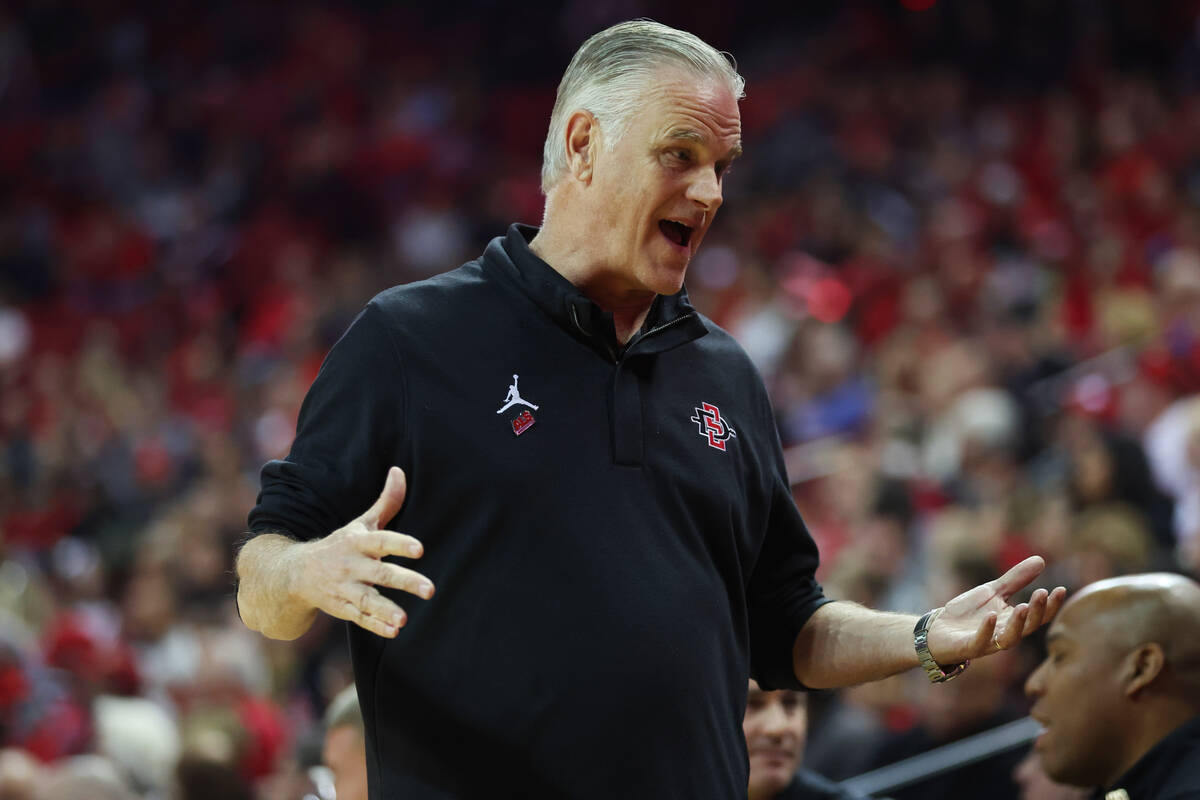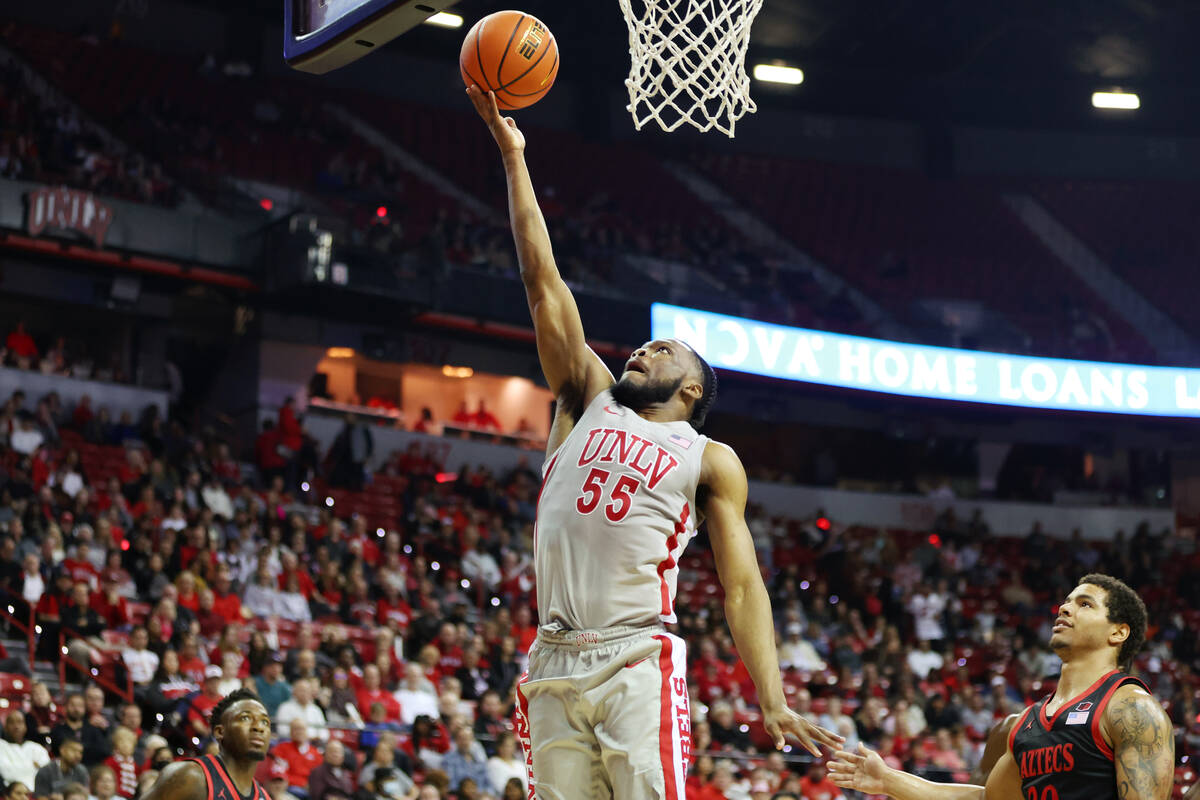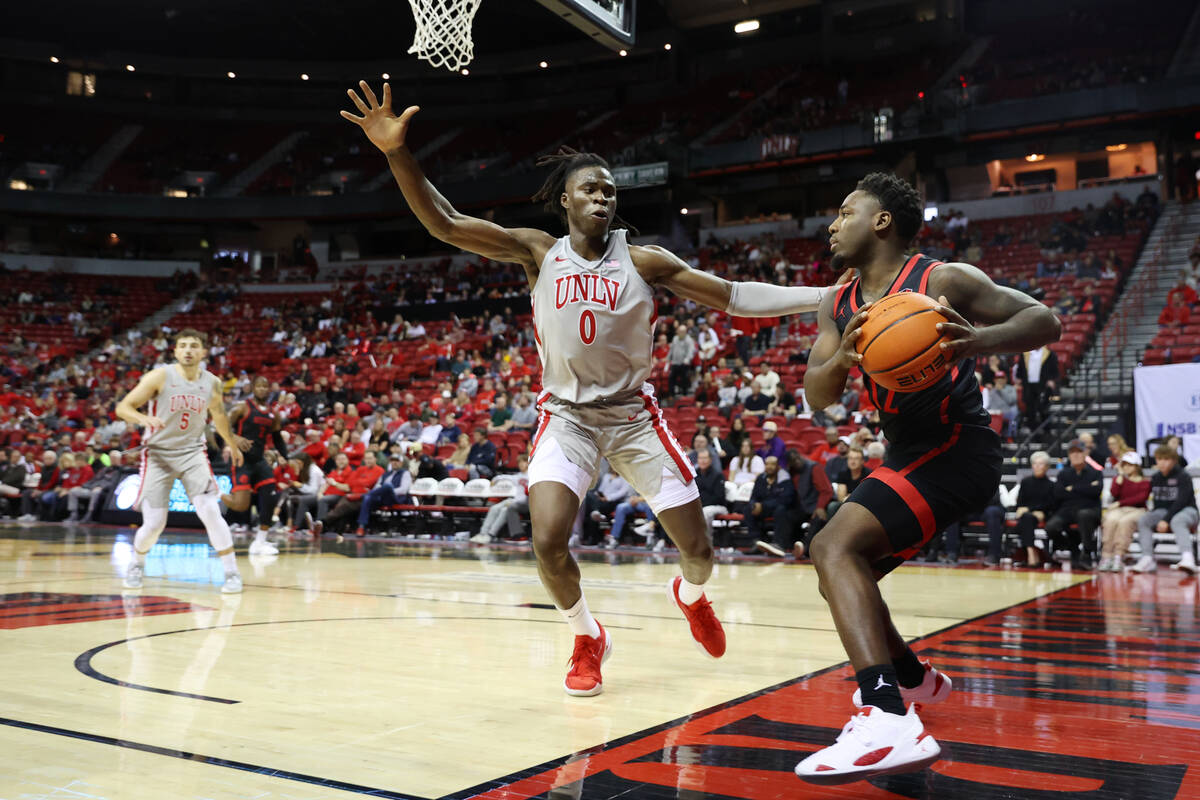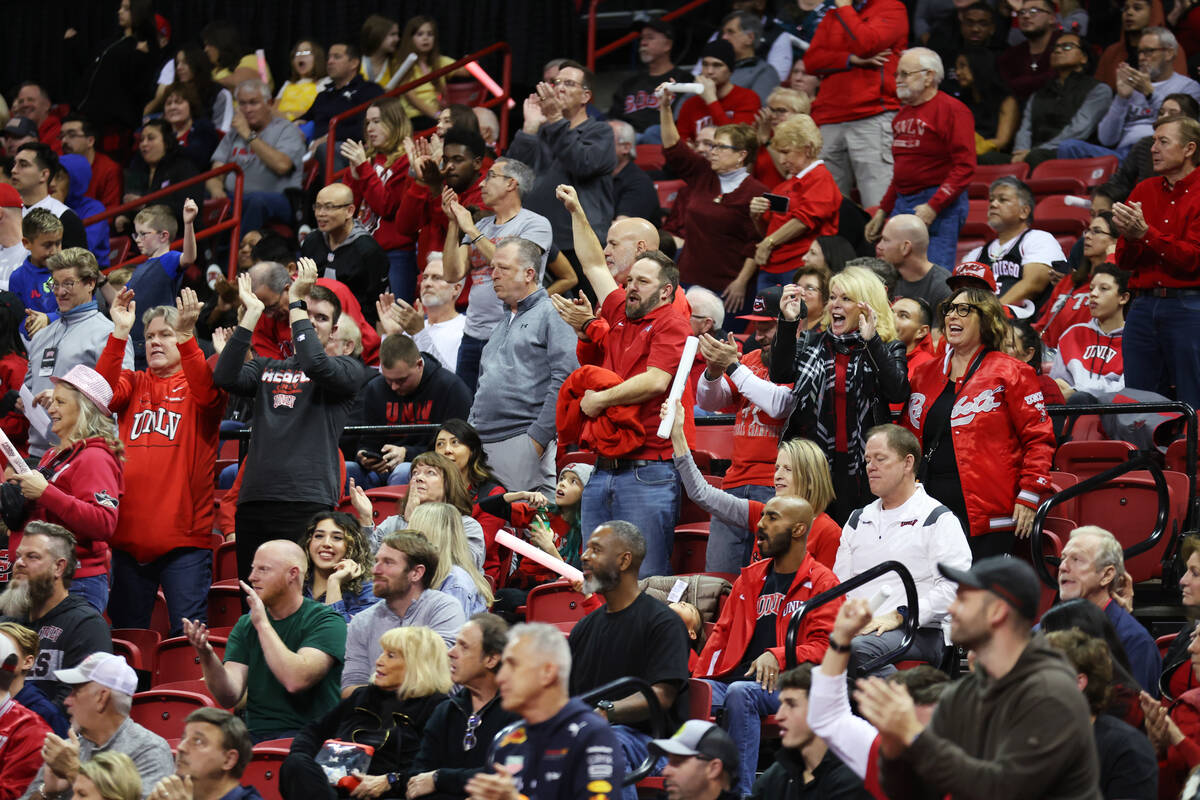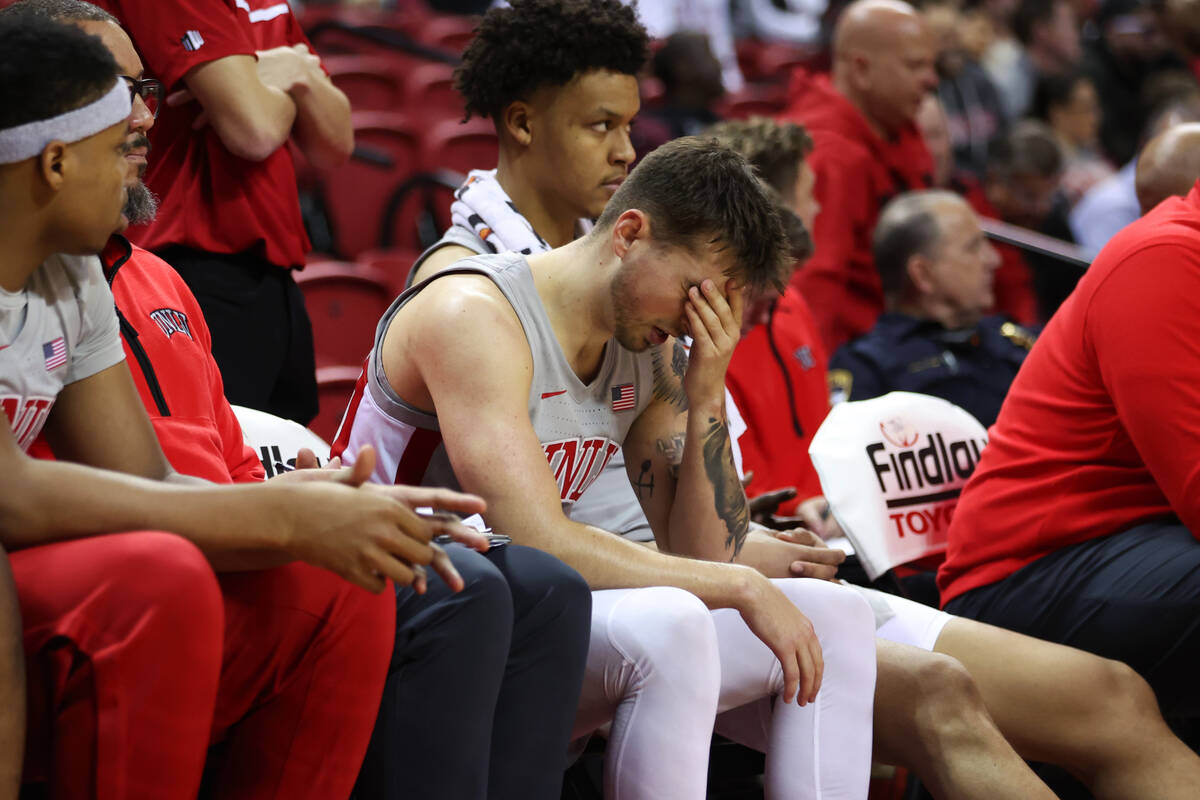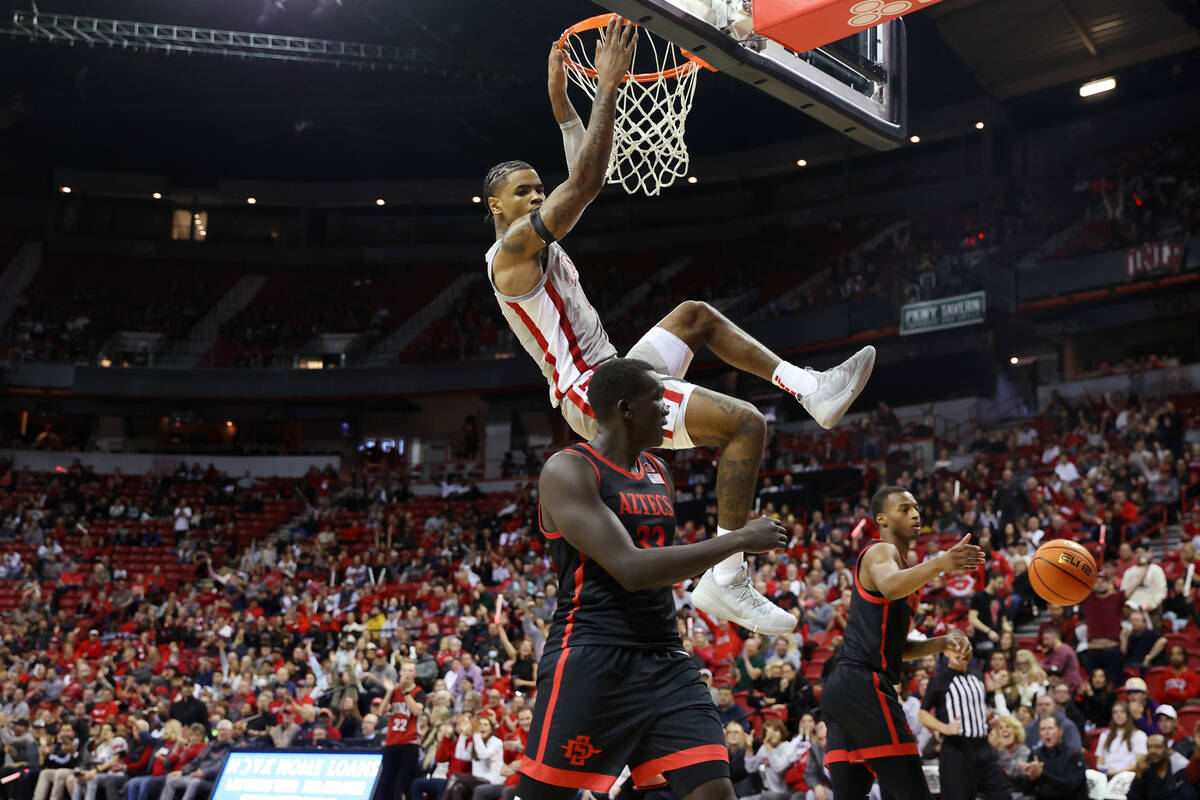 For the first seven minutes against San Diego State on Saturday, everything UNLV did seemed to work.
The Rebels made 3s, forced turnovers and, for the most part, took care of the ball. Most importantly, UNLV led the rebounding battle 8-2. After senior wing Luis Rodriguez soared through the crowd to grab a defensive rebound, senior guard Justin Webster hit a 3 in the right corner to take a seven-point lead.
Then, it all fell apart.
"We've just got to get back to playing desperate," Rodriguez said.
The Rebels' hot start was quickly tempered, and UNLV allowed San Diego State to shoot 52.4 percent from 3 in a 76-67 loss at the Thomas &Mack Center.
Rodriguez scored a season-high 24, fifth-year wing EJ Harkless had 18 points, and Webster added 10, but it wasn't enough to prevent UNLV from losing a second consecutive game for the first time this season.
Coach Kevin Kruger's team is still winless in the Mountain West after losing to San Jose State in overtime Wednesday. After starting the season 10-0, UNLV is 1-3 in its past four games. The Rebels are also 2-20 against the Aztecs going back to the 2013-14 season.
UNLV (11-3, 0-2) next plays unbeaten and No. 22-ranked New Mexico on Jan. 7 in Albuquerque.
"This is a team and a group that hates losing," Kruger said. "There's a lot of frustration in the result."
Rebounding problems continued against the Aztecs. UNLV had 15 defensive rebounds, only one more than San Diego State's 14 offensive rebounds, and the Rebels were outrebounded 37-20 during the final 33 minutes. It's the fifth consecutive game they've lost the rebounding battle, and the extra possessions allowed the Aztecs to make up for their 22 turnovers.
San Diego State (11-3, 2-0) outrebounded UNLV 39-28 overall.
"This week will be big for us and our preparation," Rodriguez said. "Just getting back to what we do, gettingback to being that physical, defensive team — grimy. Guys just outplaying our opponent. We've got to get back to that. It's in us.
"We didn't start 10-0 for no reason."
Rodriguez was the Rebels' best player Saturday. After struggling against San Jose State, when he went scoreless in the first half, the former Ole Miss wing exploded for an efficient 24 points and six rebounds. Rodriguez also added an assist, two steals, a block and went 4-for-8 from 3.
He didn't get much help. Sophomore guard Keshon Gilbert had a rough outing for the second consecutive game, scoring just one point in 28 minutes and committing six turnovers.
Kruger sat Gilbert down the stretch as the Rebels tried to make a run late, and the coach said he felt Gilbert was pressing and trying to force the action.
Harkless also had a relatively quiet day, scoring 10 of his 18 points with a minute and a half remaining.
While the Rebels' key players faltered, the Aztecs turned up the pressure. Senior guards Matt Bradley and Darrion Trammell scored a combined 44 points, and went 9-for-15 from 3, while UNLV went 10-for-36 from distance.
However, the Rebels still had their chances. Rodriguez made free throws to cut the deficit to five with less than five minutes remaining, but Bradley answered and UNLV missed open 3s when it had chances.
"We just need to put our heads down and go to work," Rodriguez said.
Contact reporter Andy Yamashita at ayamashita@reviewjournal.com. Follow @ANYamashita on Twitter.