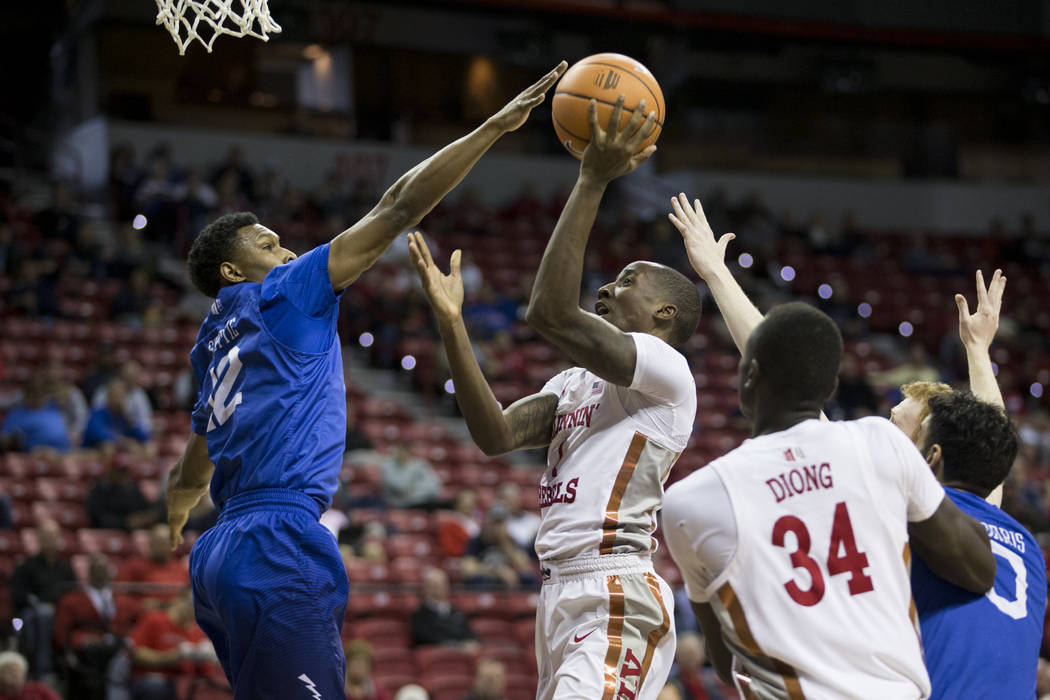 It can be tricky trying to get inside someone's head, but Kris Clyburn didn't look like he played with a lot of confidence for much of last season.
His outside shooting was shaky and his drives inside tentative.
And then Clyburn lost his starting job about two-thirds into UNLV's season.
Now he probably has the position back. Although it was just an exhibition, Clyburn played with purpose and effort in the 83-81 victory over Montana State-Billings on Nov. 2.
"It's my senior year," Clyburn said. "The last two years have kind of been a struggle for me, so I feel like I needed to be more confident and be able to push it and get out of that slump I was in."
UNLV coach Marvin Menzies said he hadn't finalized his lineup for Saturday's 7 p.m. season opener against Loyola Marymount (1-0) at the Thomas &Mack Center, but that Clyburn was in the mix to start and likely would. AT&T SportsNet will televise the game.
If based on the exhibition alone, Clyburn certainly would be a starter against the Lions, who opened Tuesday with a 75-43 victory over Westcliff. He scored a team-high 17 points against Billings, including six of UNLV's last nine that featured the winning layup with 1.4 seconds left.
"I think Kris has confidence," Menzies said. "I think he just has to have the consistency that we wanted to get out of him last year."
Clyburn, a 6-foot 6-inch guard, averaged 7.3 points each of his first two seasons after transferring from Ranger (Texas) College, which he led to the junior college national semifinals.
He started 22 games as a sophomore and the first 20 last season before coaches made the move to then-freshman Tervell Beck, going from a three-guard offense to two guards and three forwards.
"When I lost the starting job, it hurt a little bit. But it wasn't one of those things that put a burden on me or had me worried," Clyburn said. "I kept playing through it. That's how the game goes. Just keep playing, and you never know what can happen."
Senior forward Shakur Juiston, who has known Clyburn since they faced each other in junior college, said he didn't notice any change in his teammate's demeanor.
"Kris is one of those guys that does whatever is needed," Juiston said. "When his lost his job, it wasn't like he lost his life or he lost his dog or anything.
"He didn't pout or lay his head down. He attacked the role of coming off the bench and making an impact. I was a sixth man and did the same thing once in my life, so there's nothing wrong with that at all."
Maybe Clyburn didn't change his approach, but he proved valuable in a reserve role at the end of the season.
He scored nine points and had five rebounds in a 97-90 overtime victory over Air Force to open the Mountain West tournament. Then in the next game, Clyburn scored 19 points in a 79-74 defeat to UNR.
So he returns as a probable starter, but Clyburn figures what truly matters is producing.
"Whether I come off the bench or start doesn't really matter," he said. "I'll do whatever it is to help the team win."
More Rebels: Follow online at reviewjournal.com/Rebels and @RJ_Sports on Twitter.
Contact Mark Anderson at manderson@reviewjournal.com. Follow @markanderson65 on Twitter.
Game day
Who: Loyola Marymount vs. UNLV
When: 7 p.m. Saturday
Where: Thomas & Mack Center
TV/Radio: AT&T SportsNet; KBAD-AM (920 AM)
Line: UNLV -4; total 151