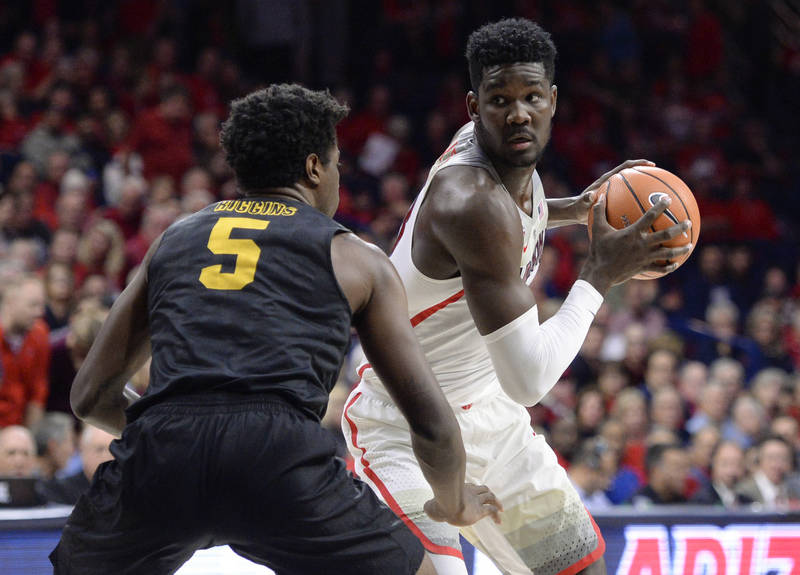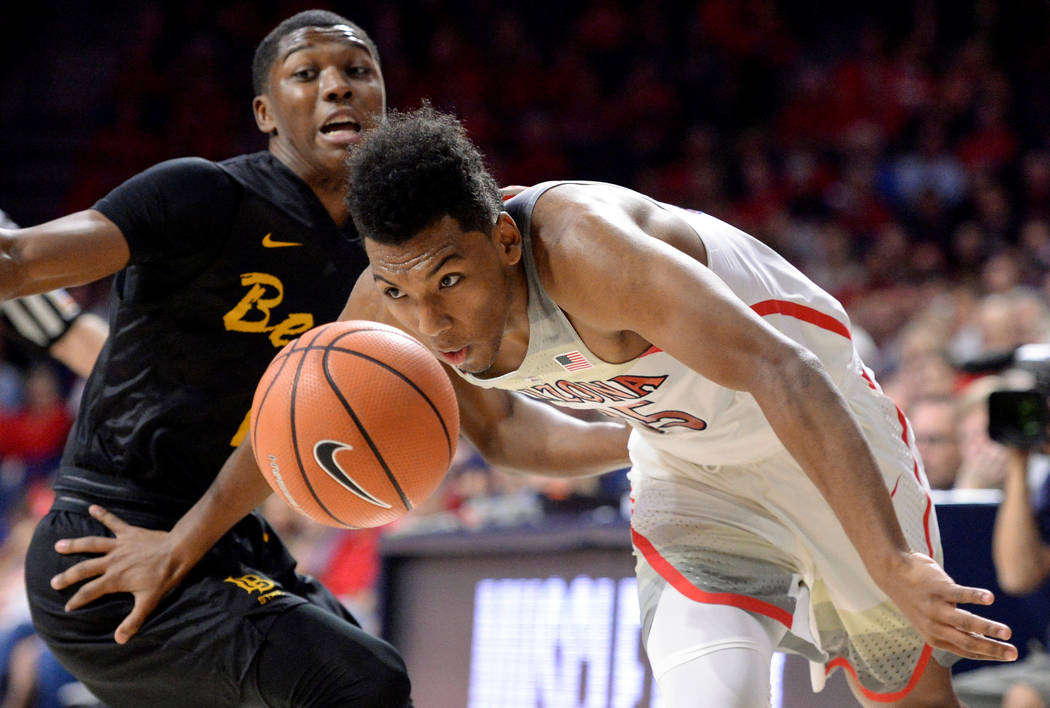 UNLV finally lost a basketball game this season, and given the Rebels' early-season dominance, a defeat could signal an immediate letdown.
At least if the Rebels weren't facing one of the nation's most talented teams.
Arizona is enough to get anyone's attention, even though the Wildcats have struggled this season. UNLV (6-1) faces the Wildcats (4-3) at 7 p.m. Saturday at the Thomas & Mack Center.
CBS Sports Network will televise the game, and Arizona is a 3½-point favorite.
Beating the Wildcats would be a major step for a UNLV team that is ranked No. 96 by Kenpom. That site ranks the Wildcats 16th.
"Regardless of their record, they're the University of Arizona," Rebels coach Marvin Menzies said. "It's a storied program, a very good conference (Pac-12). There are a lot of pluses for us to have another opportunity. The road win was the first goal, and now a win against a team that will end up having a high RPI and a pretty good ranking at the end of the year. You get a few of those games in your nonconference schedule that you look at and go, 'Man, it would be great to get this one.' And this is one of them."
The Rebels rolled through their first six games, winning by an average of 27.5 points before playing their first road game Wednesday at Northern Iowa. UNLV committed a season-high 20 turnovers in falling 77-68 in overtime.
Menzies said the key was re-establishing the team chemistry that was so apparent before that trip.
"We try as coaches to do some of that, but during the course of the game in that kind of hostile environment, it's hard to really settle them down," Menzies said. "It has to come from within, and we didn't do that. But I think they would do that going forward."
Guard Kris Clyburn, who scored 20 points against the Panthers, took a shot to the forehead late in the game and had to leave. Menzies said Clyburn did not suffer a concussion and will play against Arizona.
UNLV needs all the help it can get against what remains a talented Arizona team. The Wildcats suffered three losses in a row in the Battle 4 Atlantis Tournament to become the first team to go from No. 2 to out of the Top 25 since Louisville in the 1986-87 season. But the Wildcats returned to Tucson and routed Long Beach State 91-56 on Wednesday.
Guard Allonzo Trier, who went to Findlay Prep, leads Arizona with 23.1 points per game, and 7-foot 1-inch forward/center Deandre Ayton averages 19.3 points and 11.6 rebounds.
"I've coached a lot of years, and (Ayton's) one of the better players I'll coach against," Menzies said. "I think he's got the athleticism, the length, the attitude. He seems to be the top (NBA draft) pick or couple of picks, so obviously he can go."
A victory over Arizona would be a tremendous answer to the performance at Northern Iowa, but Menzies said his team was energized regardless of the loss.
"You could tell by (Thursday's) preparation and in our film session, our meeting, practice, they're a little more in tune, a little more spirited," Menzies said. "They know what's ahead of them when you're playing a storied program."
Contact Mark Anderson at manderson@reviewjournal.com. Follow @markanderson65 on Twitter.
Game day
Who: Arizona vs. UNLV
When: 7 p.m. Saturday
Where: Thomas & Mack Center
TV/Radio: CBS Sports Network; KWWN (1100 AM, 100.9 FM)
Line: Arizona -3½; total 157
Arizona (4-3)
Coach: Sean Miller (224-69, ninth season)
Probable starters
Player Pos. Ht. Ppg.
Parker Jackson-Cartwright G 5-11 8.3
Allonzo Trier G 6-5 23.1
Brandon Randolph G 6-6 5.5
Dusan Ristic F 7-0 9.6
Deandre Ayton F/C 7-1 19.3
UNLV (6-1)
Coach: Marvin Menzies (17-22, second season)
Probable starters
Player Pos. Ht. Ppg.
Jordan Johnson G 5-11 14.6
Jovan Mooring G 6-2 14.6
Kris Clyburn G 6-6 10.6
Shakur Juiston F 6-7 13.1
Brandon McCoy F 7-0 18.6