REBELS NO LONGER RUNNIN' FROM PAST
November 14, 2008 - 10:00 pm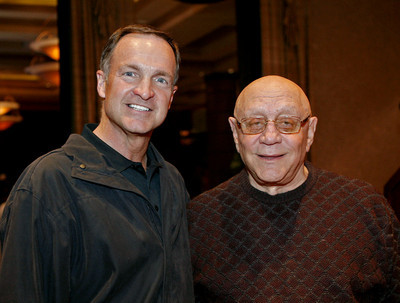 A sense of sadness surrounded him. From a courtside seat, and through his disbelieving, droopy eyes, Jerry Tarkanian could see everything was fading away, even the memories.
The basketball program he built at UNLV, once the best in the nation, had been abandoned.
The Thomas & Mack Center, a symbol of the Rebels' rise to prominence during the Tarkanian era, had become a place of echoes and empty seats.
"I would go to some games and only a few people would be there and nobody cared," Tarkanian said.
"There were times I would go to games and there were maybe 5,000 people in there, and they would announce 10,000, and I said, 'They must be counting every car that drives by.' I felt really bad."
After Tarkanian's forced resignation in 1992, the UNLV program experienced a stunning 15-year fall, caught in a tangled web of administrative blunders, coaching changes and NCAA rules infractions.
In his last three years as coach, the Rebels compiled a 95-8 record that included a national championship in 1990.
Since Tarkanian's departure and before the 2006-07 season, UNLV had nine head coaches (including interims), made two NCAA Tournament appearances, no NCAA victories and no 25-win seasons.
In November 2006, eight months after his second consecutive 17-win season, Rebels coach Lon Kruger made a telling statement:
"People are really hungry for what they remember from the late '80s and early '90s, and I understand that. We've got to earn that credibility back."
Two years and three NCAA Tournament wins later, Kruger is reconnecting with the past and returning UNLV to college basketball's elite in a way that makes an old coach proud.
"I'm happy to see Lon has got it going good now," Tarkanian said. "The fan support is back and the excitement is there."
Winning brings back the fans, and over the past two years the Rebels have won 57 of 72 games and two Mountain West Conference Tournament titles.
But embracing Tarkanian and reaching out to the great UNLV players of the past has been one of Kruger's shrewdest moves.
Greg Anthony and Larry Johnson, who left school for the NBA in 1991 and watched from a distance as their college program declined, returned this week with about 50 other former Rebels for alumni events organized by Kruger.
When he was hired in 2004, Kruger said he wanted to recall the Tarkanian era to heal wounds and help build the program's future.
"That was very important, because that is UNLV basketball. There's a great winning tradition, and those guys of the past are responsible for it," Kruger said.
"We genuinely wanted to do that for them, but also for the current guys. When our current players see how important it is still today to those guys who played 15, 20, 30 years ago, it reminds them a lot of people are taking note of what's happening and it's significant."
MAKING UP FOR LOST TIME
Anthony's feelings for UNLV could not be stronger. He grew up in Las Vegas, attended Rancho High School and played for Tarkanian during the glory days. But he suffered through a period of hard feelings.
Things are running smoother under Kruger's leadership. Anthony, whose jersey No. 50 was retired in November 2006, is much more passionate about the program.
"We had an administration that wasn't necessarily conducive to the success of the program. Let's face it, we lost our way there for a while," Anthony said. "But, ultimately, cooler heads have prevailed and we got the right guy in the position. He's got tremendous support throughout the community. He's made me, as well as a lot of other alums, and the fans excited again about Rebel basketball.
"We could not have a better coach right now than Lon Kruger. It's not just on the court, but what he's done off the court by bringing a bunch of the guys back and connecting with us. We love the guy.
"If we can't have Tark right now, give me Lon Kruger. That's how I feel about it."
Hearing those words, Sidney Green nodded in agreement. Four years ago, Kruger got a call from Green.
"The first day he was chosen as the next basketball coach, I told him, if there's anything that I can do for him, let me know," said Green, who played for Tarkanian from 1979 to 1983 and is the school's No. 2 career scorer.
Kruger asked Green to speak to the team and do some games as TV analyst this season, and Green returned from Florida without hesitation.
"Coach Kruger has done a remarkable job of bridging the gap, of bringing back everyone, particularly the former players, the guys who pretty much put their stamp of approval on this program," Green said. "He's a man of full integrity and he knows what he's doing.
"He's a good man and a great coach, and the program is going in the right direction, finally. I say the best is yet to come."
The turning point arrived on March 16, 2007, when UNLV defeated Georgia Tech in Chicago. It was the Rebels' first NCAA Tournament win since March 23, 1991. The 2006-07 team led by the coach's son, senior point guard Kevin Kruger, upset Wisconsin to reach the Sweet 16 and earn long-awaited national recognition.
But for some, the Kruger era still is a Final Four appearance from deserving any sort of comparison to the Tarkanian era.
"Let's give it some perspective," Anthony said. "What Coach Tarkanian did, there aren't many people in the history of this game who had the kind of success he had. Maybe we don't get quite there, but we're striving to, and it takes time to build a great program."
Glen Gondrezick, who helped lead UNLV to its first Final Four in 1977 and has been the color commentator on the Rebels' radio broadcasts for the past 16 years, said Kruger can win at a Tarkanian-type level.
"I think it's very possible, and it could happen sooner than later," Gondrezick said. "Lon's not going to make any promises or predictions. But it's going to happen. It's just a matter of time."
Anthony, a college basketball analyst for CBS and one of the most visible former UNLV players, said Kruger was wise to lean on the tradition of the program.
"I think Coach Kruger is by far the most important thing the university has done in terms of the athletic program as a whole," Anthony said. "He's a hell of a coach, a hell of a person and he's done a hell of a job. We all take pride in our university and in our program, but what makes it more effective is success, and he's brought that about.
"Rebel red runs deep with me. Now, we're making up for lost time, and it's a great feeling."
BRIDGING THE GAP
Brad Rothermel is the strongest link between Kruger and Tarkanian. Rothermel met Kruger at a baseball camp in Branson, Mo., in 1970, and they formed a friendship at Kansas State, where Kruger was a basketball star in the early 1970s.
Rothermel, UNLV's athletic director from 1981 to 1990, was forced out before Tarkanian but returned in May 2004 as a special adviser to athletic director Mike Hamrick.
"That was a great move by Hamrick," Tarkanian said. "Brad was the best athletic director in America."
After Charlie Spoonhour resigned as the Rebels' coach, Rothermel was instrumental in the hiring of Kruger, who was looking to return to college after a failed run as an NBA coach.
"Mike came to me and said, 'If you were going to hire a basketball coach, who would you want to hire?' " Rothermel said. "I said, 'For me, it's not even a question. I would try to hire Lon Kruger if I could get him. But I don't know if I could get him.' "
Kruger did not jump before asking some serious questions.
"I remember Brad calling and saying, 'The timing might be good. The city is ready and the potential is there,' " Kruger said.
"You always ask, 'Is the potential there to compete at the highest level, and can you recruit the type of players necessary to do that?' Brad felt very strongly that we could. So far, it's worked out OK."
The first big-time recruit Kruger landed was Wink Adams, who signed in 2004.
"Getting Wink was such a huge start," Kruger said. "The thing we've been able to do is attract even more players. That's the whole key. There's no secret to it."
Adams is from Houston, but he said he was drawn to UNLV because of its tradition of great players and teams. The senior shooting guard has 1,432 points in three years and is within range of becoming only the fifth player in school history to score 2,000 career points.
"When you see those guys from the '70s and '80s teams and the 1990 team, it's unreal," Adams said. "You see those guys on posters and on films all the time. But when you see those guys actually come through the door, it's like seeing a celebrity for the first time.
"Now that the program is doing good, you're seeing players coming back. They always tell us stories about when they were here. We're trying to get UNLV back to that national championship level."
Rothermel said that was Kruger's plan all along.
"One of the first things Lon said was, 'What can we do to get the legends back?' We bridged the gap between the Tarkanian era and where we are now. The guys are all enjoying it."
OPPOSITES ATTRACT
Kruger and Tarkanian appear to be opposites in many ways.
While Kruger is admittedly bland and straight-laced, Tarkanian made a reputation as a colorful, rebellious character who personified the Las Vegas image and coached in the shadow of NCAA investigations.
But they are attracted to each other and embraced by the community.
"When he first came to town, he called me and we had lunch together and we talked," Tarkanian said. "Lon is a very good person. If you meet Lon, you like him. He has always welcomed me."
Behind the scenes, Kruger works tirelessly to market the program and drum up fan support.
"He makes everybody feel like they have ownership in the program," Gondrezick said. "He's done everything possible to put this program back on the map in a big way.
"I've done games back when you didn't introduce the team, you introduced the crowd, because there wasn't anybody there. You would have five people clapping their hands and hear a guy across the arena saying, 'Hot dogs.' Now, the Thomas & Mack is a tough ticket again."
As Kruger elevates UNLV back among the elite, there will be perpetual speculation about his desire to move on to a bigger job.
"There have been other programs trying to get him," Anthony said. "But at this stage of his career … I think it's a perfect marriage. We hope and pray that he wants to stay. I've spent a lot of time with him and we talk a lot about it, and I know he's sincerely happy to be here."
Kruger said Tarkanian's presence still is felt.
"When he comes by practice, our guys really appreciate his interest and his taking time to come by and attend games, and it means a lot," Kruger said. "I hope it means a lot to him, because he's obviously a huge, huge part of the winning tradition of UNLV basketball."
The memories are flooding back, not fading away.
"I love going to the games again," Tarkanian said.
Contact reporter Matt Youmans at myoumans@reviewjournal.com or 702-387-2907.
SAN DIEGO AT UNLV
When: 2:30 p.m. Saturday
Where: Thomas & Mack Center
TV/Radio: The Mtn. (Cox 334); KWWN-AM (1100)