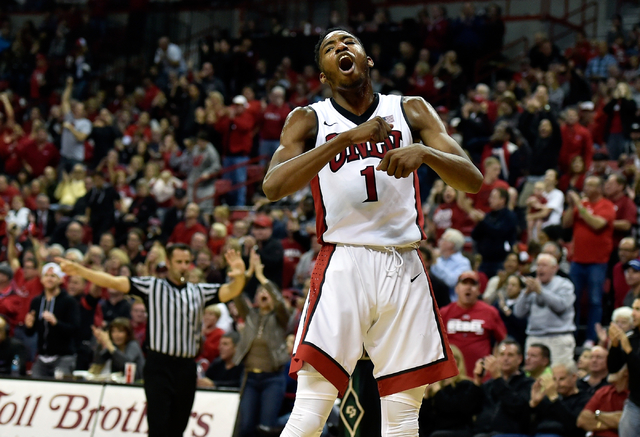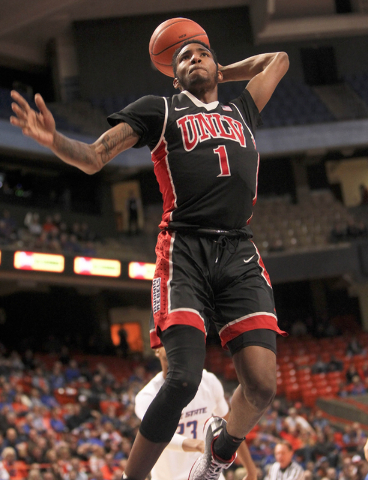 Now, barring some unexpected change, UNLV has to move on.
It's a role the Rebels have become accustomed to taking on this basketball season.
"We're rolling with the punches," interim coach Todd Simon said Thursday. "We'll do the best we can. We take every situation as it rolls through, but we've certainly had a lot of them, no question. The timeline over the last two months or so has been pretty unique, to say the least."
UNLV still holds out some hope freshman Derrick Jones Jr. will return either by Saturday's 7 p.m. regular-season finale at San Diego State or by next week's Mountain West tournament at the Thomas &Mack Center.
The chances aren't good the Rebels will get their wish after Jones' standardized test score was invalidated by the American College Test because of questions about the exam site in Baltimore. The ACT's decision led the NCAA to declare him ineligible.
The NCAA notified UNLV of the investigation last summer, and the school received word Monday of the discipline and announced it Wednesday morning.
Simon didn't want to speculate on the chances of Jones returning this season, and the only way the 6-foot 7-inch forward gets back on the court is through some sort of appeal to the NCAA or court injunction.
"Obviously, (Jones was) broken up at the time," Simon said. "He was very disappointed. It's an emotional time.
"The team is obviously disappointed. Derrick was well-liked, a great kid, a great teammate."
With Jones likely gone, the Rebels will have to return to the style from when 7-foot freshman Stephen Zimmerman Jr. missed five games in February with a sprained left knee. UNLV often went with three- and four-guard sets, then when forward Dwayne Morgan separated his right shoulder Feb. 20, the Rebels were forced to use some all-guard looks.
Guards Jordan Cornish (6-6) and Patrick McCaw (6-7) even have had to fill in at the post positions.
"We're back in that five-, six-man (lineup)," Simon said. "It puts us back in that mold we've been in before. Unfortunately, it seems to be a revolving door of who's in and who's out. We'll do the best we can and continue to forge ahead. I think the guys believe that the five guys on the floor can win and compete in this league."
Jones was just beginning to heat up at the time of the NCAA's action. He had totaled a combined 48 points and 16 rebounds in the past two games, making 22 of 25 free throws. For the season, he averaged 11.5 points and 4.5 rebounds while shooting 58.9 percent.
Losing Jones comes as the Rebels (17-13, 8-9 Mountain West) are fighting to get a first-round bye in the conference tournament. They would get that with an upset victory at San Diego State (22-8, 15-2) and a New Mexico (16-14, 9-8) loss at UNR (18-11, 10-7). Otherwise, the Rebels will have to play Wednesday as the sixth or seventh seed.
But it's been the kind of season in which the negative becomes the expected from the rash of injuries to one player (Goodluck Okonoboh) leaving to one (Daquan Cook) being kicked off to coach Dave Rice being fired.
"No one can just replace Derrick," Simon said. "When Ben (Carter) went out, no one could replace Ben. When Zimm was out, no one could replace him, and when
Dwayne is out, no one can replace (him). They're all unique players, but we need everybody to give a little bit more.
"We need to fill in these voids that (Jones) was tremendous at. That's really how we approach it. It's a slightly different style of game, but we'll have guys step up and fill that in their own way."
Contact Mark Anderson at manderson@reviewjournal.com or 702-387-2914. Follow him on Twitter: @markanderson65.
Check our GameDay page for full coverage of the UNLV-San Diego State game.