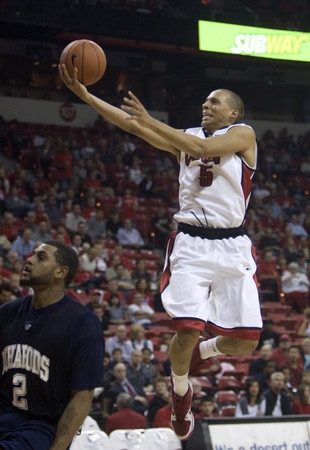 Instead of sugarcoating UNLV's sour exhibition performance Tuesday night, sophomore guard Oscar Bellfield was quick to be a critic.
It was the first game of a long basketball season, he acknowledged, and the picture is bound to get prettier. But the Rebels' ragged 62-52 victory over Division II Washburn (Kan.) had nobody — Bellfield included — leaving the Thomas & Mack Center impressed.
"We're going to be real concerned," he said. "This is not how we wanted it to look at all. This is a big deal."
Coach Lon Kruger found at least one positive — practice sessions will get interesting because he has plenty to teach.
"We've got a lot of things to work on. A ton of work," he said. "We've got to do a lot of things better. This is a great game to learn from, absolutely."
The Rebels open the regular season against Pittsburg State, another Division II opponent from Kansas, at 7 p.m. Saturday at the Thomas & Mack. The Gorillas were crushed 103-45 by top-ranked Kansas in an exhibition game Tuesday.
Although UNLV's win-loss record was not in jeopardy, a loss to Washburn could have been embarrassing.
But sophomore Chace Stanback calmed those fears by scoring six of his game-high 15 points in the final 2:35. Stanback, scoreless at halftime, rallied the Rebels from a seven-point second-half deficit.
"As the season goes on we'll get better offensively, but that's what we've got to work on in practice," said Stanback, who finished 6-for-14 after shooting 0-for-6 in the first half. "I was just not playing as hard as I could have in the first half, and the coaches addressed that with the whole team."
The 6-foot-8-inch Stanback and junior guard Derrick Jasper each had eight rebounds to lead UNLV. Freshman guard Anthony Marshall grabbed seven.
"Derrick has always been a good rebounder, and we expect him to do that for us. We need to get some other guys to help," Kruger said.
Rebounding might develop into a major concern for the Rebels, who held a 46-40 edge in that category over the small Ichabods. UNLV's starting frontcourt of senior Darris Santee and sophomore Brice Massamba combined to get four rebounds in 34 minutes.
Sloppy ballhandling and poor shooting also plagued the Rebels, who made 4 of 23 3-point shots and had 18 turnovers to 10 assists.
The entire game was an exhibition in futility, with the teams combining to shoot 9-for-48 on 3-pointers with 14 assists and 42 turnovers.
"The coaches would tell us one thing in the huddle and we would go out and do the exact opposite," Jasper said. "We were sluggish a little bit on offense. It's the first game for a lot of guys playing together."
The Rebels led 28-24 at halftime, but the Ichabods went up 37-30 on Dezahn Otis' two free throws with 14:43 left. Stanback scored the next seven points for UNLV to trigger its comeback.
Bellfield finished with 11 points and freshman Justin Hawkins scored eight as Kruger used 11 players.
He did not insert 6-11 Carlos Lopez, however, and said the freshman from Findlay Prep initiated the idea of being redshirted this season while he works on getting stronger.
"We'll continue to talk about that now," Kruger said. "It would be a good option for him if we can afford to do it. But the ballgame tonight showed that we could probably use Carlos."
A ceremony to honor UNLV's 1990 national championship team — minus the mysteriously absent Larry Johnson — was held at halftime, and that was the highlight of the night for the crowd of 10,238.
Jasper said he and his teammates were inspired by meeting the former Rebels greats.
"They told us how hard we have to work to get where they went," Jasper said. "A lot of guys came away from it motivated and really wanting to work hard."
Contact reporter Matt Youmans at myouman@reviewjournal.com or (702) 387-2907.
Slideshow
UNLV 62
WASHBURN 52
KEY: Chace Stanback scored all of his 15 points in the second half to lead the Rebels' comeback.
NEXT: Pittsburg State at UNLV, 7 p.m. Saturday, KWWN-AM (1100)