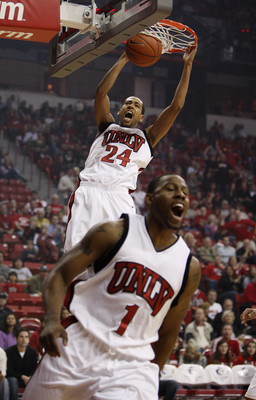 UNLV 83
Wyoming 66
WYOMING Min FG-A FT-A R A PF TP
Muojeke 31 6-12 0-0 3 1 1 14
Johnson 36 4-7 6-7 8 1 1 14
Waddell 19 1-2 0-1 3 0 4 2
Ogirri 39 7-15 0-0 7 1 1 21
Ewing 37 2-5 3-7 3 5 3 7
Linskens 5 0-1 0-0 2 0 0 0
Thiam 14 1-3 0-0 1 0 5 2
Diakite 6 2-3 0-0 3 0 0 4
Davis 13 1-3 0-0 1 1 0 2
TOTALS 200 24-51 9-15 33 9 15 66
Field goals–47.1%. Free throws–60.0%.
Three-point goals–9-22 (Ogirri 7-15, Muojeke 2-4, Davis 0-1, Ewing 0-2). Team rebounds–2. Blocked shots–2 (Muojeke, Johnson). Turnovers–18 (Johnson 4, Ewing 3, Waddell 3, Muojeke 3, Ogirri 3, Thiam 2). Steals–0.
UNLV Min FG-A FT-A R A PF TP
Santee 14 4-6 2-2 2 0 4 10
Darger 34 3-8 0-0 9 2 1 8
Adams 34 8-20 2-3 5 2 0 20
Rougeau 35 7-12 0-1 9 4 2 14
Willis 28 5-15 1-1 5 5 3 13
Bellfield 22 2-6 2-2 1 4 2 7
Wallace 15 3-5 0-0 2 0 2 8
Rutledge 9 1-4 0-0 6 0 2 3
Massamba 9 0-1 0-0 1 0 2 0
TOTALS 200 33-77 7-9 44 17 18 83
Field goals–42.9%. Free throws–77.8%.
Three-point goals–10-29 (Wallace 2-4, Willis 2-6, Adams 2-7, Darger 2-7, Bellfield 1-2, Rutledge 1-3). Team rebounds–4. Blocked shots–3 (Rutledge, Santee, Bellfield). Turnovers–8 (Rougeau 5, Wallace, Bellfield, Rutledge). Steals–7 (Rougeau 3, Adams 2, Bellfield, Willis).
A–17,190. Officials–David Hall, Mike Giarratano, Ken Nielson. Technical fouls–Muojeke, Willis.
Wyoming 32 34 — 66
UNLV 39 44 — 83
Anger was motivating UNLV senior Wink Adams. For two weeks, he did a lot of head shaking and scowling, wondering why everything was going wrong.
Adams took out his frustrations on Saturday night, helping the Rebels make a turn in the right direction.
He scored 16 of his 20 points in the first half to lift UNLV to an 83-66 victory over Wyoming before a season-high crowd of 17,190 at the Thomas & Mack Center.
Adams was pumping his arms and yelling, and creating some excitement, finally.
"Usually we play sluggish and it doesn't look like we're having fun," he said. "But everybody was having fun tonight.
"We were getting turnovers and fast-break points. We set our identity for how we want to play the rest of the season. It's a good starting point."
Rene Rougeau finished with 14 points and Tre'Von Willis 13 for the Rebels, who improved to 14-4 and 2-2 in the Mountain West Conference by stopping a two-game losing streak.
"Our backs are against the wall right now," said Rougeau, who also had nine rebounds, four assists and three steals. "This is the result we needed."
Rougeau and senior forward Joe Darger each had nine rebounds, with each grabbing six of UNLV's 22 offensive rebounds.
"We've been getting beat up on the boards. It was just us being determined to go to the boards," Rougeau said. "I only had two rebounds in the last game, and I was upset about that. We finally stepped up the defense."
The Rebels, who suffered from uncharacteristic defensive lapses in losses at Colorado State and Texas Christian, forced 18 turnovers in a fast-paced game.
"It was a more focused effort … maybe a step in the right direction," coach Lon Kruger said.
Adams ignited the offense in the first half. He hit a 3-pointer, made two steals and scored six straight points to put UNLV ahead 31-26 with five minutes remaining.
The Rebels expanded on a 39-32 halftime lead when Kendall Wallace made a 3-pointer and Oscar Bellfield scored on a layup to make the score 65-53 with 8:24 left.
Darger finished with eight points, but he did not score until 4:52 remained, when his 3-pointer stopped a brief Cowboys rally and put UNLV up 71-60.
Adams shot 8-for-20, and the Rebels were 33-for-77. They attempted 26 more field goals than Wyoming (24-for-51) mostly because of second-chance opportunities.
"Wink looked like the old Wink there in the first half," Kruger said. "It was good to see him attacking and making plays and making jumpers."
Willis scored 10 points in the second half, and junior forward Darris Santee scored eight of his 10 after halftime.
Adams, Willis and Darger did a majority of the defensive work on Brandon Ewing, the conference scoring leader. Ewing was held to seven points on 2-for-5 shooting.
Sean Ogirri made 7 of 15 3-pointers to finish with 21 points for the Cowboys (12-5, 1-2).
"Ogirri shoots the ball like Ray Allen," Adams said. "I've never seen anybody shoot the ball so fast."
But it was Adams' fast start that provided a desperately needed boost and got the Rebels rolling.
"I'm just trying to get back to my normal self," Adams said. "I felt like I was in a groove. I was just playing on momentum. Guys went into the game focused, and I knew everybody was going to come out aggressive."
UNLV faces a much bigger challenge when it plays at Brigham Young on Wednesday.
"We've got to keep this going," Adams said.
Contact reporter Matt Youmans at myoumans@reviewjournal.com or 702-387-2907.
Slideshow
UNLV 83
WYOMING 66
KEY: Wink Adams scored 20 points to lead the Rebels, who had 22 offensive rebounds and forced 18 turnovers.
NEXT: UNLV at Brigham Young, 7 p.m. Wednesday, CBS-C (333), KWWN-AM (1100)