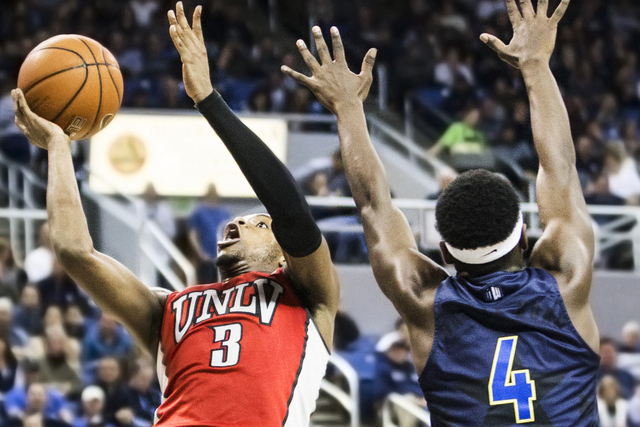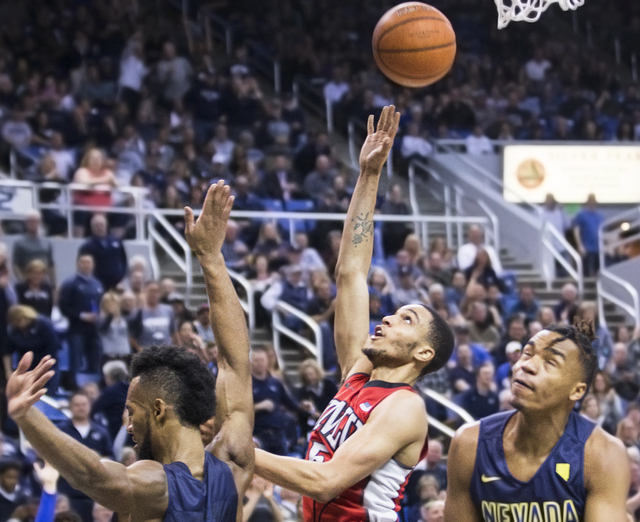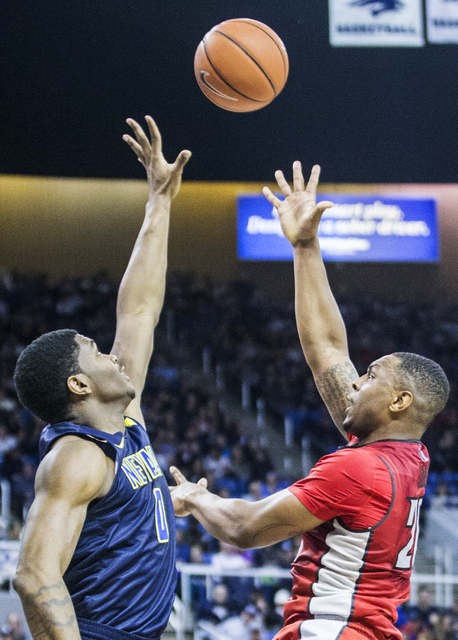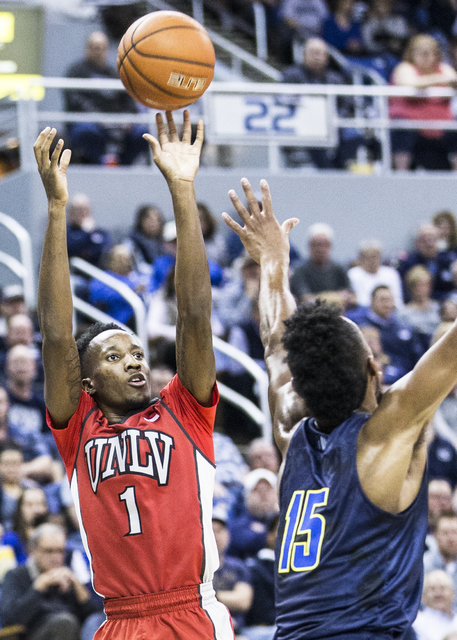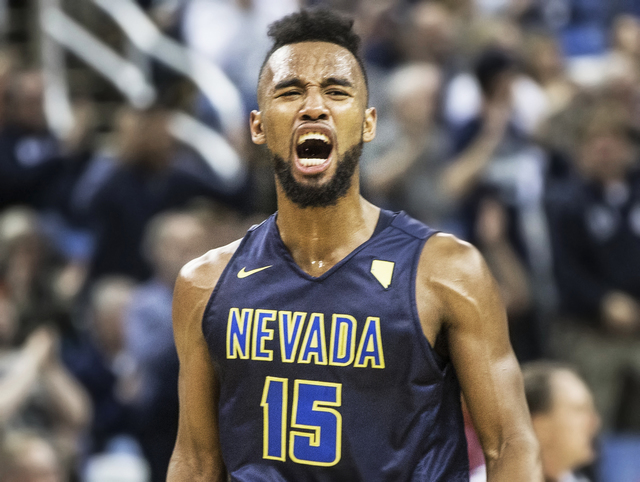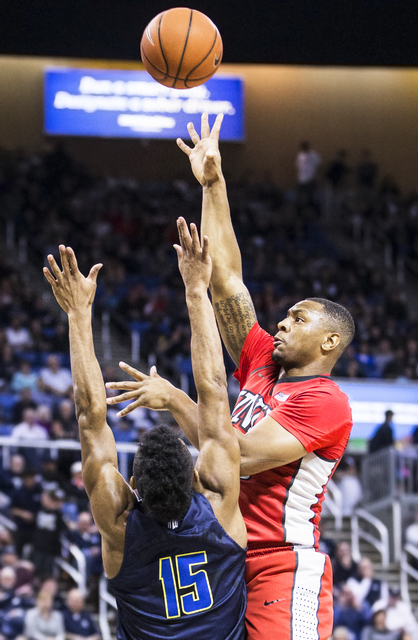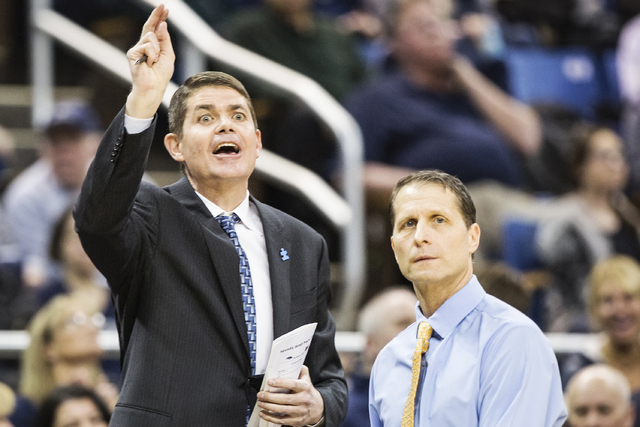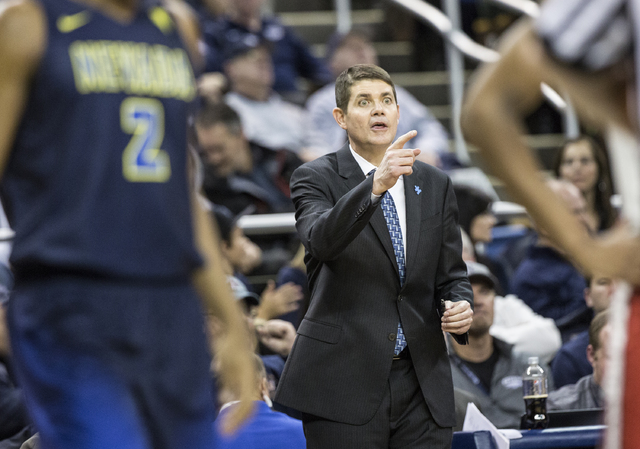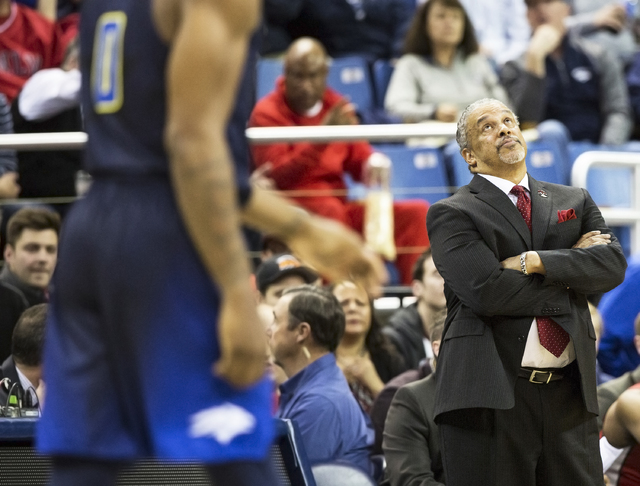 RENO — UNLV walked into a situation last season in which the Rebels were set up to fail.
UNR paid $10,000 plus expenses to famed boxing ring announcer Michael Buffer to introduce the starting lineups, and Wolf Pack fans knew the only question was how much their team would beat their hated rival.
The Wolf Pack won 104-77, then their largest margin of victory in the series, and they and their fans ate up every moment. UNR topped that performance 17 days later in Las Vegas with a 94-58 rout.

Now the Rebels head back to Lawlor Events Center with a largely different team, but there are players who remember last year as they prepare for Wednesday's 8 p.m. game. UNR is a 9½-point favorite.
"It wasn't really a rivalry last year in the sense that they were so dominant," UNLV coach Marvin Menzies said. "It wasn't like there was an overtime game. We really didn't compete with them."
In his concern to make sure his team is completely focused for a game that will be televised by CBS Sports Network, Menzies made his players off limits to the media, an unusual decision except for when there is a tight turnaround between games.
The Rebels (16-7, 5-5 Mountain West) will need all the concentration they can get against the Wolf Pack (20-4, 9-1), who are ranked No. 23 in both basketball polls. They are No. 18 in Kenpom and No. 12 in RPI.
In trying to beat UNR, the Rebels will go against a Wolf Pack team that features the Mountain West's best frontcourt. Jordan Caroline and the Martin twins — Caleb and Cody — are each 6 feet 7 inches tall and a tough matchup for any opponent.
Caroline averages 16.7 points and 8.8 rebounds, Caleb Martin 19.8 points and 5.3 rebounds and Cody Martin 13.5 points and 6.3 rebounds. They will be quite a challenge for UNLV's front line of Brandon McCoy (18 points, 10 rebounds), Shakur Juiston (14.6 points, 9.7 rebounds) and Tervell Beck (6.2 points, two rebounds).
"The versatility they possess is one of the reasons they've been successful," Menzies said. "They utilize mismatches. They take bigger guys off the bounce. They post up guards. (Coach Eric Musselman) has a lot of isolation situations that he puts his players in. Eric again is doing a really good job of utilizing the personnel that he has this year to be successful."
While UNR and Boise State rule the Mountain West, UNLV is among six other teams vying to join them in the top five of the conference standings and avoid the play-in day of next month's league tournament. So each game is vital in that regard, but Menzies knows a victory over the Wolf Pack carries even more weight than by simply how it affects the conference standings.
As he did leading up to the game against San Diego State — an 88-78 UNLV victory on Jan. 27 — Menzies isn't downplaying with his players the importance of beating the Wolf Pack.
"Rivalries should have more excitement," Menzies said. "They should be more engaging and fun, different plots and subplots and all those things that make them a great part of our sport. So you need to approach the game a little bit differently."
More Rebels: Follow all of our UNLV coverage online at reviewjournal.com/Rebels and @RJRebels on Twitter.
Contact Mark Anderson at manderson@reviewjournal.com. Follow @markanderson65 on Twitter.
Game day
Who: UNLV at UNR
When: 8 p.m. Wednesday
Where: Lawlor Events Center, Reno
TV/Radio: CBS Sports Network; KWWN (1100 AM, 100.9 FM)
Line: UNR 9½; total 162