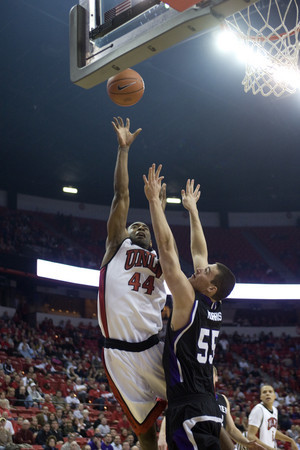 Long-range shooters come in all shapes and sizes. UNLV junior Matt Shaw, a 6-foot-8-inch, 240-pound forward, can be a big threat far from the basket.
Shaw started inside but did his best work from the outside Thursday night, hitting four 3-pointers and scoring a career-high 16 points, as the Rebels defeated Weber State 72-63 at the Thomas & Mack Center.
"When I made some shots, a couple of their guys were kind of angry. They looked over at their coach like that wasn't in the scouting report," Shaw said. "If I'm able to knock down 3s, that can open up a lot of things for us."
Sophomore forward Chace Stanback scored 15 points, and junior guard Derrick Jasper grabbed a career-high 12 rebounds as UNLV upped its record to 9-1.
"The guys shot the ball well. It's great to see Matt and Chace and other guys step up there and make shots," coach Lon Kruger said. "When you make some 3s, that makes everything a little bit better."
Shaw, making his second start of the season, had made 3 of 12 3-pointers in the Rebels' first nine games. He attempted just one in the previous three games. But he hit 4 of 6 to catch the Wildcats by surprise.
"Every time Matt caught the ball on that pick-and-pop, he was wide open," Stanback said.
Shaw made two 3-pointers in the first five minutes of the game. UNLV led 37-32 at halftime, and Shaw and Jasper each hit a 3 as the Rebels opened the second half with a 12-0 run.
UNLV took its largest lead, 49-32, on Shaw's 3 with 16:25 left.
"Matt's a big man, and he can really shoot it," Jasper said. "He has a really nice touch."
One of Kruger's concerns has been the Rebels' poor 3-point shooting — 26.8 percent through nine games. On Thursday, UNLV shot 10-for-23 (43.5 percent) from 3-point range as Shaw was supported by six other players who made one each.
Kruger also credited the Rebels' team defense for being "disruptive" and holding guard Damian Lillard, Weber State's leading scorer, to eight points on 2-for-13 shooting.
Kyle Bullinger, a skilled 6-6 sophomore forward, connected on 5 of 8 3-pointers and scored 21 to lead the Wildcats (5-5).
"Bullinger shot it great," Kruger said. "He hadn't shot it for that high a percentage on the year, but neither had we, and that's probably what (Weber State) is saying over there."
Rebounding has been an issue for UNLV, too, but Jasper helped that cause by getting 11 on the defensive end. The Rebels held a 38-32 edge in rebounds.
"We need all our guards to hit the glass pretty hard, and in the games we've won the rebounding battle, our guards have rebounded," said Jasper, who also had seven points.
Stanback scored 11 points in the first half, and his jumper put UNLV up 22-9. Another of Kruger's concerns was slow starts, and that was handled by Stanback and Shaw.
"That's always big to jump on a team early," said Stanback, who had five rebounds and four blocked shots. "I think we played with more intensity than we have in most of our games."
Stanback shot 7-for-12 and tied the career-high 15 points he scored in a win at Southern Utah on Tuesday.
Oscar Bellfield added 10 points and eight assists for the Rebels. Tre'Von Willis, nagged by a sore back, came off the bench and had nine points and four rebounds.
Shaw's 3-pointer made the score 66-52 with 4:55 remaining, and UNLV got its last six points on free throws. Shaw made two foul shots after Weber State crept within 68-60 in the final minute.
"I figured if I keep shooting, hopefully they would keep going in, and I was getting good looks," Shaw said. "It just felt good coming out of my hand."
Contact reporter Matt Youmans at myoumans@reviewjournal.com or 702-387-2907.
UNLV-Weber State slide show
UNLV — 72
WEBER STATE — 63
KEY: Matt Shaw made four 3-pointers and scored a career-high 16 points for the Rebels, and Chace Stanback added 15 points.
NEXT: South Carolina-Upstate at UNLV, 7 p.m. Saturday, KWWN-AM (1100)