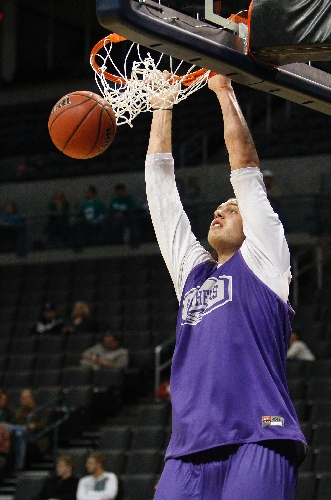 OKLAHOMA CITY — Seldom does Northern Iowa senior Jordan Eglseder feel physically belittled by an opponent. At 7 feet and 280 pounds, he's almost always the biggest player on the floor.
A center with his size and skills is almost an endangered species in college basketball.
"I think in most of the games, I've got a power advantage," Eglseder said. "A lot of the guys are more athletic than me, but they're skinnier guys and they're not as big as me. You see a lot of 6-8, 6-9 athletic guys. You don't see too many physical bangers anymore."
The Panthers want to see Eglseder get physical today, because he might be their best hope for advancing in the NCAA Tournament.
Eighth-seeded UNLV (25-8) faces No. 9 seed Northern Iowa (28-4) in a Midwest Region first-round game at 4:10 p.m. at the Ford Center, and while the Rebels are small favorites, the tale of the tape seems to lean to the underdog.
Eglseder and 6-foot-8-inch forward Adam Koch are the types of interior bangers who tend to give UNLV big problems.
"Our group is definitely tougher and more physical than we were back in October. But we're certainly not to be confused with a physical team," Rebels coach Lon Kruger said.
UNLV won its first-round game in each of its previous two NCAA Tournament trips under Kruger, in 2007 and 2008. To advance a third time, the Rebels will need to avoid getting knocked on their heels.
Northern Iowa, which won the Missouri Valley Conference regular-season and tournament titles, ranks No. 2 in the nation in scoring defense by allowing 54.3 points per game. An ugly, low-scoring game will be what the Panthers prefer.
"We've really got a battle ahead of us," UNLV junior guard Tre'Von Willis said. "We've got to compete harder on the offensive end because they're such a good defensive team."
Kruger has a hand to play, too, and he will try to create his own matchup advantages. The Rebels' guards — Willis, Oscar Bellfield and Anthony Marshall — are more athletic and quicker. The style contrasts in the teams are obvious.
"Each possession in a lower-scoring game does take on more significance, and that has been discussed a time or two in practice," Kruger said. "It will be a big challenge."
Willis, still slowed by a sore left ankle, and sophomore forward Chace Stanback should be the offensive keys for UNLV.
Northern Iowa coach Ben Jacobson said he hopes Eglseder, who averages 12.0 points and 7.3 rebounds, has a "real impact" on the game. The Rebels, as usual, will use a rotation of 6-8 Darris Santee, 6-8 Matt Shaw and 6-10 Brice Massamba to defend Eglseder.
"We've got a pretty good-sized team down low," Eglseder said. "We'll see how they're going to play me in the post. From what we've seen, they like to play one-on-one in the post. If they're going to do that, I'm guessing we're going to be throwing it inside quite a bit.
"Our defense is the key to our success. I've been listening to what everyone's been saying on ESPN, and everyone thinks we're a slow-down team. But if we get stops, we like to run and push it in transition. We're not just going to walk the ball up the court."
Jacobson said the Panthers succeed because they "defend at a high level and rebound." Add Eglseder to the equation, and Northern Iowa resembles Utah, which defeated UNLV two of three times this season.
"We've got Jordan, the 7-footer, and a lot of big guys," Koch said. "Hopefully that's something we'll be able to use to our advantage."
The Panthers also start three guards — Kwadzo Ahelegbe, Ali Farokhmanesh and Johnny Moran — and how they handle UNLV's pressure and trapping defense could be another major factor.
Northern Iowa's players frequently mentioned that they did not handle the pressure of playing in the tournament last year, when they suffered a 61-56 first-round loss to Purdue.
"We came to the tournament and we were all excited and happy to be there," reserve forward Lucas O'Rear said. "But now we want to do something with it. That loss to Purdue put a fire in our stomachs, and we want to show the nation we're a good basketball team."
Jacobson, who starts three seniors and a junior, said his team's experience could prove most valuable against the Rebels.
"You want to get to this point. You want to play in the NCAA Tournament and you want to be on this stage," Jacobson said. "But there's a strong feeling that when you do get here, you want to win a game and you want to continue to advance. We've got a chance to play better because we've got an experienced team."
Added Eglseder: "A lot of us have been here and we know what to expect now."
Contact reporter Matt Youmans at myoumans@reviewjournal.com or 702-387-2907.
UNLV practice in Oklahoma City
GAME DAY
UNLV VS. NORTHERN IOWA
WHEN: 4:10 p.m. today
WHERE: Ford Center, Oklahoma City
TV/RADIO: CBS (8), KWWN-AM (1100)
LINE: UNLV -1; total 114