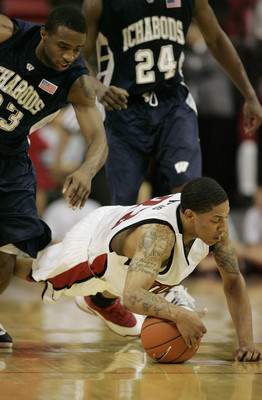 With the exception of a late scoring flurry by Wink Adams, UNLV failed to impress in its only exhibition test Tuesday night.
The Rebels turned in a mostly sloppy performance in a 74-56 victory over Division II Washburn at the Thomas & Mack Center.
The game was tight until Adams cut loose. The senior guard finished with 27 points, and 12 of them came during a late 18-5 run.
"It's good for us not to blow a team out and have a challenging game like that," Adams said. "We know our strengths and weaknesses."
UNLV opens the regular season Saturday against San Diego, a much stronger opponent.
The Rebels got all they could handle from the Ichabods from Topeka, Kan. Washburn cut UNLV's lead to 53-51 on Paul Byers' 3-pointer with 6:40 remaining.
Adams took over from there. He hit consecutive 3-pointers in a span of 34 seconds to start the Rebels' decisive run.
"When I can do something to help my team, that's my job," said Adams, who shot 9-for-18 from the field, including 3-for-10 on 3s, and 6-for-9 at the free-throw line.
No other UNLV player scored in double figures. Sophomore Tre'Von Willis had nine points, and reserve guards Mareceo Rutledge and Kendall Wallace contributed seven points each.
"Wink was aggressive and he made some shots at a critical stage," Rebels coach Lon Kruger said. "We need some other guys to do that and make some plays as well."
Kruger was unhappy with how his team reacted to the Ichabods' defensive pressure. Adams, Willis and freshman Oscar Bellfield combined for 15 of the team's 22 turnovers.
The Rebels also were pushed around inside too often, and held a 39-36 rebounding edge against a smaller team.
"We were real sloppy with the ball," Kruger said. "I think rebounding is going to be an area that we've got to work on all year."
Kruger made one surprising lineup move by starting Bellfield at point guard instead of Willis. Bellfield played 21 minutes and Willis 20, and Willis was more effective.
"Oscar and Tre have been going back and forth all fall, and both have done a good job," Kruger said. "I thought Tre came in and really gave us some energy off the bench. We're going to need some of that from someone, and Tre is a good candidate to do that."
Senior forward Joe Darger shot 1-for-8 and junior forward Darris Santee was 1-for-5. But freshman center Brice Massamba played well, scoring six points in six minutes.
UNLV's offense was out of sync early. The Rebels missed nine of their first 10 shots while committing three turnovers.
"We had 60 possessions, and 30 of them were good and 30 of them were not what we want," Adams said.
Senior forward Rene Rougeau said UNLV's effort was satisfactory.
"Disappointed is a strong word," said Rougeau, who had five points, eight rebounds, four steals, three blocked shots and three assists.
"I know we can do even better than that, but that's why we have these exhibitions. We made some good plays, too."
William McNeill scored 15 points to lead the Ichabods, who are 0-3 in exhibitions after also losing to Kansas and Kansas State.
Contact reporter Matt Youmans at myoumans@reviewjournal.com or 702-387-2907.
Slideshow UNLV — 74 WASHBURN — 56 KEY: Wink Adams scored 12 points in a late 18-5 run by the Rebels. Adams finished with 27. NEXT: San Diego at UNLV, 2:30 p.m. Saturday, The Mtn. (334), KWWN-AM (1100)