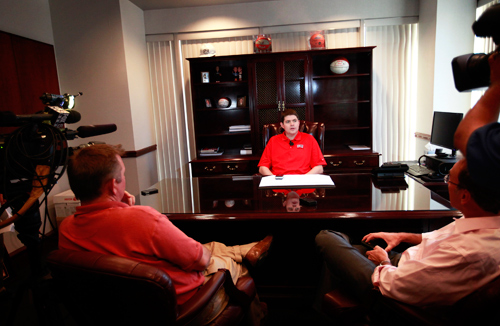 Four months after University of Nevada, Las Vegas basketball standout Chace Stanback made an error in judgment that could have cost him his senior season and much more, he considered himself a changed and lucky man.
"I definitely think I could have possibly harmed others as well as myself," he said. "But fortunately I had God on my side, and that wasn't the case.
"Any mistake can be your last one. You can be in prison for a while. Luckily for me, it didn't happen like that."
Stanback pleaded guilty Thursday in Las Vegas Justice Court to a misdemeanor charge of driving under the influence of marijuana, and in addition to legal penalties, he was issued a one-game suspension by Rebels coach Dave Rice.
A 6-foot-8-inch forward from Los Angeles, Stanback is UNLV's top returning scorer and rebounder.
But after being stopped for speeding and arrested May 13, he was unsure whether he would be allowed to return to the basketball team.
"It was a concern. I'm definitely fortunate," he said. "I'm very committed to this team, and I intend to work hard and be a leader for this team. In the past I've tried to lead by example, but obviously my example from this summer wasn't a great one."
Stanback's arrest came a little more than a month after Rice was hired as the Rebels' coach, and the uncertainty surrounding Stanback's status cast a shadow over the upcoming season.
"That was kind of the first impression he had of me. I don't think that my mistake defines me as a person, but I'm working toward building his trust back," said Stanback, who met with about 15 media members in Rice's office at the Thomas & Mack Center. "I definitely deserve punishment for my actions, and I feel like Dave has given me a proper punishment.
"I definitely let my family down. I let my teammates and coaching staff down, and I let the city of Las Vegas down. I know what I did was wrong, and I'm just trying to move on from here."
Rice said he struggled to determine the proper punishment for Stanback, who is suspended for the Nov. 11 regular-season opener against Grand Canyon.
Stanback also will sit out an exhibition on Nov. 1.
Rice said Stanback reacted admirably to earn what might be considered leniency in terms of a brief suspension.
"I think the first thing was remorse. It's the way he has carried himself after the incident," Rice said. "Chace has shown a real seriousness about his future. If the last four months are an indication of what he's going to achieve going forward, I think it's going to be very positive.
"This is not a decision that I made quickly, and it was something that I agonized over for four months. I really didn't know what I was going to do until maybe the last 24 hours. It was a really, really tough decision for me."
In mid-May, Stanback was driving a 2010 Mercedes sedan when Las Vegas police stopped him for speeding at 2:10 a.m. at Colby Avenue and Swenson Street near the Thomas & Mack Center. According to the police report, Stanback failed to provide proof of insurance and admitted using a prescription drug in addition to alcohol use.
Stanback's eyes were bloodshot and watery, he had trouble keeping his balance while walking, but his attitude was cooperative, the report said.
On Aug. 11, Stanback's court date was delayed to Dec. 1. The case was pushed back while the Clark County district attorney's office awaited results of his blood test.
He tested positive for marijuana, but no alcohol was detected in his system.
Stanback, appearing in court Thursday morning with attorney Steve Wolfson, was ordered to pay a $585 fine, perform 40 hours of community service, attend DUI school and take part in a victim impact panel. He also received a 30-day suspended sentence.
Sandy Heverly, executive director of STOP DUI, did not express disappointment in UNLV's one-game suspension of Stanback. Heverly organizes victim impact panels in Las Vegas that she said become life-changing experiences for most people.
"We hope the education and intervention he receives will make a difference. Hopefully, the counseling he's going to be receiving will resonate, and he will change his behavior," she said. "We're very fortunate that he didn't kill or injure someone.
"Whether you like it or not, when you become a high-profile person who's in the public eye, you're held to a higher standard by the public, and that's just the reality of it. He's using an illegal drug, and that sends a terrible message to the kids who are looking up to him."
Heverly said statistics from the National Highway Traffic Safety Administration show the average person drives 87 times under the influence of alcohol before getting caught the first time.
"Unfortunately for me, I was at the wrong place at the wrong time," Stanback said. "It's not like I do it frequently. It just happened to be one occasion."
It is the second time in 17 months a Rebels player has been suspended for a marijuana-related issue.
Matt Shaw's career ended April 27, 2010, when he failed a random drug test at the NCAA Tournament and was issued a one-year suspension, erasing his senior season.
Shaw and Stanback were high school teammates.
"We had a long conversation on the phone, and he just said to make sure I learn from it because his mistake was his last mistake here," Stanback said.
On Sept. 28, 2010, senior Tre'Von Willis pleaded no contest to misdemeanor battery charges after he was arrested in June, accused of choking a female friend.
Former coach Lon Kruger initially suspended Willis for three games, including two exhibitions, and later added a fourth game to the suspension.
It was Stanback's first violation of the UNLV athletic department's Drug Prevention, Education, Testing and Treatment Program.
First-time violators are not subject to suspensions from practices or games but are required to complete mandatory education and counseling programs and submit to further random drug tests.
"This is a case of a young man who has been a fine representative of our athletics department over the years but made a bad decision," UNLV athletic director Jim Livengood said. "I support coach Rice's decision about the punishment for the arrest. We're all disappointed in Chace's decision, but he knows we are here to help him grow from this."
Stanback, who started all 33 games as a junior and averaged 13.0 points and 5.9 rebounds, will be eligible to play when the Rebels host UNR on Nov. 14.
While admitting to dealing with feelings of "embarrassment," Stanback apologized to UNLV fans.
"I have learned a lot about myself through this process," he said, "and I hope people are willing to forgive me."
Contact reporter Matt Youmans at myoumans@reviewjournal.com or 702-387-2907.