Rebels take down No. 3 Arizona, 71-67
December 24, 2014 - 12:43 am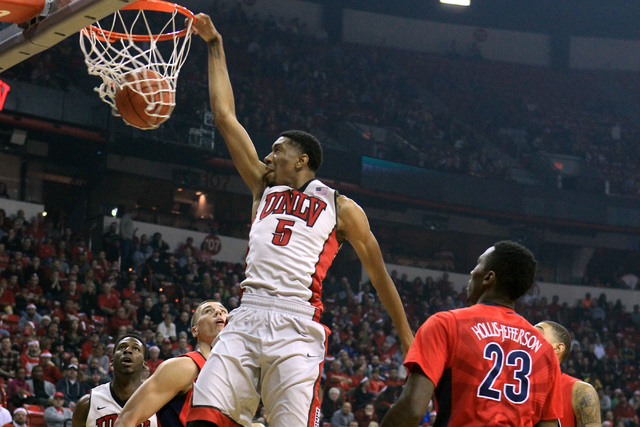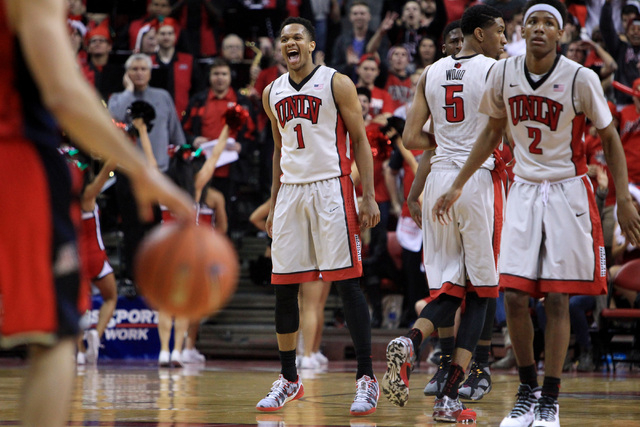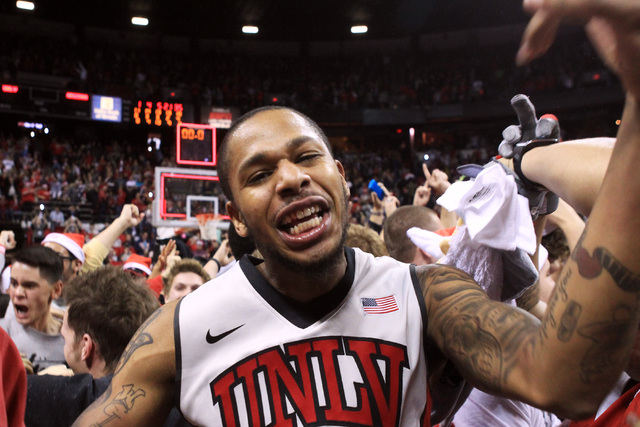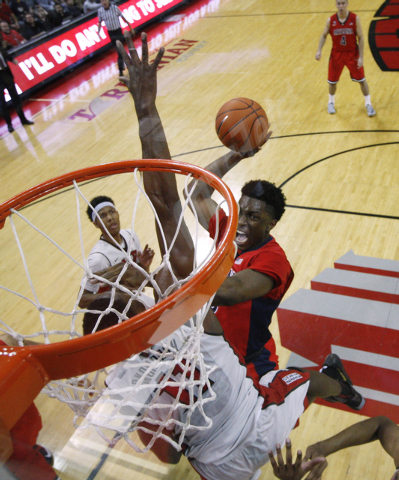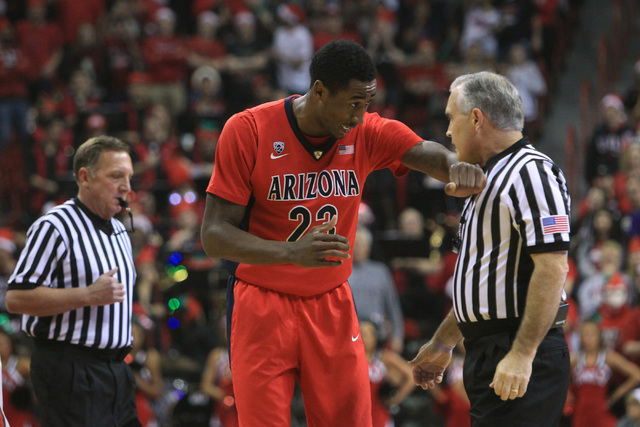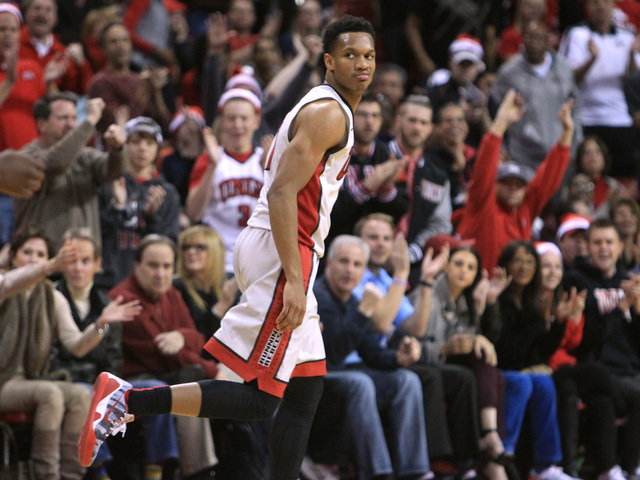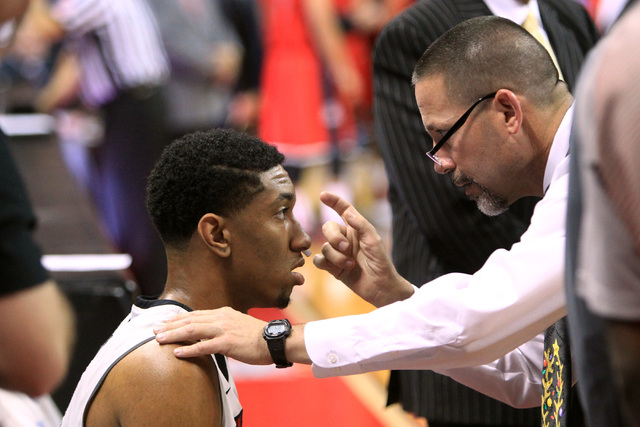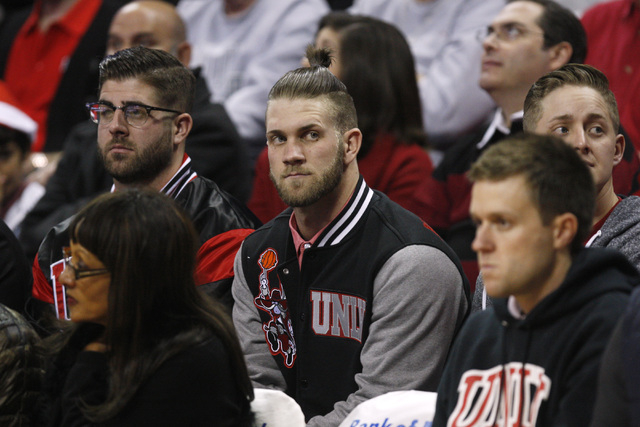 As fans stormed the court in a wild celebration, Chris Wood stood out above the crowd. The 6-foot-11-inch forward owned the night, from beginning to improbable end.
Wood dominated inside and delivered on his potential, lifting UNLV to one of the biggest upsets of the college basketball season.
"It lets the nation know we're a good team," he said.
Wood totaled 24 points and 10 rebounds, and Rashad Vaughn poured in 21 points as the Rebels upended No. 3 Arizona 71-67 before a raucous and shocked crowd of 15,387 on Tuesday at the Thomas & Mack Center.
"Chris was as good as he's ever been at UNLV," coach Dave Rice said. "He shows flashes of brilliance, and tonight he was brilliant."
Wood attacked the basket with rare determination, shooting 10-for-17 from the field and blocking two shots as the Rebels (8-3) got physical and put together a near-perfect game.
"That was as loud as I've heard the Thomas & Mack since I've been here," said Wood, whose 16 second-half points led a comeback. "It was really crazy."
Vaughn said he could sense something special was coming, as crazy as it might have sounded after UNLV, a 12½-point underdog, was pummelled by three other Pacific-12 Conference opponents.
"I had high confidence that we were going to win this game," Vaughn said. "When we're focused as a team, I don't think anybody can beat us."
It was Rice's biggest win since UNLV stunned No. 1 North Carolina 90-80 in November 2011.
"Certainly, when you beat the No. 3 team in the country it speaks volumes about where we're going," Rice said. "It's just a signature win. It's probably worth way more than one win."
T.J McConnell scored 14 points, and Stanley Johnson had 13 points and 13 rebounds for the Wildcats (12-1). But Johnson's biggest blunder of the game was not one of his seven turnovers.
Arizona trailed by one point with 33 seconds remaining when Johnson missed a breakaway layup. After Vaughn missed a free throw, the Wildcats had a shot to take the lead, but Brandon Ashley missed an open 3-pointer from the top and Patrick McCaw rebounded for the Rebels.
It appeared UNLV's Jelan Kendrick hit the net as Ashley's shot bounced on the rim, but basket interference was not called.
McCaw made the first of two free throws, and Johnson lost control of his dribble after crossing midcourt. McCaw hit two free throws with 0.7 seconds remaining to finish the game and start the celebration.
"We didn't have an answer for Wood and Vaughn," Arizona coach Sean Miller said. "Those guys had 19 field goals. We've held teams to fewer field goals than 19.
"UNLV deserves all the credit in the world. They were highly motivated and they played extremely hard. They played harder than us. You could really see it on the offensive glass. To me, the second shots they were able to get compared to the second shots that we were able to get, it was overwhelming in their favor. They punished us on the glass."
The Rebels outworked the Wildcats to the tune of a 46-33 advantage in rebounds, including a 14-7 edge on the offensive end.
"That's a huge number," Rice said. "That's a big, imposing front line."
UNLV, which trailed 41-36 at the half, fought back to tie the score at 50 with 14 minutes to go. Vaughn drove the lane and hit a short jumper, and then his pass to McCaw resulted in a fast-break layup.
On back-to-back possessions, Wood drove right at the 6-9 Ashley in the lane and dropped in short jumpers, pulling the Rebels within 61-60 with six minutes remaining.
After a free throw by Johnson, Wood tipped in McCaw's missed layup to knot the score at 62 with 5:20 to go.
Goodluck Okonoboh's free throw at the 4:47 mark gave UNLV its first lead since 8-7, and Vaughn drove to sink a 12-foot jumper to put the Rebels up 65-62 with 4:05 to play.
"It was a fun game," said Vaughn, who shot 9-for-21 from the field and made two of the team's four 3-pointers. "It's a great confidence booster for us. If we play like that every game, the sky is the limit."
McCaw finished with 13 points for UNLV, which showed no fear and shot 44 percent from the field.
Vaughn won his duel against Johnson, another highly touted freshman. But the night belonged to Wood, a sophomore who played his biggest game at the perfect time.
Rice said the Rebels sent "a message to the country" with the upset.
"I said a long time ago, we're going to be a good basketball team when our guys grow up," Rice said. "The bottom line is we have stayed together through thick and thin. This is definitely a major step in the correct direction. It's a fantastic win."
Contact reporter Matt Youmans at myoumans@reviewjournal.com or 702-387-2907. Follow him on Twitter: @mattyoumans247.