Rebels top short-handed Kansas State
December 22, 2010 - 12:00 am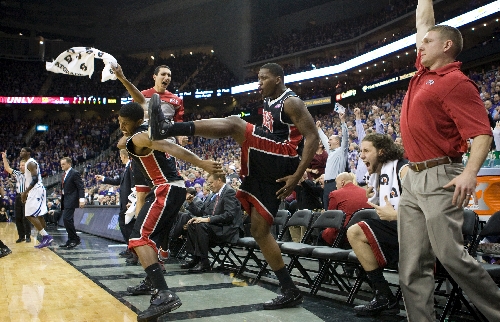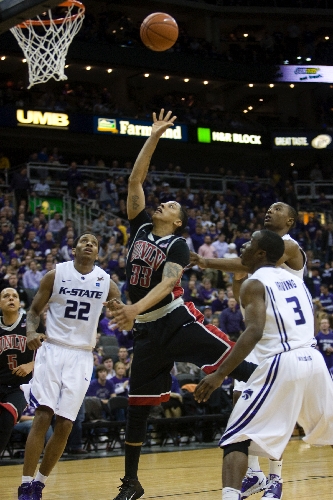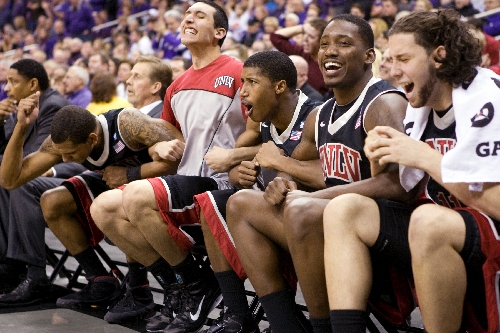 KANSAS CITY, Mo. — Two plays by Oscar Bellfield turned an ugly game UNLV's way. But it also was a game decided, in large part, by two players who never took the floor.
About an hour before tipoff Tuesday night, Kansas State announced the suspensions of stars Jacob Pullen and Curtis Kelly.
Instead of taking the easy way out and kicking the 11th-ranked Wildcats while they were down, the Rebels needed a second-half comeback to escape with a 63-59 victory at the Sprint Center.
Bellfield, UNLV's clutch junior guard, made it possible by blocking a shot with just over three minutes left and sinking a 3-pointer with 1:22 to go.
"We'll take the win," Bellfield said. "But we still know in the back of our minds we could have played a lot better."
The Rebels (11-2) head into the Christmas break after unwrapping a gift of sorts.
Pullen and Kelly, two of the Wildcats' top three scorers, were declared ineligible and pulled from the floor during warmups.
Kansas State officials said the players received impermissible benefits on the purchase of clothing at a department store, a secondary violation of NCAA rules.
Pullen, a preseason All-American, will be required to sit out three games.
Wildcats coach Frank Martin, who had a brief and terse exchange with the media after the game, said the two "made a mistake in judgment and have to pay a price for that decision."
UNLV cashed in with a nonconference win that will look better on paper than it was in reality.
"Obviously, catching them a little short-handed made a world of difference, there's no denying that," Rebels coach Lon Kruger said. "It's disappointing to see them at less than full strength."
But, of course, nobody on the UNLV side was about to apologize for winning or offer to replay the game at a later date. Despite the huge disadvantage, the Wildcats (9-3) gave the Rebels all they could handle.
UNLV, which trailed by six points early in the second half, went ahead 44-42 on Derrick Jasper's three-point play with 12:40 remaining.
Tre'Von Willis and Quintrell Thomas scored on layups to extend the lead to 48-42. Kansas State rallied to within 52-51 on Rodney McGruder's fast-break dunk with 7:30 to go.
With the Rebels leading 56-53, the 6-foot-2-inch Bellfield made his first key play by chasing down the Wildcats' 6-7 Jamar Samuels and rejecting his dunk attempt.
"He was a foot ahead of me, but I put some effort into it and tried not to give up an easy bucket," Bellfield said.
Less than two minutes later, Bellfield quieted the purple-clad crowd of 18,422 by hitting a 3-pointer from the left wing putting UNLV up 59-54.
Kruger called the shot "critical" to the outcome.
"We were kind of struggling to get points. I didn't think about it and just let it go," said Bellfield, who shot 2-for-10 from the field and 6-for-6 at the free-throw line.
Willis, who scored 16 points to lead the Rebels, made two free throws with 19 seconds left to help secure the victory. Bellfield and sophomore guard Anthony Marshall each finished with 11 points.
"We knew they were going to fight," Willis said. "We felt like we had to play our best ball, and we didn't do that."
Bellfield, Jasper and Chace Stanback shot a combined 6-for-26 from the field for UNLV, which went 2-for-13 from 3-point range.
"There's no excuses. We just haven't been hitting shots," said Jasper, who had six points and eight rebounds.
The Rebels were plagued by poor shooting and foul trouble while blowing a nine-point lead in the first half. Nick Russell's 3-pointer at the buzzer lifted Kansas State to a 34-32 halftime edge.
Russell scored 12 points and McGruder had 11 points and 10 rebounds for the Wildcats, who were plus-17 in rebounds but committed 23 turnovers.
Martin, who could be heard screaming through the locker-room wall while Kruger held his news conference, took no consolation from his team's effort without Pullen and Kelly.
"We are not about losing and having moral victories," Martin said. "We lost. It was obviously not good enough."
Contact reporter Matt Youmans at myoumans@reviewjournal.com or 702-387-2907.
Rebels defeat No. 11 Kansas State
UNLV — 63
KANSAS STATE — 59
KEY: Oscar Bellfield's 3-pointer put the Rebels up 59-54 with 1:22 remaining.
NEXT: UNLV vs. Central Michigan, Dec. 30, Thomas & Mack Center, KWWN (1100 AM, 98.9 FM)